3 Tips for Selecting the Best Underwater Camera for You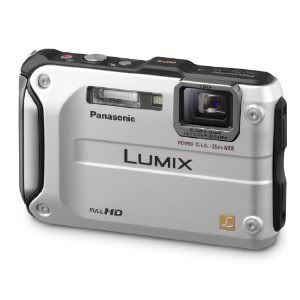 Waterproof cameras are a popular new segment of the photographic market, and they offer a variety of features and prices. But which one is the best underwater camera for you? The best waterproof camera for you may not be the most popular model on the market. Here are three things to consider before shopping for new underwater cameras.
Underwater cameras are available from under $100 to over $500, can be taken anywhere from 5 feet to 200 feet underwater, and come with a wide range of features, from HD video to built-in GPS. Which features do you need? Which do you want? Here are some questions to ask before you go searching for the best underwater cameras.
1. Will your underwater camera be your primary camera?
The most important thing to consider when buying an underwater camera is whether it will be your everyday-use camera or a backup for water or wet conditions.
If it's going to be your primary camera, you'll probably want to go with one of the versatile rugged models like the Panasonic Lumix DMC-TS3 or the Panasonic TS4. In addition to being waterproof, these models are also shockproof, dustproof and freezeproof, so they're great for any situation, and they have been proven reliable. Consumers also give them high ratings. Currently, the Panasonic DMC-TS3 is the most popular camera in Amazon's underwater photography category and has almost 300 reviews with an average 4- out of 5-star average. If your underwater camera is only going to be a backup, then you'll want to consider the activities for which you'll be using it, how often you plan to use it, and how much you're willing to spend on a second camera.
2. How do you plan to use your underwater camera?
Whether it's going to be your main camera or a secondary backup, you should think about how you'll be using it. Will you be using it in the backyard pool? Taking it surfing in the ocean? Going scuba diving with it? There are underwater cameras to meet all of these needs, but some are better suited for each activity. For instance, if you just want a good quality, reliable camera to use in the backyard pool, the FinePix XP30 is a good choice. For surfing, the GoPro Hero2:Outdoor Edition is extremely popular and well-rated by athletes who want hands-free shooting and it could be mounted on a surfboard. For scuba diving, the SeaLife DC1400 is rated to 200 feet and has accessories such as external strobes that you'll need to get the best shots underwater.
Also, some waterproof cameras are also shockproof, freezeproof and dustproof. Will you be taking your camera on cross-country skiing trips or to dusty outdoor areas where you'll need tough features to keep the internal components from being damaged? These are questions to consider before making a decision.
3. Will you use the extra features and modes on some cameras?
Some of the best waterproof cameras in 2012, such as the Panasonic TS4, now offer features such as built-in GPS or panoramic photo stitching. Will you actually use these features? They may be fun for awhile, but if you're not going to use a built-in altimeter, compass or 3-D photo feature, do you really want to pay extra? The same is true for resolution. If you're only taking a few photos of the kids in the backyard pool and you only plan to view them on your computer, do you need a 14 or 16 megapixel camera or would 10 or 12 megapixels do? You will pay more for a waterproof camera that offers higher resolution and more features, so just be sure the extra price is worth it before you pull our your wallet.
If you answer these questions before you go shopping, you're unlikely to be tempted by extra features that you may not really need, and you'll be able to get the best underwater camera for you at a price that fits your budget.
Check Out Other Related Posts On Webnuggetz