Barbie Witch and Wiccan Dolls
Barbie Witches and Wiccan Dolls – Fun for Halloween or Any Spooky Time of Year
Barbie Witch and Wiccan Dolls are perfect for Halloween and for those people who practice Wicca – anytime.
Barbie certainly can celebrate Halloween well, since there have been Halloween Barbies for quite a long time!
The first Halloween Barbie Dolls were the Barbie & Kelly Halloween Target gift set in 1997 and there have been Halloween Barbies every year since. They come with names like Bewitched and Bejeweled from 2013, 2008 Trick or Chic, or 2003 Maskerade Halloween Party. They are all special and they are all very collectible as they are just made for one video.
True Wiccans know that the witch's power is meant for good – and the Barbie witches only bring good to the world. (Except for the evil ones!)
Of special interest are all the Barbies that were released at different times to celebrate the Wizard of Oz. There are several Glinda the Good Witches that are available, as well as Barbie Versions of both the Wicked Witch of the West and Barbie Wicked Witch of the East. Those are wonderful decorations for Halloween and are just so special for this time of year!
Wiccan Barbies – Secret Spell Barbies
Very Special Barbies that were Schoolgirls by Day and Good Witches by Night
These highly collectible dolls are some of my favorite Barbies.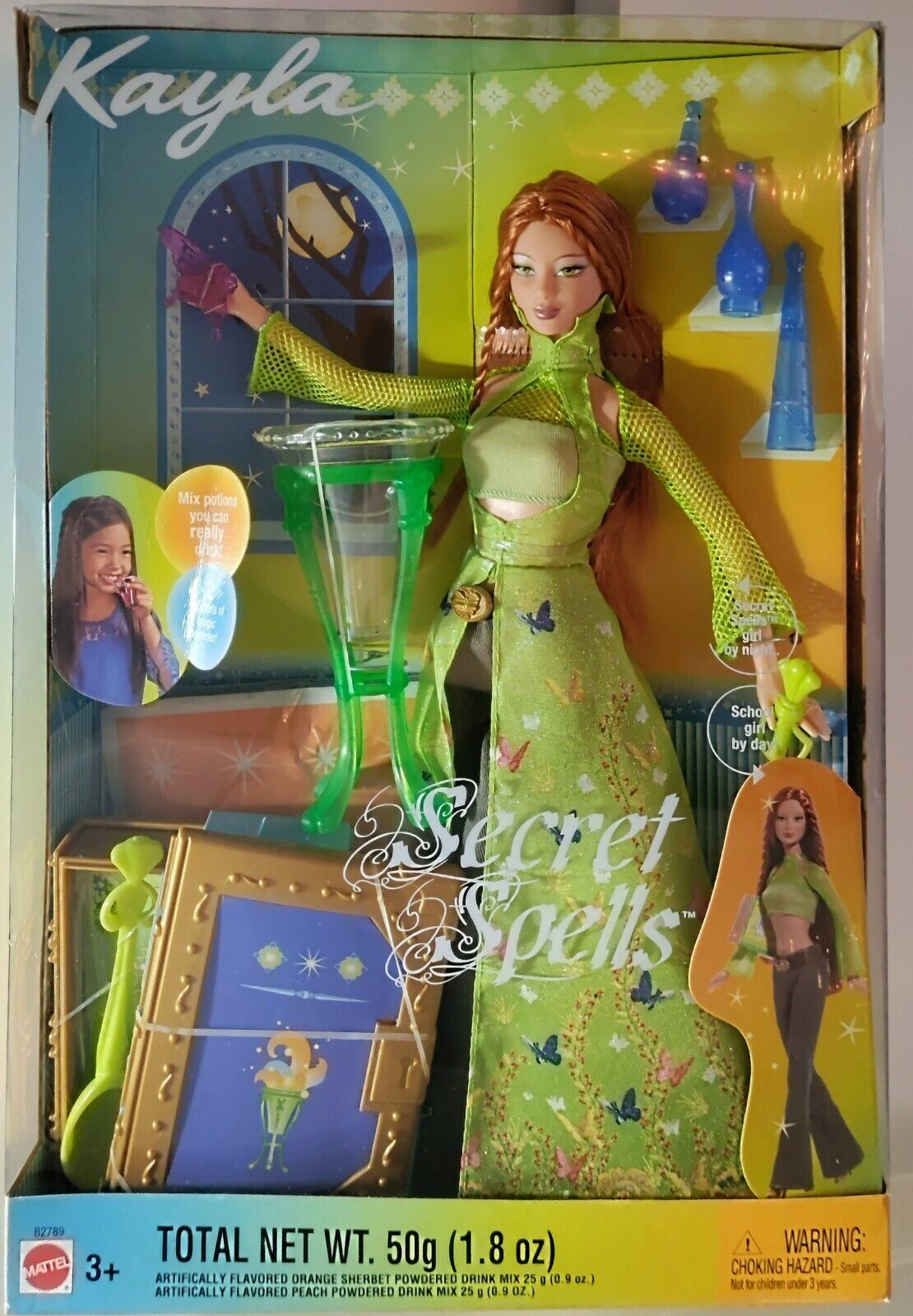 BARBIE / KAYLA CHARM GIRLS – SECRET SPELLS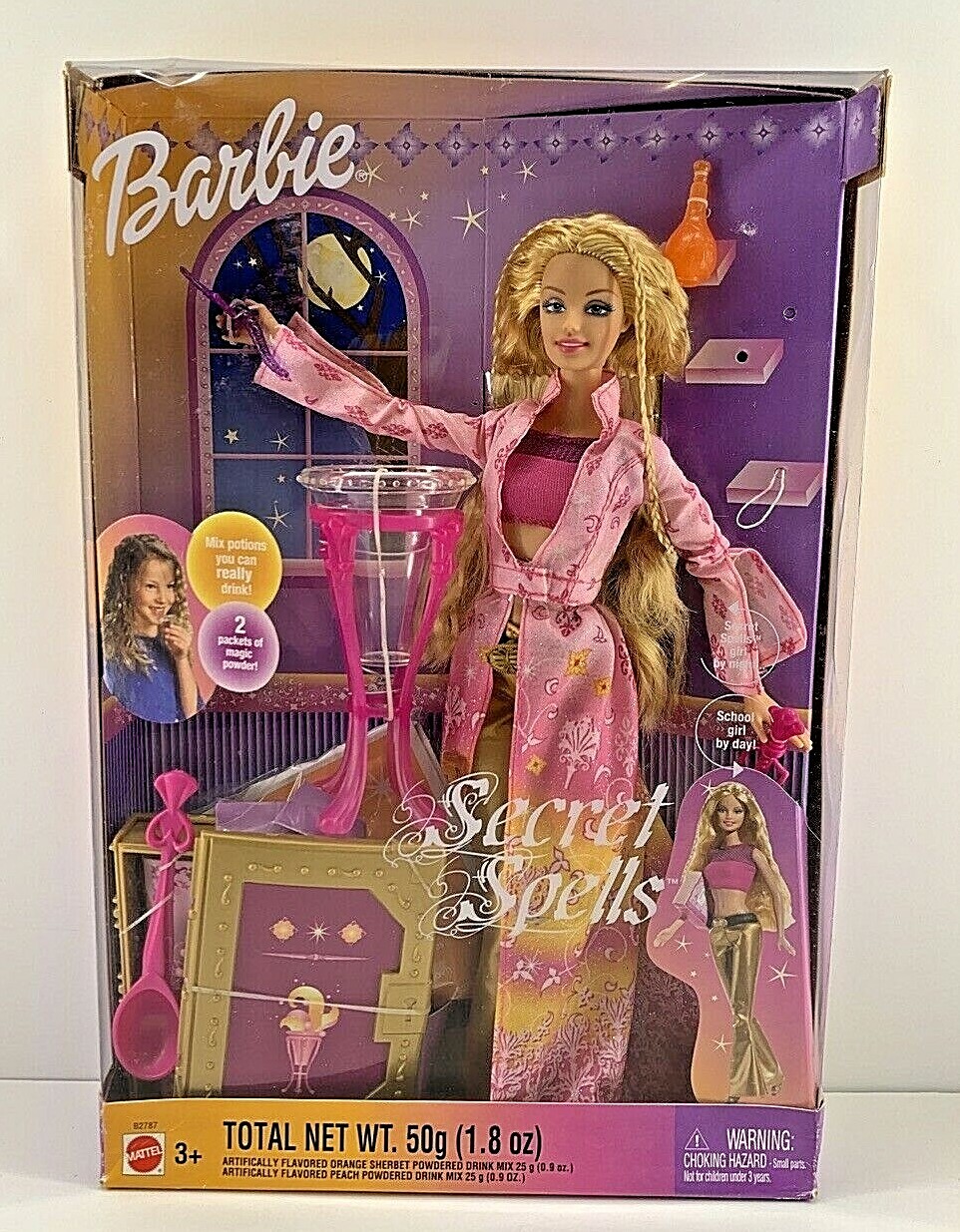 2003 Barbie SECRET SPELLS Wiccan Witch 11.5" Fashion Doll

Any of these Barbie Wiccan dolls from the limited issue Barbie Witch dolls are ones that any Barbie lover or Wiccan would just love for Halloween. They were all secret witches who went from their ordinary school girl life by day to performing Secret Witch magic spells at night.
My favorite is Secret Spells Barbie Kayla is my favorite because of her lovely red hair and green dress. This witch doll comes with magic supplies in a trick school book, a costume, butterfly, mixing pot and other supplies.
Kayla was actually one of the Charm Sisters: along with her friends Barbie and Christie dabbled in Wicca and were able to cast secret spells just for fun. The trio was released in 2003, when we all were interested in sorcery and witchcraft because of Harry Potter And The Order Of The Phoenix
The three dolls were released just before Samhain, also known as Halloween and caused not a little controversy. Some people are very offended by the idea of witchcraft and they protested the dolls arrival. They stayed around for one season only and are highly collectible. They were just three of the fun Wiccan witch Barbies that were created.
There are three dolls in the series, and Wiccan Barbie Kayla had two friends that she did her secret spells: Beautiful African American Christie in her lovely blue dress and violet corset and Blonde Secret Spells Barbie herself with her pink dress and pink halter. Both come with Wiccan accessories to add to the fun and mystery.
They all come ready to do witchcraft spells. These dolls are no longer made and are very collectible.
I found two – I will be on the lookout for the others.
Special Barbies make Barbie collecting So much Fun!
The first Barbie came around in 1959. Ever after that there were innovations and additions to the Barbie family that just made it more fun for Barbie collectors and kids.
The first African American Barbie dolls (with different name like Christie, Francie and others) came out in the 80's.
There have been specialty Barbies of all kinds every since.
If you want less spooky Barbies – check out the Barbie Magic Fairy Dolls
Barbie Secret Spells Dolls – Magic to teenage Wiccans ?
Kayla, Christie and Witch Barbie do a Spell for Teenage Happiness
Although Mattel advertised the Secret Spells dolls as appropriate for three and up they marketed to teenagers. Here we see three teenage girls using the secret spells for "luck, money and love."
Three Witches Casting a Spell
Did this Postcard Inspire the Barbie Secret Spells Sisters?
 The First Spell Postcard

 Vintage Halloween Witch Flying on Broomstick Postcard

 Creepy Vintage Scarecrow Halloween Witch Woman Postcard

 Pagan Full Moon Blessings Wolf Moon Postcard

& 
Witchcraft and Wicca are ancient, and the number three has deep symbolic resonance. I enjoyed this original postcard because it reminded me of practicing magic in groups of three – which might have inspired the Wiccan Barbies.
I thought the other postcards from Zazzle would be delightful for any pagan or witch.
Halloween Glow Witch Barbies Glow in the Dark!
Barbie came out with two very special Barbies in 2002: the Halloween Glow Barbies which actually glow in the dark! These are highly collectible as they are no longer made, but they are still inexpensive..And of course if you can bear to take them out of the box, they are all perfect for girls of all ages to play with! There were originally two styles – an African American Barbie and a blond Halloween Glow Witch Barbie. But they do go into extinction! However, I included three other collectible Halloween Barbies.
Barbie Halloween Glow Doll Special Edition
Barbie Halloween Enchantress Doll
Mattel Barbie Halloween Wishes Doll
Barbie Halloween Star
Witch and Wiccan Dolls Barbies are Perfect for Halloween
Witch and Wiccan Dolls Barbies are fun Halloween decorations for everyone.
For the close to a million Wiccan in the US alone they are perfect for anytime, not just Samhain.
Beautiful and Scary Barbie Witch Dolls from the Wizard of Oz
I was surprised and delighted to find so many Barbie Witch dolls and of course she celebrates one of our favorite stories: The Wizard of Oz. There are three Barbie witches based on the Wizard of Oz including Glinda the Good Witch, the Wicked Witch of the West and the Wicked Witch of the East.
Actually I found two versions of Glinda as well as several other Barbie dolls perfect for autumn and Halloween, and for fans of Witches or Wiccans anywhere.
PS – I always thought the Wicked Witch of the West was just misunderstood.
Barbie Collector Wizard of Oz Wicked Witch of The West Doll
Barbie Collector Wizard of Oz Glinda Doll
Barbie Wizard of Oz Wicked Witch of the East
Barbie 1996 Collector Edition – Hollywood Legends Collection – GLINDA the Good Witch in The Wizard of Oz
& 
Perfect Barbie Doll Witch Costumes
For Halloween, Half-o-Ween or Just Dressing Up like a Witch!
Some little girls don't want to just collect Barbie witch dolls – they want to dress like a Barbie witch for Halloween!
Pink Barbie Witch Costume and Hat
Sorceress Barbie Witch Costume by Morris Costumes
A Broom for the Witch Barbie
If you decide to play with Barbie, she will definitely need a broom to be happy. Here is an easy, cheap way to make one for her.
This craft is easy enough for kids.
Barbie's Kid Sister Kelly in a Giftset Collection of Glinda and the Wicked Witch of the West
Mattel Halloween Party Kelly – Kelly The Witch
Barbie KELLY Doll as Glinda and the Wicked Witch of the West Giftset – Wizard of Oz Collectibles (2003)
Spooky Witch Costumes for Mom – or Sexy Witch Costumes for Cosplay
To Complement the Barbie Witch Costumes Your Little Girl Wears
If you want to trick or treat with your little Barbie Witch, you can put together a spooky witch costume with these accessories – or purchase the complete costume. Cool witch's hat, gloves, and some other cool accessories.
Whether you feel like being a foxy witch or a spooky crone witch, we have just the wicked garb for you.
Leg Avenue Women's 2 Piece Storybook Witch Costume
Party King Women's Bewitching Pin-Up Witch Sexy 3 Piece Costume Set
InCharacter Wretched Witch Adult Costume-
Rubie's Costume Co Women's Sexy Witch Costume
Hope you Have a Barbie Witch Halloween!
The Barbie Wicca and Witch dolls are perfect as gifts to practicing Wiccans and Barbie collectors because of the great variety and the wonderful condition that you can still find these collectible dolls.
The first Barbie Witch dolls came out in the 1990's with a new one released almost every year. I can see why people become such Barbie fanatics, because just collecting the witch dolls alone would be very fun because there are so many choices. I hope you have enjoyed the wonderful dolls I have shared with you and I hope you have a mysterious and delightful Halloween!
At some level, many girls and many women still want to be Barbie Dolls – and these witchy Barbies are just more of the fun.
Check Out Other Related Posts On Webnuggetz