Beach Carts
Beach Carts for a Fun Day at the Ocean or Lake
Transport Your Beach Gear with a Cart
It takes lots of gear to enjoy a comfortable day at the beach. Avoid repeated treks from your cottage or the parking lot with beach chairs, umbrellas, coolers, towels, toys and other necessities for fun in the sun and sand. Organize all that beach gear onto a beach cart to save your feet (and your back).
Just wheel one of these beach trolleys down the trail and across the sand to where you will spend your day. Unpack and get settled in. Now, wasn't that a lot easier!
The carts come in different configurations so look them over to see which one best matches what you want to take to the beach. Maybe you want fishing gear or water toys. Whatever… there's a cart for your needs.
The Wonder Wheeler Beach Cart
The Wonder Wheeler Beach Cart is made of sturdy mesh fabric with a powder coated steel frame for rust resistance. Using the same technology as a baby stroller, it has an extended push or pull handle with a neoprene grip for comfort. Its designed to fold flat for easy storage and comes fully assembled, just snap on the wheels and go with your family gear and your umbrella mounted to the built-in holder on the side of the cart ! The wide rear wheels allows to easily roll on sand compared to narrow wheels. Its a must have for beach, camping and outdoor events. It provides a huge cargo area with room to hold a large cooler plus tons of beach gear. The tote bag can easily be removed from the cart for carry by the arm handle and has several compartments. This beach cart is also useable for laundry, shopping, gardening and shopping.
Wonder Wheeler Beach Cart – Easy Roll Ultra Wide Wheels – Silver Mist FrameView Details
Video: Beach Kart
Beach Cart with Folding Table / Drink Holders
JGRC Beach Table CartView Details
This versatile Table Cargo Cart carries up to 4 chairs, umbrellas, towel, boards and miscellaneous items in an easy to push frame. After unloading your items off the cart, it turns into a table that can hold up to 4 drinks.
Now isn't this clever! The cart converts to a table while you are at the beach. Later it changes back into a trolley to get all your supplies back to the car or to your cottage.
Tote Bags Are Handy, But You Need a Cart Too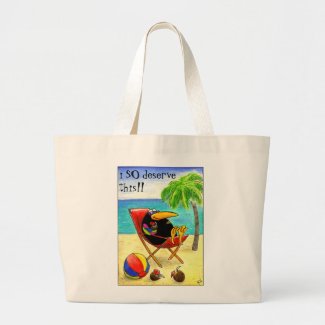 Funny Crow Beach Vacation tote bag by sunshinesketchesView Details
Foldable Beachcomber Wagon
Foldable Beachcomber WagonView Details
You'll be amazed at its versatility and how it expands.
This new wagon is made for difficult surfaces. The design offers enhanced mobility on the sand and dirt. This is a great way to transport chairs, coolers, umbrellas, towels and so much more!
Make your next trip easier and more enjoyable.
Keeping Cool at the Beach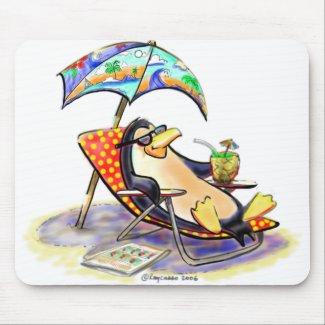 beach penguin mouse matView Details
Tommy Bahama All Terrain Beach Cart
Tommy Bahama All Terrain Beach CartView Details
Removable Tote Bag, Umbrella Holder, Storage Compartment of 15 cubic feet Fully Assembled, Weight Capacity 100 lbs, Weighs 13 lbs, Folds Flat for storage Holds up to 4 chairs, Full Size 48 Quart Cooler plus a lot of Beach Gear Durable mesh fabric dries quickly, Tough steel frame makes it easy to carry accessories.
Berkley Fishing Cart
Berkley Fishing CartView Details
*Innovative collapsible design for easy transport and storage
*Efficiently transport up to 200 lbs. of your favorite fishing gear
*Compact cutting board with bait bucket and knife storage
*Adjustable handle, corrosion resistant aluminum frame with electrostatic finish
*Heavy duty pneumatic wheels
When fishing, you need a lot of gear (all the fishing rods, bait, extra lines, hooks, etc.) and the usual day at the beach stuff as well.
Look at this cart that's ideal for the beach, for fishing and a fun day out.
It can handle a lot.
Beach Carts
Rio Brands Deluxe Wonder WheelerView Details Beach Cart with Folding Table / Drink HoldersView Details Collapsible Beach Chair & CartView Details Wheeleez WZ1-BCF-M Mini Folding Beach CartView Details Rio Brands WWWC5-4670 Wonder Wheeler PlusView Details Reels on Wheel – Snr Fishing Cart Select Options: No LinerView Details
Check Out Other Related Posts On Webnuggetz