Beach Themed Throw Pillows
Beach Decor Pillows
Pillows are a detail of decor that can add a lot to a room. They can add a splash of color or they can blend into a room in a subtle way, adding elegance and grace. Pillows make a room look comfortable and inviting.
The pillows featured here on this page all have a beach theme, with sea creatures, shells, or an anchor. If you have a beach house or a room in your home that is decorated with beach decor, you might find something here that you like.
Beach Themed Accent Pillow
Pillows for your Beach House
This spiked fish pillow will be a great accent to your beach themed room. You don't have to live at a beach house to enjoy these pillows in your home.
This pillow measures 20 inches by 20 inches and is made of 100% Grade A cotton. It has a hidden zipper closure and is machine washable for ease of laundering.
All of the pillows on this page come from Zazzle, the print-on-demand company. They have quality products and their customer service is awesome. Their motto – "We promise 100% satisfaction. If you don't absolutely love it, we'll take it back!"
More Beach Themed Throw Pillows
Here is a series of beach themed pillows, featuring a blue design on a light sandy color. They are neutral enough that they'll go with several different color schemes and they'll add a touch of class to the room. They have a light and breezy feel to them which makes them perfect for a beach house or a seaside cottage. If you click through to Zazzle you'll see that most of these pillows are also available in the reverse, a light sandy colored design on a blue background.
 Blue Seahorse Pillow
 Blue Starfish Pillow
 Blue Nautilus Pillow
 Blue Scallop Shell
 Big Belly Fish
 Blue Anchor Pillow
Beach Themed Pillows
will look great in your beach house or in any beach themed room.
Using Throw Pillows
Tips and advice on using throw pillows from P. Allen Smith.
Beach Collage Pillow
Under the Sea Pillow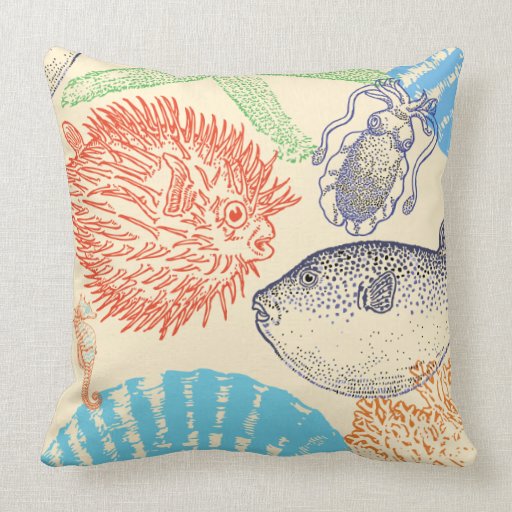 Another "Under the Sea" Pillow
This is a wonderful collage of undersea creatures including a scallop shell, a cuttlefish, a starfish, coral, and a couple of other fishes. The colors are shades of aqua, orange, dark blue, and green, great for summer decorating. I especially like the puffer fish.
More Beach Themed Throw Pillows
Here is a selection of lumbar pillows all done in a beach theme. Lumbar pillows measure 13 inches by 21 inches and are made from 100% grade A woven cotton.
Choose from a vintage crab, a lobster, an octopus, a pair of sea horses, or a tribal turtle design.
Ocotpus Pillow
Pillows with Animals
Lobster Pillow
Tribal Turtle
Seashell with Shadow
Stylized Seashell on a Teal Background Pillow
Sea Horses
Crab Pillow
Thank You!
I enjoyed designing these pillows and gathering them here for you to browse. I hope you enjoyed them and found some beach themed pillows to love.
Check Out Other Related Posts On Webnuggetz