Black Cat Home Decorations
Black Cats are Fun Home Decorations for Halloween, and Anytime
Indoor and outdoor black cat themed decorations and black cat decor can make your house spooky and fun around Halloween and anytime!
Because black cats have been feared in the past, and are still surrounded by superstition, especially around Halloween.
You will see a lot of black kitties at Halloween: Black Cat Halloween Costumes , Black Cat candy and decorated black cat cookies but what most people don't think of is how cute black cat home decor can be all year round. There are black cat pillows, wall hangings and all kinds of decorative black cat statues that bring the magic of the black cat to your home. These black cat home decorations are whimsical and pretty and we definitely bring a cozy air your home.
Black Cat Egyptian Goddess of Joy – Bastet
One of the Feline Goddesses – Beautiful and Special Home Decorations
The Egyptians did not fear black cats, they revered them. This included Bastet, the Goddess of joy. She had several manifestations. Both of these statues will be treasured in your home.
Design Toscano Royal Bastet Egyptian Box in Gold and Ebony (Set of 2)
Design Toscano Egyptian Cat Goddess Bastet Statue in Matte Black (Set of 2)
Bastet Statue – Egyptian Cat Goddess – Made in Egypt
10.75 Inch Flirty Bastet Egyptian Mythological Goddess Statue Figurine
Bundle Deal. Egyptian Plush Black and Gold Bastet Cat & Anubis Stuffed Animal. So Cute!
Egyptian Bastet *Bronze Canopic Jar Cat Burial Urn
Mystical Mystery Black Cat Figurine With Swarovski Crystal by The Hamilton Collection
Black Cat Appreciation Day
Black Cat Appreciation Day is August 17. This ASPCA holiday celebrates some of our favorite friends.
Take some time that day to appreciate our sweet black kitty friends.
Or even better yet – adopt one! Black pets are often the last ones to go from the shelter.
Cartoon Cat Pillows for Everyday Decorating
And Halloween Parties
Cotton Linen Climbing Cat Decorative Throw Pillow Case Cover Cat Cushion Cover Case 18*18 New Design Decor Square Cushion Covers
Createforlife Cotton Linen Square Decorative Throw Pillow Case Cushion Cover Creative Cartoon Black Playing Cat 18
Acala 18 X 18 Inch Cotton Linen Decorative Throw Pillow Cover Cushion Case, Cartoon Black Cat (E)
& 
Just for Fun Black Cat Halloween Figurines
Of course black cats are naturals for Halloween and Half-o-ween. Here are some adorable black cat Halloween figurines – just for fun.
Jim Shore for Enesco Heartwood Creek 4.25-Inch Black Cat with Bat Figurine, Mini
Solar Powered Dancing Halloween Black Cat with Pumpkin
Playful Black & White Kitty Cat Wine Bottle Holder Sculpture for Decorative Tabletop Wine Racks and Stands or Kitten Statues & Pet Figurines As Gifts for Cat Lovers
Decorative Black & White Kitty Cat Glass Salt and Pepper Shaker Set with Holder Figurine in Kitten Statues & Sculptures and Pet Kitchen Table Decor Gifts for Cat Lovers
Celebrate Cats on Black Cat Day!
The ASPCA reminds us to adopt a black cat and bring joy to your life and the life of another wonderful being. Since they are the last to be adopted – they could love you even more than the more popular cats!
If you can't adopt a cat, maybe you can foster one, or help with feral cat efforts. I am sure the local shelter could use a little cat food now and then as well!
Adorable Scary Sweet Black Cats from Furry Bones
The elegant, historic figures of the Egyptian goddess Bastet are not the only way to celebrate the fun of black cats.
I really enjoy the Furry Bones creatures, including Mao Mao the Black Cat.
Furrybones Black Voodoo Mao Mao Cat With Wool Skeleton Monster Tabletop Sitting Figurine
Flappy Vampire Bat Furry Bones Statue Display
Every Family Home Can Use a Little Black Kitty Decoration
My very first pet was a black cat, and I have had one in my home every since.
If I don't have my own black cat as a pet, I know I can have beautiful black cat home decor!
Day of the Dead Cats are Special Black Cats
You can have even a more special Halloween season if you decorate your home with these Day of the Dead cats.
Blake Jensen Mexican Sugar Skull Art Cat Figurine: Hamilton Collection by The Hamilton Collection
Blake Jensen Cat-tivating Peaceful Cat Figurine: Hamilton Collection by The Hamilton Collection
Photo Black Cat Pillows
Black Kitty Sitting on Pumpkin Cushion
Galaxy Hipster Cat Theme(3D) Funny Cat Wear Color Sunglasses Soft Custom Rectangle Pillowcase Pillow Case Covers
Dangerously Beautiful Black Cat Throw Pillow
& 
Beautiful and Original Black Cat Themed Home Decorations from Zazzle
Two Pillows and a Doormat
These pillows and a doormat from Zazzle will make your home purrrrrfect at Halloween or any time!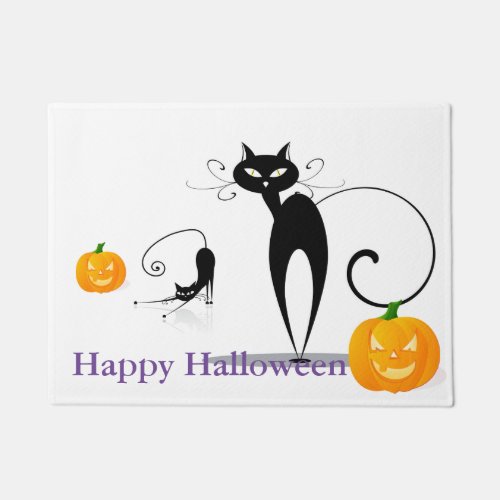 Halloween Black Cats & Pumpkins Door Mat Doormat

CAT AND BUTTERFLY, THROW PILLOW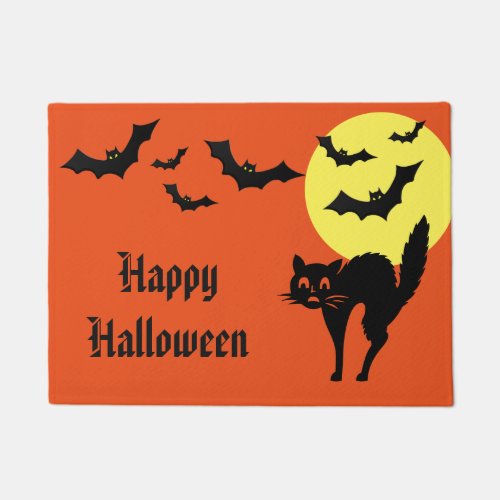 Halloween Door Mat Doormat

Some People Think Black Cats are Unlucky – But not Me!
Anyone who has had a black cat knows they bless a house.
Outdoor Black Cat Home Decorations
Inflatables or Black Cat Garden Flags
There are two ways you can go with these outdoor black cat home decorations: an inflatable or a flag. Both of them are so much fun!
SUNSTAR INDUSTRIES 23623G Air blown Animated Cat
Black Cat in Pumpkin Patch Halloween Garden Flag
Happy Harvest Primitive Fall Garden Flag Black Cat Sunflowers 12.5
Harvest Moon Cat Fall Garden Flag Black Cat Halloween Autumn 12.5
Black Cats are Witch's Familiars – and they Can be Your Friend
Black Cats are Special, and they Need to be around Your Home!
Black cats are often feared, there are still some people who think it is bad luck when they cross your path. They were known to be the "familiars" of witches, who were also feared. I think black kitty cats are sweet as can be. Unfortunately black cats, as well as black dogs are the last to be adopted at the shelter.
Even without being around real black cats, you can experience joy of black cats with these black cat themed home decor of all kind: indoor and outdoor black cat decorations, pillows and throws and all the just for fun black fun black cat Halloween decorations.
Check Out Other Related Posts On Webnuggetz