Chocolate Bedding Sets
Beautiful Chocolate Bedding
I love the color brown. It's a neutral color that goes well with many other accent colors. And if "Chocolate" is in the title, then I'm all for it (wink, wink).
You'll find scrumptious chocolate bedding sets, sheet sets, pillows and more featured here.
Pair your chocolate bedding with cream, white, black, turquoise, teal, yellow, orange, lime green, and so on.
Accent your bedroom with matching curtains, rugs, lamps, wall decor, and more. You can keep the color scheme and tones neutral, or add pops of bright color to liven things up a bit.
No matter what you choose to do, you're going to have a blast decorating your bedroom with this lovely chocolate bedding!
Cozy Beddings Jasper 7-Piece Jacquard Comforter Set, Floral, Chocolate
Available in 3 Sizes
Cozy Beddings Jasper 7-Piece Jacquard Comforter Set, Floral, King, ChocolateMore Details
The Jasper Comforter Set Features; small, little coffee diamond shapes that give the form of a Floral pattern with a brown, chocolate background, the 7 pieces Set includes 1 Comforter, 1 Bed Skirt, 2 Pillow Shams, 1 Neck Roll, 1 Bolster and 1 Embroidered Pattern with an Ivory Back ground Square Pillow.
Polyester
Imported
7-Piece Bedding Ensembles…King shown here… (1-Comforter, 1-Bed Skirt, 2-Pillow Shams, 1-Bolster, 1-Neck roll and 1-Square Pillow)
1-KING Size Comforter 104″ x92″, 1-Bed Skirt 78″ x80″ +14″, 2-Pillow Shams 20″ x 36″ + 2″
1-Neck Roll 7″ x 18″, 1-Bolster 12″ x 18″, 1-Decorative Square pillow 18″ x 18″
Care Instruction: Machine Washable, Cold, Gentle Cycle
Cozy Beddings Borrego 3-Piece Comforter Set, Brown
Available in 3 Sizes and 10 Colors
Cozy Beddings Borrego 3-Piece Comforter Set, King, BrownMore Details
Snuggle up under this Sherpa blanket and stay warm all winter. This reversible Down Alternative Comforter Set features soft Sherpa/Berber material on one side and super micro fiber polyester on the other side. The blanket is available in your choice of Twin Full/Queen or king Sizes. This Down Alternative Comforter/Blanket/Throw/Duvet Insert is treated with an anti-microbial finish to repel dust miles and is ideal for allergy sufferers.
Chocolate Bedding Sets
Add warmth and beauty to any bedroom in your home with these chocolate brown bedding sets. If you enjoy neutral colors, then brown is a great option for your bedroom.
CLEAR OUT SALE Double-needle Durable StitchingView Now Deluxe & Rich contemporary Jacquard designView Now Fancy Collection 7-pc Embroidery Bedding BrownView Now Madison Park Boone 7 Piece ComforterView Now Legacy Decor 7-pieces Brown & BeigeView Now Chezmoi Collection 8 Pieces Stripe ComforterView Now HC COLLECTION-Premium 1500 Series Bed SheetsView Now Pinzon 400-Thread-Count Pleated Hem Egyptian CottonView Now 1500 Thread Count Egyptian Quality DuvetView Now Black / Brown Comforter Set LeopardView Now Turquoise Blue, Brown and White ComforterView Now 4 Pieces Solid Brown Pinch PleatView Now Chezmoi Collection 8 Pieces Luxury StripedView Now 7 Pieces Chocolate Brown Suede ComforterView Now Chezmoi Collection 3-Piece Super Soft GooseView Now Nestl Bedding Duvet Cover, Protects andView Now Western Peak Oversize Embroidery Texas WesternView Now Mk Collection Down Alternative Comforter SetView Now Hotel Luxury Bed Sheets Set- 1800View Now Spirit Linen Hotel 5Th Ave 6-PieceView Now P&R Bedding Reversible Down Alternative 3-PieceView Now Chezmoi Collection Austin 3-piece Oversized BedspreadView Now Cabin 6-Piece Star Comforter Set OverView Now 7 Piece Dark Camel Brown LavishView Now
&
Veratex 800 Thread Count Egyptian Cotton Sheet Set with Chenille Scroll
Available in 4 Sizes and 5 Colors
Veratex 800 Thread Count Egyptian Cotton Sheet Set with Chenille ScrollMore Details
Relax in comfort with luxurious 100% Egyptian Cotton sateen sheet set proudly made in the USA. This wonderful Grand Luxe collection now features a gorgeous scroll chenille embroidered design on flat sheet which is extra long and extra wide to accommodate the thickness of your mattress. Fitted sheet fits up to an 18 inch mattress with elastic all around.
FEATURES:
Style: Modern
Elegant
Sophisticated
Material: 100% Egyptian cotton
Made in the USA
Chocolate Sheet Sets
Find fabulous chocolate bed sheets from three places here: Amazon, Wayfair and Wal*Mart! Click on any photo to learn more about each chocolate sheet set. These will go great with your chocolate bedding set!
6 Piece 1500 Thread Count EgyptianView Now AmazonBasics Microfiber Sheet Set – Queen,View Now Clara Clark 1800 Premier Series 4pcView Now Clara Clark ® Supreme 1500 CollectionView Now Elegance Linen® Wrinkle Resistant Luxury 6-PieceView Now Elegant Comfort® 1500 Thread Count Wrinkle,FadeView Now Elegant Comfort 4-Piece 1500 Thread CountView Now Full Size Bed Sheets Set, BrownView Now Ideal Linens Bed Sheet Set –View Now Pinzon 400-Thread-Count Hemstitch Egyptian Cotton SheetView Now Mellanni Bed Sheet Set – HIGHESTView Now Pinzon 400-Thread-Count Pleated Hem Egyptian CottonView Now Lavish Home 1200 3-Piece Sheet Set,View Now Clara Clark ® Luxury Circle FlockView Now ITALIAN STRIPED 4PC QUEEN Sheet Set,View Now
&
Inhabit Madera Suede Throw Pillow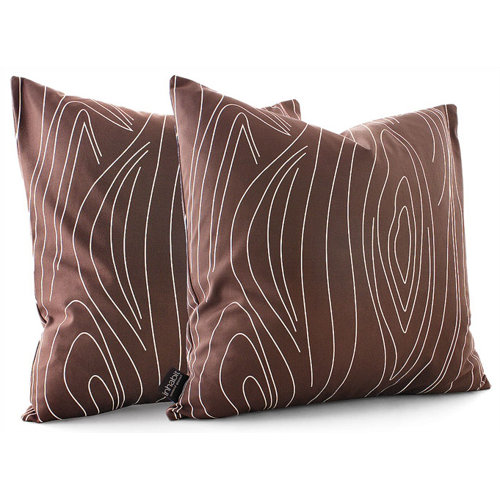 Inhabit Madera Suede Throw PillowMore Details
Combining simple hues with a unique design, the Madera Throw Pillow will prove to be a fantastic accent piece in your home. Double sided, this pillow features an intricate design which is set on a retrosuede fabric providing you with both comfort and style in one. Whether added to your bedding collection or tossed on a couch, this pillow will be a stylish addition to your contemporary decor.
FEATURES:
Made from environmentally friendly inks with no chemical waste or disposal generated
Zipper closure for easy removal and cleaning
Made in the USA
Front Fabric: Handprinted recycled retrosuede
Back Fabric: Handprinted recycled retrosuede
Pillow Insert: 95% Feather / 5% Down
Madera collection
Care and Maintenance:Hand washing is recommended. Pillows can be machine washed with care. Use warm water on gentle with light colors. Do not wring or bleach the fabric. Press if needed.
Chocolate Throw Pillows
No bedroom design is complete without some pretty toss pillows! Place some on your bed, a chair, a window seat, etc. These pretty chocolate pillows are deliciously attractive with your chocolate bedroom theme!
Sykting 2pcs 18View Now SET OF 2 Euphoria Cushion CoversView Now WOMHOPE® 4 Pcs – 18View Now CaliTime Throw Pillow Cover 18 XView Now Decorative Flower Emboirdery & Applique FloralView Now JinStyles® Cotton Canvas Chevron Striped AccentView Now Brown & Blue Flower Embroidered ThrowView Now YOUR SMILE Pure Brown Square DecorativeView Now Pack of 2 CaliTime Throw PillowView Now Better Life Cushion Pillow, 18View Now GOTD Square Decorative Pillows Covers forView Now Pillow Perfect Brown/Beige Damask 18-Inch ThrowView Now Monkeysell Lotus Leaf Butterfly Flowers PatternView Now Brentwood Starburt Petals 16-Inch Pillow, BrownView Now Eva's Flower Garden Decorative Throw Pillow.View Now SimpleDecor Jacquard Geometric Links Accent DecorativeView Now Chocolate Brown and White Decorative CushionView Now Pack of 2 CaliTime Throw PillowView Now JinStyles Cotton Canvas Trellis Chain AccentView Now Cateyes Decorative Tri Color Brown CowhideView Now Brown Embroidered Trellis Classic Decorative CushionView Now Decorative Coconut Buttons Throw Pillow COVERView Now BXI Outlets Decorative 18 X 18View Now Brown Turquoise and White Circles DesignView Now Cotton Canvas Circle Two Side SquareView Now Puredown Jacquard Throw Pillow Cover SofaView Now Euphoria Home Decorative Cushion Covers PillowsView Now
&
Peach Couture Peach Couture Signature Cashmere Throw
Peach Couture Peach Couture Signature Cashmere ThrowMore Details
When you wrap yourself in our high quality, luxuriously soft and light Cashmere throws, it makes your home the happiest and most stylish place in the world. Hand loomed, these 3-ply throws are made with the highest grade of 100% certified cashmere for pure luxury. Our throws can be used as the classic throw blanket or even a large pashmina shawl. This beautiful cashmere throw will enhance any living space with cosseting comfort. Thickly woven with the longest cashmere fibers means more warmth, more softness, and more durability so you know you'll cherish it for years.
Sunbeam Microplush Electric Heated Throw Blanket in Walnut Brown
Sunbeam Microplush Electric Heated Throw Blanket in Walnut BrownMore Details
Experience the ultimate in comfort with the luxuriously soft Sunbeam Microplush throw blanket in Walnut Brown, model 8050-030-470. With the ThermoFine warming system built in, the electric throw senses and adjusts to deliver consistent warmth.
Sunbeam microplush throw blankets are a smart way to cut energy costs as well. They allow you to save on your heating bills by turning on your heated blanket and setting your thermostat down by 10-15 percent. Made of 100 percent polyester, the blanket presents a soft surface that is smooth and soothing to the touch. The blanket includes 3 heating levels, while an easy-to-operate control makes it simple to find exactly the right setting. For easy care, the blanket is fully machine washable and dryer safe.
-Throw (50 in x 60 in) Single Heating Control
Chocolate Throw Blankets
Throw blankets can be used over your shoulders, or on your legs for extra warmth and comfort on colder days, or place them on a bed or draped over a chair or sofa for added decor touches throughout your home.
Floral Embossed Sherpa Throw Blanket 50More Details Northpoint Cashmere Plush Velvet Throw, ChocolateMore Details Pinzon Velvet Plush Throw, ChocolateMore Details BRAND NEW SAFARI –More Details Bedford Home Printed Coral Soft Fleece Sherpa Throw Blanket, BrownMore Details Faux Fur Throw Blanket 58More Details BRAND NEW SAFARI –More Details Arus Luxury Cotton Cable Knit Throw Blanket, ChocolateMore Details Hyde Park Velvet Throw Oversize Blanket 60×70More Details
Other Chocolate Bedroom Decor
Add brown accents throughout your bedroom to go with your chocolate bedding. Create a warm oasis you'll love to retreat to!
Wieco Art 4-PieceView Now UNFRAMED PRINTS (CHOOSE YOUR SIZES) –View Now Romantiko 12 Pcs Fashion 3D ButterflyView Now Craig Frames FM74DKW 24 by 36-InchView Now Elegance Solid Rod Pocket Window Treatment-View Now Deco 79 63515 Iron Wall Decor,View Now Wall Decor Plus More WDPM222 WallView Now Deco 79 50035 Metal Wall DecorView Now Beautiful Decorative Artisan Brown Decorative BowlView Now 3dRose dpp_213532_3 Photograph of Turquoise &View Now Sunjoy 110311020 Metal Garden Crest LaserView Now Hosley's Set of Three Dark BrownView Now Gorgeous Home *DIFFERENT SOLID COLORS &View Now UNFRAMED PRINTS (CHOOSE YOUR SIZES) –View Now Horses Collection Brown Horse Figurine DecorationView Now Faux Deer Head Wall Decor, BrownView Now OJIA 2016 New Antiquity Spanish StyleView Now Wieco Art – Brown Human TreeView Now Fding Classical Trumpet Horn Turntable GramophoneView Now Essential Décor Entrada Collection Glass Vase,View Now Safavieh Lighting Collection Aerie Brown GlassView Now Safavieh Lighting Collection Lauralie Brown CapizView Now Safavieh Lighting Collection Santa Fe BrownView Now Safavieh Lighting Collection Keeva Crystal BallView Now
&
More from This Author
Check out my websites, and web pages, and see the books I've written. Click on Margaret's Gems
Check Out Other Related Posts On Webnuggetz