Christmas Nativity Advent Calendar
Christmas Nativity Advent Calendar
Advent calendars aren't just for kids – there are wonderful ones for kids of all ages!
Advent is the season that is celebrated in many churches as they wait for the time of the Nativity of Jesus at Christmas. Nativity calendars started with German Protestant churches but have expanded way beyond that. Some people celebrate Christmas every day – there is even a Christmas in July!
Since they originated in Germany in 1850 they have expanded to many different kinds from mystical to whimsical. There are Lego advent calendars, calendars to sew, and yummy Nativity calendars to eat up!
I have delighted in finding so many kinds of Advent calendars for your enjoyment.
An Unusual Advent Calendar for Counted Cross-stitch
Blessed Nativity Advent Calendar Counted Cross Stitch Kit
You find all kinds of unusual treasures on eBay. This is from a top rated seller, which is a seller that shows excellent customer service.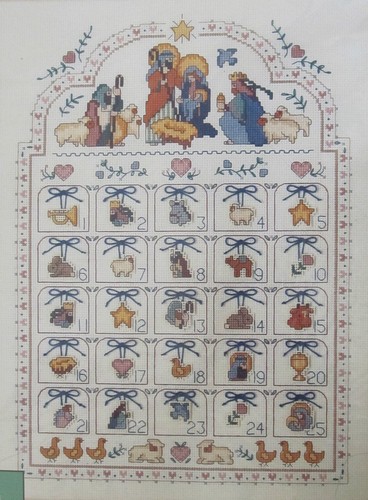 Blessed Nativity Advent Calendar Counted Cross Stitch Kit 8416 from Dimensions

&
Lego Friends Advent Calendar – Your Child Can Make their own Advent Calendar
Lego Friends Lego Friends Advent Calendar 41102
Lego Friends Advent Calendar 41040
& 
Barbie Advent Calendars
Our favorite Barbie celebrating Christmas!
Barbie Advent Snowman Calendar
Barbie Advent City Winter Scene Calendar
Barbie Advent Calendar Play Set – Full Dollhouse Set
& 
Traditional Christian Advent Calendars
These calendars demonstrate the reverence of the season. The calendar "No Room at the Inn" was well-reviewed, and everyone seemed especially pleased with this Vermont Company classic calendar.
Holiday Advent Calendar: 24 Traditional Hymns
Traditional Children's Advent Calendar, Beautiful Christmas Calendar
Visiting the Manger Free Standing Advent Calendar
No Room at the Inn Advent Calendar
& 
Christmas is Fast Approaching – Amazon is a Wonderful Resource
Because of the super fast, super cheap shipping available through Amazon, the holidays can be made much easier.
Also, Amazon can tap into special deals, and there are lots of bargains to be had, including the "add-on" specials for Prime members. Many of these Advent calendars are available for less than ten dollars because of that.
A Living Advent Calendar
The town of Folkestone in the United Kingdom has a living Advent calendar every year. Behind each door – and these are real doors will be all kinds of wonderful scenes for Advent from comical to traditional.
Do it yourself types can Make your own Nativity Advent Calendar
Crafty types can make your own your own homemade Advent calendar.
I enjoyed reading how this woman was going to make this Advent calendar with a special twist, each of the numbers was a matchbook with the name of a person that she was going to personally write to that day. She was using vintage postcards to send to each of them, definitely a person I can relate to. She knew how to bring the joy of personal mail into the lives of her friends, and brighten her own life as well.
Chocolate Advent Calendars – Advent Calendars for Kids
For Kids – and Grownup Kids
Yummy! Everyone loves chocolate. My favorite is the Trader Joe's chocolate.
Madelaine Chocolate Company Chocolate Advent Calendar – 24 Chocolates,8oz pack
Whistle Stop Christmas Chocolate Advent Calendar Filled With 24 Milk Chocolates
Elf Magic Chocolate Advent Calendar
Peaceful Prince Chocolate Advent Calendar
Santa's Toy Shop Chocolate Advent Calendar
Madelaine Chocolate Christmas by the Creek Countdown Advent Calendar
& 
Felt Advent Calendars for Crafters
Advent Calendars and Calendar Kits
Crafts and sewing make the holidays especially memorable.
Bucilla Must Be Santa Advent Felt Applique Calendar Kit
Bucilla Nordic Tree Advent Calendar Felt Applique Kit
Kubla Crafts Stuffed Oh Christmas Tree Fabric Advent Calendar
ALEX Toys Craft Crafty Advent Calendar
Bucilla Dog Felt Applique Advent Calendar Kit
Bucilla Felt Applique Advent Calendar Kit, 18 by 25-Inch, 86585 Nordic Gingerbread House
& 
There are Many Gorgeous Advent Calendars to Celebrate Christmas – and Christmas in July
I hope you have enjoyed the many advent calendars I have found for you: wooden, fabric and even cross-stitch patterns. There are truly advent calendars for the whole family!
Check Out Other Related Posts On Webnuggetz