Count Dracula Party Invitations
With Halloween party preparations looming I felt it was time to add some new designs to my Halloween Tees store on Zazzle. What better way to start this year than with "The Count" himself.
The story of Bram Stoker's 1897 Gothic character Count Dracula has certainly stood the test of time, with further tales written about him and countless movies portraying the bloodsucking creature wandering the night in search of his next meal. He's now such a popular legend that he makes regular appearances in the form of cartoon characters for the kids…and of course we all know the popularity garnered by the recent Twilight books and films.
Before I started my design I knew I wanted to create a very traditional Gothic looking Count. I definitely didn't want my Dracula to "sparkle" like the most recent adaptations, and he was most certainly going to have fangs! From his black top hat, swirling blood-red lined cape to his skull-topped walking cane, he's every inch the traditional vampire. The backdrop was going to be dark, but somehow quite opulent; this I achieved using black braided ribbon textures and a overlay of swirls.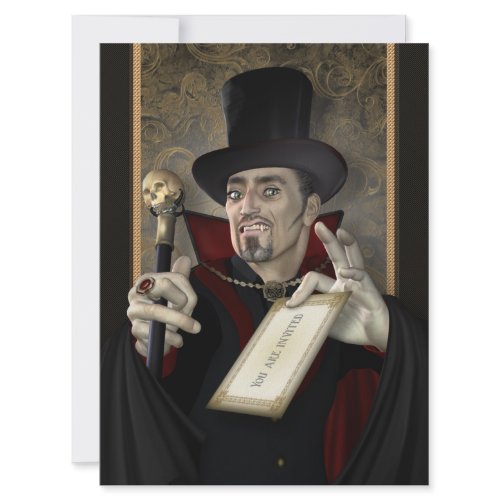 Like pretty much all of my designs there has to be an element of fun, and the fact that the invitation is being hand delivered by a vampire adds just enough of a fun twist to the whole thing. There is also the ability for the customer to change the colour of the glow behind the patterns by changing the background colour within the customization options, greens and reds look great too!
The back of the invitations have a great space to fit all of your event details. I've set them up as easy templates, but of course the whole thing can be customised to suit different requirements.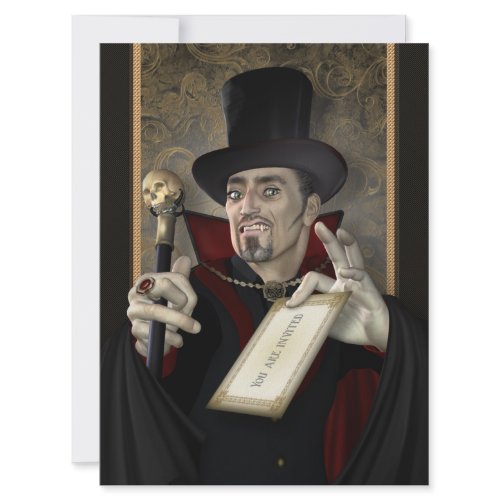 He's available on a range of 5 sizes from small through to over-sized rectangular invitations, plus 1 large sized square invitation. In addition there's a sweet little matching RSVP card available which will fit inside any of the invitation envelopes. Zazzle also offer a very nice range of quality cardstock from basic white through to luxury metallics to choose from.
Now available…Other products and gift ideas featuring a variation of my Count Dracula design…
 >>>See all of the Count Dracula goodies here in my store
Check Out Other Related Posts On Webnuggetz