Deity Masks from Nepal
Colorful Nepali Deity Masks, Mask Prints, and Other Products
I took the photo (below) of deity masks for sale in the Boudhanath section of Kathmandu during my three-month stay in Nepal.
Part of that time, I explored the crazy capital city, while the rest of my trip was spent in comparatively calmer places like Pokhara, Shyauli Bazaar, and a remote settlement in the foothills of the awesome Himalaya.
During my travels in Nepal, I often noticed these colorful masks on display. I sometimes took pictures of them and often I wondered what they were all about. But I didn't really find out until after my trip, which was full of activity and adventure.
This is what I learned about these deity masks and what I did with my photos….
The Meaning and Signficance of the Masks in Nepal
Located between Tibet and India, Nepal is a melting pot when it comes to the forms of worship found there, which contain aspects of Hinduism, Buddhism and Tibetan Bon (animism).
The colorful Nepalese masks seen here, as well as unpainted wooden masks, can be found on both interior and exterior walls, especially above or beside doors and windows, placed there to summon the aid of gods. Many of these masks have elaborate pointed skull crowns and third eyes in the middle of their foreheads.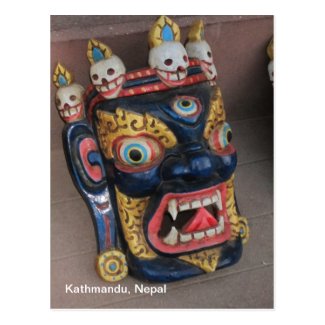 Nepali Mask Post CardCHECK PRICE
When I was in Nepal, I saw lots of these masks — often replicas of ceremonial masks — for sale at shops in Kathmandu and Pokhara, which is where I took the photographs on this page. These photos are available in a variety of sizes, framed and unframed, from my Zazzle shop, Ramkitten's Adventure Emporium.
Nepal Deity Mask Image Products
These are items — prints, posters, cards and more — that I created on Zazzle from my own photographs
If you see an image you like, but that image isn't shown on the product you want, let me know in the guestbook below, and I'd be happy to create it and post it here for sale.

Click on the images below for pricing and size options….
Deity Mask Postcards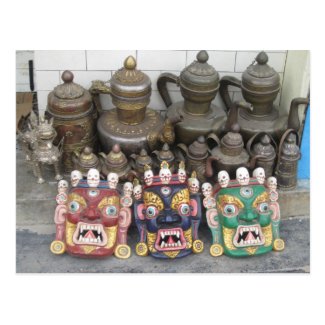 Keepsakes from Boudhanath Post CardsCHECK PRICE
Look at other Nepal Postcards at zazzle.com
Canvas Wraps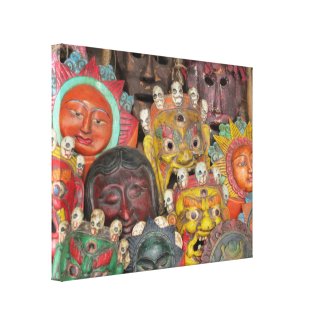 Masks in Boudhanath: Kathmandu, Nepal Canvas PrintCHECK PRICES
Deity Mask Posters
You can choose your size, from 6″x4″ all the way up to 53.33″x40″ and then add a custom frame if you want, in wood or metal.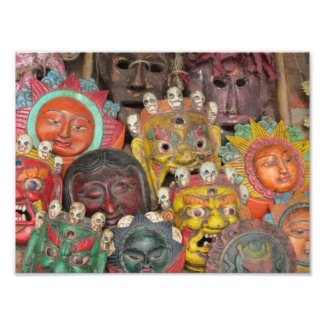 Masks at Boudhanath, Nepal PhotoCHECK PRICE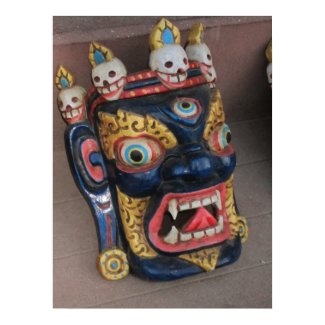 Nepali Deity Mask Poster CHECK PRICE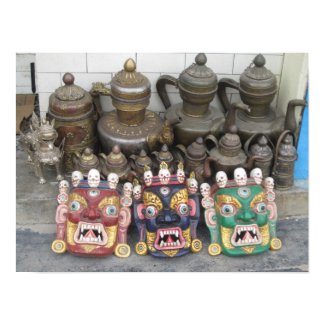 Nepal Deity Mask Keepsakes PosterCHECK PRICE
Photographic Prints and Note Cards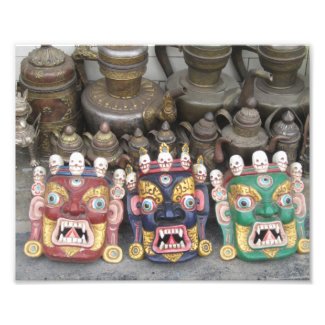 Nepal Deity Masks PrintCHECK PRICE
Nepali Mask CardsCHECK PRICE
Mousepads
I have this one, myself. The quality is very good (thick mouse pad) and the colors are bright — actually a bit more saturated than you see here, so it looks more like a painting because of the surface its printed on.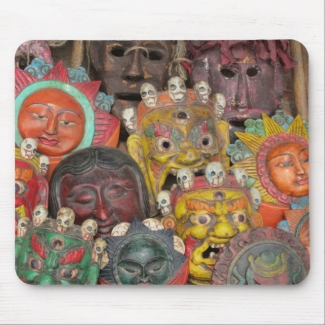 Masks at Boudhanath MousepadsCHECK PRICE
Nepal Deity Mask Plates
These are 10-inch, dishwasher safe and break-resistant dishes.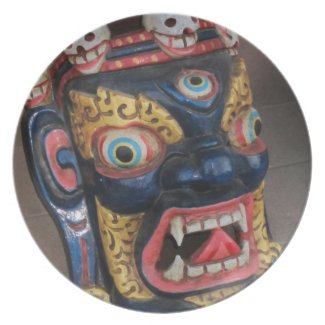 Deity Mask PlateCHECK PRICE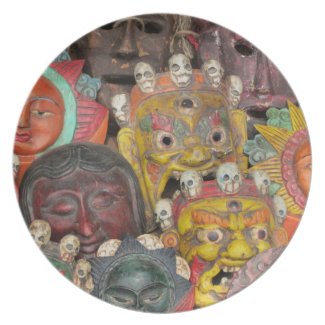 Deity Masks PlateCHECK PRICE
More Deity Mask Prints, Cards and Posters
Mahakala Wrathful Deity Mask PostersCHECK PRICE
Tibetan Buddhist Ceremonial Masks PosterCHECK PRICE
Tibetan Buddhist Wrathful Deity Mask PrintCHECK PRICE
Nepalese Cultural Masks: Other Resources
For information, photos and for purchasing Nepali masks
Cultural and Folk Masks of Nepal by Prof. Dr. Shanker Thapa
Professor Thapa teaches at the Central Department of History Tribhuvan University Kirtipur, Kathmandu Nepal. See this slideshow, with information and photos, about Nepalese masks.
Demons and Deities: Masks of the Himalayas
An excellent, extensive article with images of a variety of deity masks from Nepal
Nepalese Guardian Masks
Information from LuckyMojo.com, where they also sell these masks
Photographs: Nepal Deity Masks
Thousands of images from Google Search
Deity Masks
From "Everyday Exile" Photojournalism blog by Tammy Winand aka CrypticFragments
Buy Deity Masks from Nepal at LotusMasks.com
More of My Pages About Nepal
What To See And Do In Pokhara, Nepal
Get away from the crazy, busy capital of Kathmandu and enjoy some R&R and outdoor activities in the smaller, calmer city of Pokhara.
People Of Nepal
The population of Nepal is a like a group of tribes — known as castes — who co-exist (though not always peacefully) and intermingle, but they are still very…
Nepal Travel Information
Since I'll be going from the United States (Arizona, to be specific) to Nepal for three months beginning in early May, I thought I'd keep track of my travel…
Check Out Other Related Posts On Webnuggetz