Dog Steps For High Beds And Cars
Pet Steps For Beds
If you are like the thousands of other pet owners who enjoy snuggling with their pet, then you may be aware of the importance of a good pair of pet steps. With the assistants of dog steps for bed, your animal friend will be able to join you at its will. A good pair of pet steps will help eliminate you from having to lift them onto the bed or couch.
Here is a comparison of some of the top dog steps / ramps that are offered.
Bull dog image on home page courtesy of photostock / FreeDigitalPhotos.net
3 Step Doggie Steps
Heavy Duty
Brinkmann 3 Step Dog Stairs Deluxe Check Price and Read Reviews
This deluxe 3 step set by Brinkmann can hold up to a 200 pound weight capacity. There is added padding on each of the three stairs, which will provide comfort to your pet as they ascend. The Brinkmann Deluxe set features a non-skid bottom to keep the steps sturdy and safe for your pet to climb. The overall design will go well with any home decor, so you never have to worry about your pet steps sticking out like a sore thumb. The fabric is removable and machine washable. There is a handle on the back to allow you to move the ramp from room to room.
4 Step Pet Stairs for Dogs and Cats
Pet Gear Easy Step IV Pet Stairs for cats and dogs up to 150-pounds, ChocolateCheck Price and Read Reviews
The Pet Gear Easy Step IV Pet Stairs, is designed to accommodate both large and small breed pets. It has a weight capacity is 150 pounds, and there is a rubber grip bottom to help ensure the stair's stay in place. This set is very easy to put together, as everything snaps in place and there are no tools needed. The carpet tread is fully removable for easy clean up. Larger breeds will ascend the stairs with ease because of the wide landing base. The advanced incline of the steps helps eliminate stress on your pet as they do not have to climb as many stairs.
Available in Tan and Chocolate.
Dimensions: 34 x 16 x 30.5 inches ; 14.5 pounds, Weights about 14.5 pounds
Customer review from Amazon "My two Chihuahua's love these. It took only a little coaching with treats, and now they run up and down to get on the bed…"
Wooden Dog Steps For Large Dogs
Wood Dog Stairs For BedCheck Price and Read Reviews
If you are looking for a solid and luxurious option, Solvit PupSTEP Wood Pet Stairs is definitely the option. It is constructed with real wood and stained with a walnut finish. Perfect for any room in the house. Large model is recommended for small to medium size breeds and extra large model is suitable for medium to large dogs. Both have a holding capacity of 200 pounds. Safety side rails are built-in to offer your dog assurance while using the stairs. Also, this set of steps folds down for an easy storage solution.
Dog Steps For Small Dogs
Dog Steps For Small DogsCheck Price and Read Reviews
This best-selling Solvit PupSTEP Plus Pet Stairs is a quality option at a fraction of the price. Pets will climb the stairs with comfort, and the added side rail provides safety. Made for small to medium size breeds, and has a weight capacity of 120 pounds. Best of all, there is no assembly required.
Dog Steps That Convert To Ramp
For aging or arthritic pets
Pet Stairs / Ramp ComboCheck Price and Read Reviews
The Pet Studio Pine Frame ramp is another best selling ramp. The carpeting makes it look like a piece of furniture and dog owners like the wide steps and the option to be able to switch from ramp to steps without hassle. It folds easily and there is handle for easy transport. Can be used for trucks and SUVs. Measures 40″L x 17 1/2″W x 19 1/2″H.
Tips On Getting Your Dog To Use The Steps
Portable Dog Ramps for Cars Trucks and SUVs
When a dog jumps in and out of large cars like trucks and SUVs, it puts a lot of stress on its back and joints. Expandable ramps made especially for such cars decrease the incline making it easy for your dog to climb on and off. These ramps are beneficial to pet owners as well. Having to lift an aging or arthritic pet constantly, puts a lot of stress on a person's back. Car ramps for travel and lift harnesses for home allow pets and their owners to stay connected and enjoy each others company.
> Look for ramps that have a handles and safety straps to prevent from accidentally opening.
> Ramps that offer the convenience of folding in half can be stored in the trunk when travelling with the pet.
> Check the weight limit on the ramps and make sure the walking surface has traction to prevent your pet from slipping off.
Telescoping Smart Pet Ramp For Car & Home 40 inch – 70 inchCheck Price and Read Reviews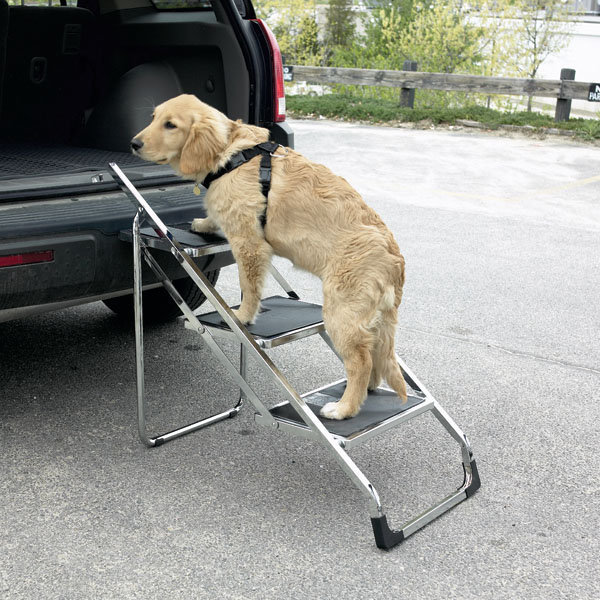 Master Equipment Non Skid 4 Step Pet Stair/ Step For CarCheck Price and Read Reviews
96 Inch Lightweight Extra Wide Folding Aluminum Pet Ramp / Loader For TruckCheck Price and Read Reviews
Pet Gear Tri-Fold Ramp 71 inch Extra Wide Pet Ramp Holds 200LBS, Black/Yellow(Reflective)Check Price and Read Reviews
Health Tips For Your Pets
We just love to take our dogs with us, wherever we go. In the car, to the beach, for walks, a swim. And now, there's something else you can do with your dog — Yoga! – Learning Downward Dog From the Experts | Doga: Yoga for Dogs | petMD
While it's easy to blame your cat or dog's behavior changes on age alone, they can also indicate underlying medical problems. Make sure your elder pet visits her veterinarian as recommended. Pet Behavior Problems – A Look at your Pet's Senior Brain
This section is empty.
Check Out Other Related Posts On Webnuggetz