Gifts for Music Lovers: Duke Ellington Album: Far East Suite
A duke is like a sovereign prince or a nobleman. What an appropriate nickname for him. Calling this man "mister" or "sir" just seems so inadequate and uncomplimentary for one of America's most influential jazz ambassadors.

Speaking with respect to Edward Kennedy "Duke" Ellington (1899 – 1974) – the legendary American jazz pianist, composer and conductor.

"Ellington was an outstanding composer. He wrote thousands of works, composing popular songs, art songs, a wide variety of instrumentals, suites, symphonic works, movie and TV scores, and music for ballet – all of a very high quality."

Find the italicized quote above, along with more biographical facts, career highlights, and information about his albums and other musical works at discogs.com.

* * *

Since the 1940s, Duke Ellington has racked up hundreds of albums to his credit, but this one album in particular deserves a spotlight.

Of all the compositions Duke Ellington spun during his 1960s tenure on the U.S. State Department international touring circuit, this album Far East Suite (1966) is considered a crowning jewel. Check out this review published by Kurt Gottschalk: allaboutjazz.com: Duke Ellington: Far East Suite (2004). It supplies good background info and excellent insight and perspective. Or … you could just listen to a music sampler.

[NOTE: The music is available on MP3, however, to purchase a CD, it is only manufactured on demand using CD-R recordable media.]

Albert "Al" Hirschfeld (1903 – 2003), well-known American caricaturist. His artwork, black and white portraits of celebrities and Broadway stars, was made famous because it was showcased in The New York Times. Check out this portrait of Duke Ellington.
There are several books about Duke Ellington but this one was written by him. His story told in his words.

Featured Image Credit: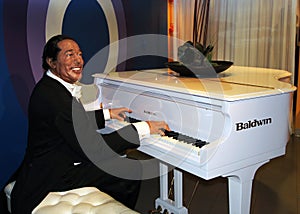 © Photographer: Mira Agron | Agency: Dreamstime.com
This webpage was created by My Shopping Channel
Thanks for Visiting!
* * *
If you have time, please visit my other pages for more gift ideas. My Wish List for You

Check Out Other Related Posts On Webnuggetz