Baby Cardigan Knitting Patterns – Easy To Knit Quick To Complete
You'll be Ready for the Next Baby Shower with Baby Cardigan Knitting Patterns – Easy to Knit Quick to Complete
Baby cardigan knitting patterns are very popular among knitters, not to mention new mothers. But more importantly new knitters can overcome their fears of not being able to master knitting with these easy and beautiful baby cardigan knitting patterns.
Baby showers have onsies, and booties and socks, rattles and bunting blankets, but how many handmade with love, knit baby cardigans? You'll be the talk of the party, and make the loved new baby the talk of the town.
It's fun and not difficult to make a beautiful little cardigan. I've chosen some unique and truly beautiful easy baby cardigan knitting patterns. And these patterns are from outstanding well known companies that understand what a knitter wants.
No one likes to wait! So these sellers offer quick pattern downloads and excellent customers service. You're going to appreciate that extra mile and love these beautiful baby cardigan knitting patterns.
More than 2500 Knitters Can't Be Wrong –
Beautiful Baby Cardigan Knitting Patterns – Popular Knitting Pattern
Over 2500 Knitters give four and five star ratings. Click here to read the reviews for yourself. you can decide if this cute little pattern is for you. And notice the quick download comments and the great customer support for quickly answering questions.
This beautiful little Baby Cardigan will make a perfect and really appreciated gift for new mom. Dressing a baby in style is always appreciated because it is so small and unique it just touches the heart.
This little pattern is rich in detail and contrast. It is deceptively easy and quick to knit. The detail and beautiful contrast is accomplished by clever use of basic knitting stitches and it is knit on two needles. Not double pointed or in the round knitting for this one. Suitable for boy and girl babies, just choose your accessories accordingly. You will Enjoy it for sure.
So Click Here to purchase this unique and easy baby cardigan pattern.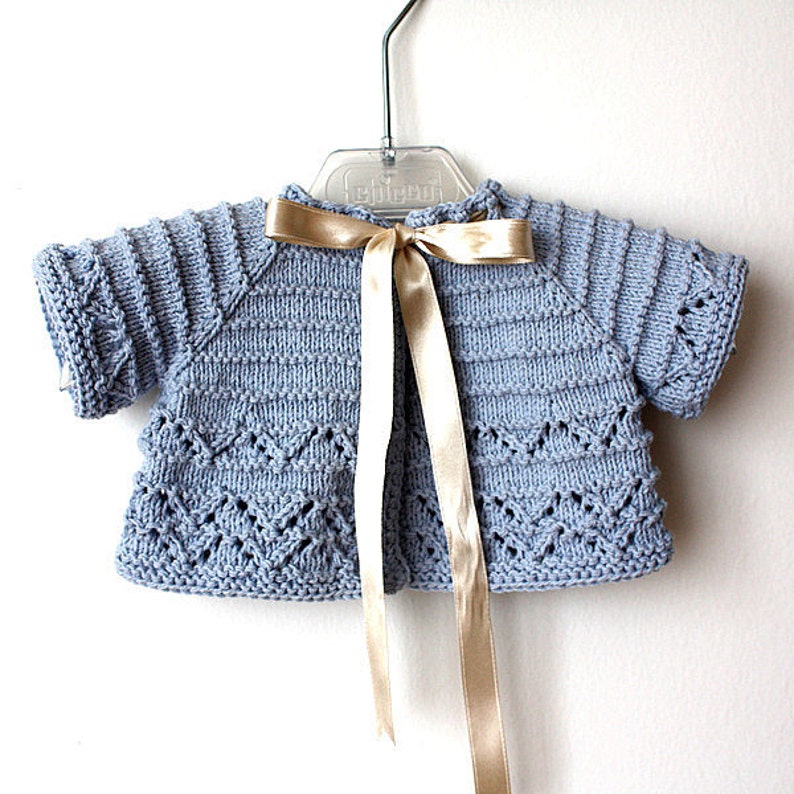 Knitting Pattern (pdf file) Baby Cardigan

Very Pretty Autumn Leaves
Free Baby Cardigan Pattern
A pretty baby cardigan knitting pattern. Beautifully fully written out on the author's post. Enjoy familiarizing yourself with the pattern and then go for it!
Autumn Leaves Free Baby Cardigan Knitting Pattern
An Adorable Baby Jacket Cardigan –
Simple to Knit
This little cardigan or jacket if you prefer is absolutely gorgeous. And what's better is it is very easy to knit. The pattern is made of just the garter stitch. You can accessorize this little beauty with adorable little buttons. And a simple little crochet edging and adorning flowers is the perfect finish.
Etsy has so many beautiful baby cardigan knit patterns that you may want to just pop over and see them for yourself. Just Click Here to get your fill.
You will never get tired of hearing the compliments that accompany the gifting of this really beautiful baby cardigan. You can purchase this pattern and get started on your journey of compliments by Clicking Here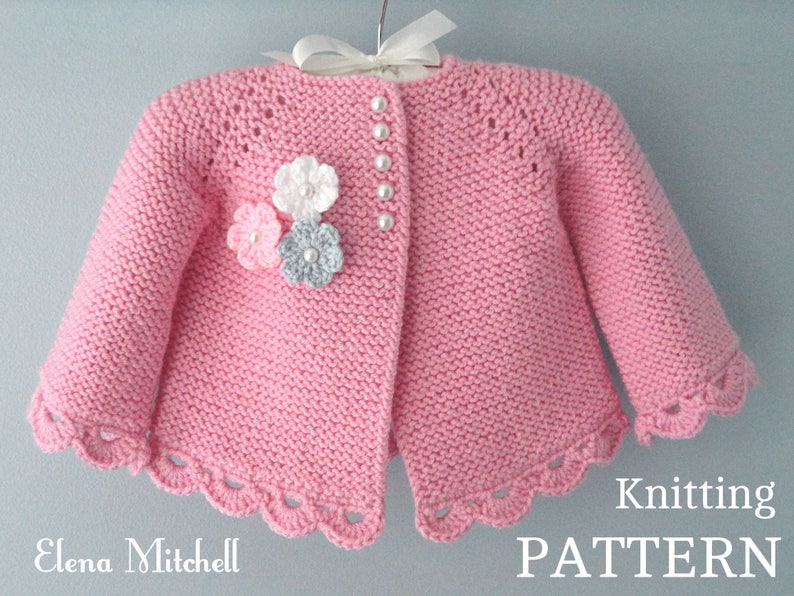 This Knitting Pattern Baby Jacket Baby Cardigan Garter Stitch Knit Pattern

A Really Gorgeous Baby Cardigan Fun to Knit and Completely Free
and Completely Free
Such a cute baby cardigan that really catches your eye. This is a free pattern that is available immediately for download. And the site offers you to purchase the recommended yarn if you like. But you know I like you to use your imagination. Just pick your favorite baby yarn and choose the color you like and knit to your heart's desire.
Jill, A Free Baby Cardigan Knitting Pattern
Give Your Baby Hearts To Wear and Love
A Beautiful Pattern From Etsy
This precious little sleeveless heart top (Yes, I know it's not a cardigan, but I liked it, don't you?) anyway it is worked from the neck down which is an easy way to knit a garment. It is also seamless in that there are no side or back seams. Unique and truly beautiful Pattern. I couldn't resist it.
Click Here to get your sweet heart baby top pattern and be ready for your next gifting opportunity.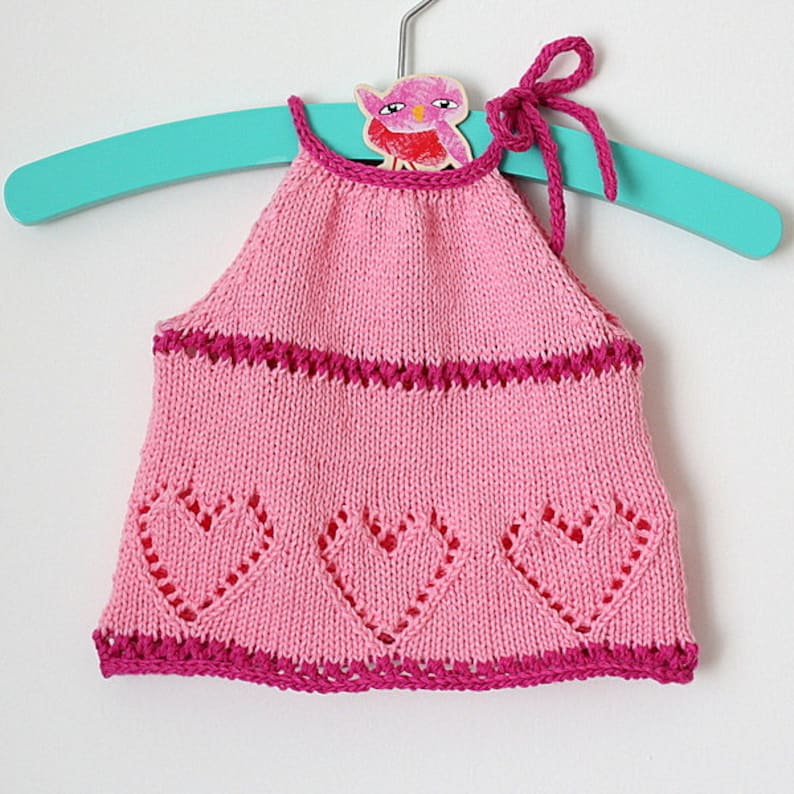 Sweet Hearts Baby Top (sizes 3 months up to 4 years

Free Baby Cardigan Knitting Pattern
Perfect Baby Shower Gift
This is a gorgeous Ravelry Pattern. A free download if you like this little beauty. Hard to believe something this pretty could be free.
I really enjoyed making this one. I left it as a little cardigan one time, and then knit it a second time and knit the body longer to make it into a little dress. Sewing a seam up the front. Turned out great!
Free Very Pretty Baby Cardigan Knitting Pattern
Very Beautiful Baby Cardigans from Annie's
A Nice Selection
There are so many varieties for you to choose from. It is a veritable smorgasboard. If you would like to see more from Annie's, Click Here
Snap Baby Cardigan Knit Pattern

Angels Around Me Sweater Knit Pattern

Baby Bell Cardigan Knit Pattern

A Very Easy FREE Preemie Baby Cardigan
You Are Sure to Have Success
I am a big fan of Marianne's knitting patterns. I have knit many of them and feel she does a great job of making the pattern understandable and doable, even for a beginner knitter.
Topaz – Premature Baby Top Free Knitting Pattern
Check Out Other Related Posts On Webnuggetz