Easy Grow Herbs
Herbs Can Be Grown For So Many Purposes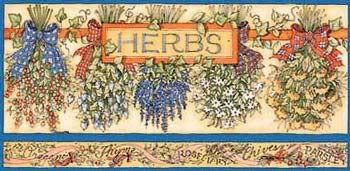 These are some herbs that are favorites to start by seed. Growing from seed is very satisfying because you get a great jump on the growing season and you are the one that created that little plant that will turn into such productive joy.
Herbs are so versatile. They are great for cooking. Have you ever had some good spaghetti sauce become great by adding some fresh herbs like Parsley or Oregano or Basil, at the end of the cooking. Absolutely Fantastic!
Not to mention you can dry them or freeze them to use at your leisure in your cooking dishes. The main difference in fresh and dried herbs when using them for cooking is the flavor, Dried herbs are more more concentrated than fresh so use a lot less. Usually I add dried herbs throughout the cooking process and crush them gently between your fingers when adding to your dish. Fresh herbs I chop into bite size pieces and add them at the very end of cooking for that great aromatic flavor.
Also Herbs are very valuable for decorating, wreath making or many other crafty ideas. They are not just for eating. In fact their are some herbs that are really not meant for consumption they are meant for crafts.
Sweet Basil
A little more difficult but well worth the effort
Sweet Basil 100 Seeds, 750 mg – Herb
Sweet basil is a fresh-looking plant with glossy leaves. There's a variant that has purple leaves and there's a somewhat different, smaller variety called bush basil. Definitely an annual, basil can be hard to get started. Although flies will give it a wide berth, snails love it and will completely remove a young plant overnight. Many herbs thrive in poor soil, but basil does not. Without rich soil and full sun it's unlikely to grow at all. Put it in when you're planting tomatoes and cucumbers it is a great companion plant for either, and well grow with the same sort of soil preparation.
While it's especially good with tomatoes and in all tomato dishes, basil is also used in soups and salads and as a garnish for fish dishes.
Like all members of the mint family, basil eventually sends up untidy spikes of small flowers. The plant may last longer and look better if you cut these off-unless you're saving seed. You can allow seeding without worrying about them becoming a weed, because it doesn't self-sow nearly as readily or prolifically as some of its cousins.
Borage Herb
Unusual and not mainstream but a delicious delicate flavor for salads.
Seed Savers Exchange 457 Open-Pollinated Herb Seeds, Borage
This has pinkish blossoms which turn blue like the perennial pulmonary. Borage is an annual and should be planted directly to the garden in early May in the North. Growing around 2 feet it should be spaced 10 inches apart, germinates in around 7 to10 days. Borage resents transplanting except when quite small. It is excellent used in tossed salad to add a most elusive flavor.
Growing Wisdom:How To Grow Herbs
Have fun seeing how easy it is to grow herbs
Chervil Herb
A delicious way to flavor Egg dishes.
Herb Chervil Vertissimo 1000 Seeds by David's Garden Seeds
Another and not thought of as a mainstream herb is Chervil. Although this plant will germinate in the fall and live over the winter I would advise the inexperienced gardener to grow it as an annual, sowing the seed to the garden in mid-May. Grows to 2 feet and should be spaced 8 inches apart. Grows quickly and is mature in 6 weeks. Chervil Plants don't do well transplanted so choose wisely the spot you want them in. Fresh leaves can be frozen in small packets after washing carefully. The chervil plant is an excellent way to flavor egg dishes.
Chives- a favorite herb to grow
A popular easy grow herbs – easy to use too
Chive Seeds – Allium Schoenoprasum – .2 Grams – Approx 150 Gardening Seeds – Herb Garden Seed
Chives are really very easy to grow from seed. In the spring they germinated in around 10 days. The tiny little plants look like fragile spears of grass. When transplanted they wilt slightly. Even during a continued drought they grow very well. Mature plants grow to 12, inches; space 6 inches apart. They are very hardy even in cold locations. Potted up, chives will grow on a sunny windowsill in winter. Chives are considered annuals but return year after year in my garden without fail.
Chives are great for cooking or seasoning and are very easy to use. They have a mild onion taste that's good in lots of different foods-mashed potatoes, sour cream and white sauces, for instance. For steaks and salads, there's a variety called garlic chives, too. When you want to use chives, you just snip off as much as you need and the plants aren't bothered by having their leaves shortened. They can be choked by more vigorous plants, though, so you need to weed back any encroaching ground cover to allow the chives some space. Like onions and garlic, chives are a good thing to grow close to rose bushes, because they keep the aphids away. Never plant them near any sort of beans, though. Beans just don't thrive in their company.
Indoor Gardening and Herbs Just Go Together
Here are some suggestions that might help you get a good start with your own herbs
Herbs are a wonderful addition to your kitchen or garden. Growing them for seasoning or even crafting is a wonderful hobby that can give you real enjoyment. Herbs are beautiful in gardens, flower arrangements or crafting accents and they make delicious dishes. Try making a wreath out of lavender twigs. Not only will it be gorgeous but it will smell heavenly. Your whole family will love herbs. I hope you make room for them in your life.
Toysmith Italian Herb Trio Green Ceramic Window Set of 3 Stoneware

AeroGarden 3 with Gourmet Herb Seed Kit, Black

INDOOR GARDENING: Seed to Salad in Seven Days

Hydrofarm CK64050 Germination Station with Heat Mat

Gardman R687 4-Tier Mini Greenhouse

DuneCraft Dome Terrariums – Herbs

Check Out Other Related Posts On Webnuggetz