Easy Product Displays Review
NO HTML KNOWLEDGE REQUIRED!!
That's right! When you sign up for Easy Product Displays, you can create beautiful product displays without knowing a lick of html coding! Our Amazon and Zazzle product display generator creates responsive product displays that work and fit into any size and style of webpages you own. Create fancy product displays with the best Amazon products and Zazzle products without leaving the website.
Easy Product Displays has built in search features to quickly add products from Amazon (both US and UK sites available) or from Zazzle.com without ever leaving the website. This tool makes it extremely easy to sell Amazon and Zazzle products on your webpages. Pick the best products from the Amazon / Zazzle marketplace to showcase on your webpages.
My Review of EasyProductDisplays.com
Create Beautiful Product Displays Fast and Easy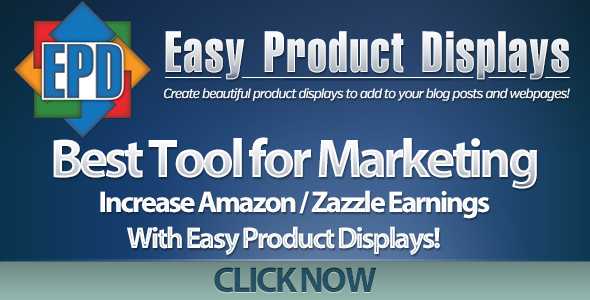 Watch The Easy-Product-Displays.com Video
Learn More By Watching This Video Review
Easy Product Displays 3 Day Free Trial
Example of An Amazon Product Display
They Are Quick and Easy To Make
Add Products Without Leaving The Website
Search Amazon.con and Zazzle.com for Products To Display
 I love to
 Every Day I'm
 S is for
 Funny Saint Patrick's
 Funny Green Beer
 Lucky Charm T-Shirt
 STOP Staring at
 Honey Do Stud
Sign Up Your Friends and Get Paid!
Earn Money By Signing Up Users for Easy Product Displays. Easy Product Displays includes an Affiliates program. For every member you refer to our site, you earn 25% your referrals pay for their service. Sign up your friends and you will offset your own cost of using the tools!
Check Out Other Related Posts On Webnuggetz