Face Recognition Systems
Face Verification for Home & Business
Face Scanner Detection & Photo Recognition Technology
A facial recognition system is a computer application capable of identifying or verifying a person from a digital image or a video frame from a video source. One of the ways to do this is by comparing selected facial features from the image and a facial database.
It is typically used in security systems and can be compared to other biometrics such as fingerprint or eye iris recognition systems. Recently, it has also become popular as a commercial identification and marketing tool. (from Wikepedia)
Many businesses are using face recognition devices for employees to get into the work building or to access other areas within the business.
They can also automate employees' time and attendance processes by "punching" in and out with face recognition technology. Employers can also keep track of weekly time, lunch break times, and more with this technology.
You can use a type of facial recognition system at home, too, to either gain access to your home, or to see who is at your door. Some connect right to your smartphone, so no matter where you are, when someone rings your doorbell, you can answer them as if you are home. This helps prevent burglaries and vandalism.
For Business Use
timeQplus FaceVerify System
timeQplus FaceVerify System, 4 x 3 x 6, BlackView Now
Allows employees to simply "Punch In/Out" at a glance. Advanced facial biometric solution prevents buddy punching. Ideally suited for small businesses with up to 50 employees that want to automate their time and attendance process. Includes powerful timeQplus software. Expandable up to 250 employees with additional terminals (sold separately). Employees can clock in using their face image, touch keypad or proximity cards.
& 
& 
FingerTec Face ID 4 Time & Attendance Face Recognition System
FingerTec Face ID 4 Time & Attendance Face Recognition SystemView Now
400 user capacity, 12 months Free Manufacturer support. Includes TCMS V2 FingerTec Solution Powerhouse Software Free Payroll Provider Integration: ADP, Ceridian, Paychex, QuickBooks, and Custom Employee verification Entry: FACE and RFID cards and password Download Methods:TCP/IP and USB Flash Drive
&
&
Biometric Face Recognition & Fingerprint Door Access Control Terminal
ZKTeco 2.8View Now
ProBio is the first access control terminal to apply the most advanced Silk ID and face technology together. Silk ID not only has outstandingly high identification rate towards dry, wet, and rough fingers, but also provides the utmost security with alive finger detection. It can operate under strong light, and activates automatically when finger approaches to save power. Using ZKTeco's latest ZKFACE version 7.0 high-speed face recognition algorithm, it has extremely high verification speed and low error rate, in addition to being able to effectively prevent duplicated registration. In addition, the new ZMM 220 hardware platform has a clock rate of 1.2 GHZ, greatly enhancing the speed of fingerprint and face verification. Such speedy hardware platform and fingerprint and face algorithm greatly enhance the speed of fingerprint and face verification.
& 
& 
CreativeTime Attendance Software for 100 Employees
with Biometric Face Recognition Time Clock
CreativeTime Attendance Software for 100 Employees with Biometric Face RecognitionView Now
CreativeTime Attendance is a solution for small/medium companies, featuring punch rounding, pay codes for both work and benefit hours, payroll export interface, daily and weekly overtime, department transfers, automatic lunch deductions, minimum lunch enforcement, time and shift differentials, holiday hours generation, employee messaging, history hours and informative reports.
&
&
Face Recognition Systems for Businesses
Did you know that even Apple has has investigated the possibility of using facial recognition as a security measure for unlocking iPhones? You are going to find this technology more and more in all types of businesses around the globe. Employers are finding it an accurate and beneficial way to keep track of employee payroll, and more, and face recognition is a great security feature for allowing people into a place of business.
Read about other ways businesses are using facial recognition by clicking HERE
Suprema FSM | Facestation facial recognition access controlView Now Biometric Employee Payroll Time Clock Facial Recognition Terminal with FingerpintView Now Iface7 Face&Fingerprint Access Control Kit + Power Supply+ 280KG MagneticView Now ANVIZ Face Pass Pro Recognition SystemView Now Danmini ID + Facial Recognition Attendance System – 1000 UserView Now MotoMon GPS Tracking : Bio-metric reader with face recognition :View Now Lathem FR650 FaceIN Facial Recognition Attendance SystemView Now Great Asia Facial and Fingerprint Access Control and Time AttendanceView Now LineMak Card reader, with facial, RFID and PIN recognition mode.View Now
&
For Home Use
Welcome, Home Security Camera with Face Recognition
Netatmo
Netatmo Welcome, Home Security Camera with Face RecognitionView Now
Welcome is a revolutionary smart home camera with face recognition technology. Besides providing a powerful remote security monitoring experience both day and night, Welcome can alert you when your children or elderly parents pass in front of the camera: the camera sends their names directly to your smartphone. You will always know when your loved ones are safely home. The camera also alerts you when it sees a stranger, which helps you better protect your home. Use Welcome to keep an eye on your home when you are away or to watch your vacation home remotely. Watch live stream and recorded videos from your smartphone, tablet or computer.
&
&
Wireless Outdoor Home Security Camera System
Trivision
TriVision NC-336PW HD 1080P Wireless Outdoor Home Security Camera SystemView Now
With an innovative 3-step setup system, No port forwarding, DDNS or other complex setup needed. Start viewing in seconds using any iPhone, iPad or Android device with our Free app, from anywhere in the world.View easily via a web browser on Windows or Mac too.
With a high quality rust proof metal casing, IP67 rating (water and dust proof), long range wireless, infra-red night vision, built-in DVR, motion sensor, email alerts and more, this is a truly all-in-one 1080p HD IP CCTV camera.
&
&
Wireless Visual Intercom Doorbell Home Security Camera
Monitor Intercom System
Wireless Visual intercom doorbell Home Security Camera Monitor Intercom SystemView Now
Your smartphone can control the doorbell (such as unlock /video intercom/take photos,etc.),
This system acts as a security escort for your home. Offers an interactive experience with anyone who rings your doorbell, whether you are home or not.
Others will think you are home, thus reducing the risk of break-ins and vandalism.
&
&
Wireless Video Doorbell Systems
One way to use facial recognition in your home, is by being able to see who is at your door, even if you are gone. Use your smartphone to answer the doorbell, and let others think someone is home. These systems are inexpensive and worth the investment to ensure a safe home at all times!
Ennio 3.5View Now Toguard Wireless Video doorbell Intercom WIFI, PIR Motion activated,Waterproof,Support android/IOSView Now 1byone 7-inch Color LCD Wireless Video Doorbell, Waterproof door phoneView Now Ennio 7 Inch Video Door Phone Doorbell Intercom Kit 1-cameraView Now Safebao 2.4GHz 7″ TFT Wireless Video Door Phone Intercom DoorbellView Now MicroMall(TM) 7View Now ALEKO® HL3601 WIFI Wireless Visual Intercom Doorbell Security Camera DoorView Now Ring Wi-Fi Enabled Video DoorbellView Now PowerLead Pdor D012 Doorbell Wifi Video Door Phone Doorbell WirelessView Now Honeywell RCWL330A1000/N P4-Premium Portable Wireless Door Chime and Push ButtonView Now Hibell WiFi Wireless Video Doorbell Doorphone Home Security Camera PhoneView Now Xinda Wireless Wifi Video Doorbell IR Night Vision Intercom HomeView Now
&
Facial ID Time System
From Wayfair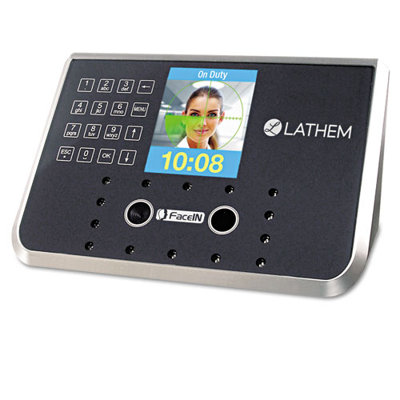 Facial ID Time SystemView Now
System includes powerful desktop software for editing, reporting and exporting to most popular payroll software including quickbooks. Facial ID time system.
Simple to use and touch free biometric time clock. Recognition rate of more than 99.9%.
Provides touchless, hygienic alternative to fingerprint readers, while still eliminating "buddy punching" and need for cards and badges. Employees simply look at clock and within seconds they are identified and clocked in for work.
Time clock uses standard ethernet connection to existing computer network. Standard support is for 50 employees but capacity can be expanded to up to 1,000 per system. Uses face recognition technology to instantly identify employees.
&
&
Video Doorbell
From Wayfair
Video DoorbellView Now
The Ring video doorbell lets you answer the door from anywhere using your smartphone. It features an HD camera with night vision, providing a clear view from your front door day and night. It installs easily in minutes with no professional help or additional tools required. A built-in rechargeable battery lets you install the doorbell anywhere or connect it to existing doorbell wiring. Motion-triggered alerts are sent with the free Ring app to notify you of arriving guests and deliveries. Cloud recording ensures you'll never miss any activity at your home. With Ring, you're always home.
&
&
More From This Author
Click on the Pic Below
See List of Other Websites by This Author Click Here
7/29/16
Check Out Other Related Posts On Webnuggetz