How to Make a Family Notebook
How to Make a Family Notebook – for Senior Citizens
Do you know how to make a family notebook? We all need a notebook of emergency information in a convenient spot in the house — just in case. As we age, the need for a family notebook is even more pronounced. In this post, I will tell you how to organize a binder so that in the event of emergency, your family can be contacted or your neighbors alerted.
I recently rearranged my notebook to include emergency numbers, family history and stories, "wisdom" I want my children to know, last wishes and funeral plans. Don't forget your pets – include their emergency information, too.
Gather Supplies for Your Family Emergency Notebook
The first thing you need to do is gather your materials. You can use a plain 3 ring binder, as I did, or use a personalized binder. The personalized binders at Zazzle are really pretty. When I get further along with my book, I am going to get a pretty one at Zazzle.
You will also need top loading acrylic sheets for a 3 ring binder. I like the convenience of printing a page, and slipping it into a protector in my notebook. You will also want tabs so your family can find the information they need. I used regular Post-It tabs and learned quickly that the tabs need to be at the top of the divider!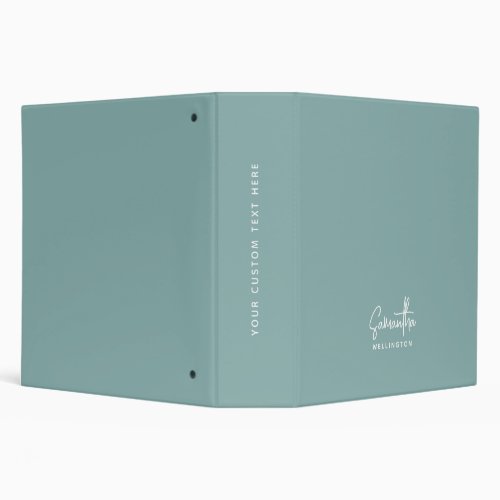 Monogram Turquoise 3 Ring Binder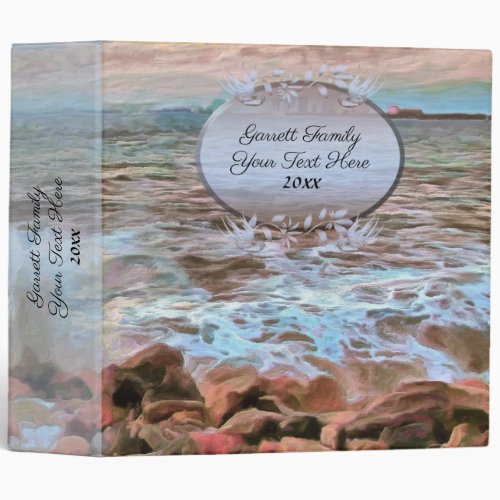 Family Rocky Waves 3 Ring Binder

College Looking Family Name

Canada Goose Personalized 3 Ring Binder

Please do not let the steps overwhelm you. Decide to make a family notebook.  Then, set up your notebook, and add one something to it every day — and on the days you don't get it done, you still get an A! This is a long term project — not something you can do over a weekend.
Your Family Emergency Book – The Details
Emergency Information   The first section of my notebook is filled with phone numbers of family, friends, neighbors, doctor, pharmacist and a list of medications for both of us.   I also asked my closest friends and neighbors for a list of relatives and their contact information.  If you were called to be with your dear friend during a family emergency, do you know how to contact his/her children?
Economy Non-Glare Sheet Protectors
HP Printer Paper | 8.5 x 11 Paper
Don't forget to include instructions for care of your pets. This is a great place to keep reminders for yourself, too– the dates dogs and cats need checkups, or medications, kinds of medications, emergency treatments, vet's name, and any other special needs your pets may have.
Write Your Stories
In the next section of my family notebook, I included our stories.  We are both working on our autobiographies. Rather than take the chance our stories might end up lost in our computer, I print a copy of every completed page, and slip it into the binder. Some days I write one little story. Other days, I write more. The notebook is like a file cabinet to me. It holds our stories until we are ready to publish and in the event we do not get that far, the children and grandchildren can decide what to do with them. (Of course, I hope they will make copies for everybody!)  Please do not sit and reflect on your memories without writing them down for future generations.
Tell Your Life Story: The Write Your Own Autobiography Guided Journal
Life's Workbook: How To Write Your Autobiography Through Memoir Writing
Share Your Wisdom and Your Plans
Over the years, we have all managed to learn a thing or two.   I refer to my wisdom pages as The Gospel According to Joan.  Call yours whatever you like, but do leave some bits of wisdom, favorite poems or Bible verses, favorite books, favorite music.
You think your children already know all that, don't you?   I dare you to ask them:  "What is my favorite song?  What is my favorite quote?   How do I want to be remembered?
Living and Dying — What are Your Wishes?
No matter how many times you have had the discussion with your children, the job is not complete until the paperwork is done.  People tell horror stories all the time — "I did not know what she wanted me to do."   "I never thought he would end up like this."
I'm Dead, Now What?: Important Information About My Belongings, Business Affairs, and Wishes
It's Your Funeral, Why Don't You Plan It?: The Ultimate Guide to Pre-Planning Your Funeral
Write Your Funeral Plans
We will all die one day. Do you care about how your funeral is conducted? If that is an issue for you, please make some notes and leave them in your family notebook.   If you don't tell them, they won't know.   Write it down.  Put it in your notebook.   Do you choose to be cremated?  Do you insist on a church funeral or is it okay to have a service at the funeral home?   Do you want a formal service or a casual memory sharing event?
Peace of Mind Planner: Important Information about My Belongings, Business Affairs, and Wishes
My Final Wishes Organizer: A Death Planning Checklist For Family Survivors
Learning how to make a family notebook is so important to your family.  If you have read to this point, congratulations and thank you.   This is such a loving thing to do for your family and friends.
Check Out Other Related Posts On Webnuggetz