Gifts for Home or Office : Use Feng Shui for Balance and Harmony
Feng means wind.
Shui means water.
Although there are differing schools of thoughts, regarding this ancient Chinese practice, the purpose of applying the principles is the same, i.e. to bring balance and harmony to your environment, where you live or where you work.  A variety of inexpensive products have been designed to create a calm, stress-free, serene atmosphere. Table top water fountains, for example, create a comforting soothing feeling from the sound flowing water and are very pleasing to the eye as well. Other examples are wind chimes and sun catchers. Feng shui can enhance any living or working space. They also make the perfect gift – for newlyweds, for new homeowners, etc. 
Want to Bring Feng Shui Into Your Life?
Choose from a wide range of stress-free and relaxation and home decor products.
Sample Product – Tabletop Water Fountain
– Price range $50 to $200 – Soft water sounds, LED lighting create glowing, bubbling water. Scalloped glass layers are covered with water as the water flows out of the top and over the glass rocks. Fits on an end table or a desktop.
Features: — LED light lights up the lower base. — At 15″ in diameter. — Materials: Metal basin and scalloped glass — Included: electric, recirculating fountain pump, glass rocks, light and fountain — 15″ diam. x 6.5″ high; 12lb — 6 month manufacturer warranty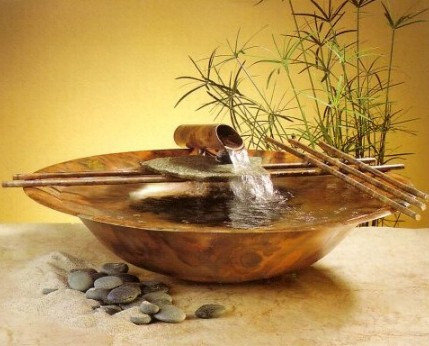 These indoor waterfalls are created completely of copper with a flame finish and clear coat, slate, and rocks. Water cascades out of the copper bamboo over a slate ledge that gently rests on a copper lattice to culminate in the pebble filled copper basin. In all of our indoor waterfalls, a standard 110v outlet is required for the quiet, long-lasting, powerful, adjustable-flow water pump that is included. All of our indoor waterfalls are re-circulating and do not need an outside water source. *Any plants shown are not included. Dimensions: Diameter: 23.5″ x Height: 5″
This webpage was created by My Shopping Channel
Please visit our other sites if you have time.
* * *
Thanks for visiting!
If you have time, please visit my other pages for more gift ideas. My Wish List for You

Check Out Other Related Posts On Webnuggetz