Gertrude Gumshoe- the Delightful adventures of the Geriatric Detective
Gertrude Gumshoe- the Delightful adventures of the Geriatric Detective by Robin Merrill
Gertrude the detective is the crazy cat lady with a purpose – she loves to solve crimes!
This cozy mystery series is the one I have been waiting for – not too gory or spooky, full of humor and with endearing characters.
Gertrude loves to solve crimes so much that sticks her nose that sometimes it looks like she wants to do anything she can to find them – even if others do not see that they are there!
I got introduced to this constantly amusing and sweet lady – even though definitely the scamp- during the height of the Covid season. After getting off the phone with my stressful job I found relief in these books. Gertrude is a Maine native and I grew nostalgic for New England when I brought this life-long Mainer into my home. Along with solving crime, she spent a lot of her time fighting the nasty developers who wanted to plough down Maine and put in water parks and condos.
If you want a quick read that will keep you stimulated and amused – Gertrude the Gumshoe is for you!
Recommended: Gertrude Gumshoe the Detective Complete Set
This is the series – and you will want all of them. This is the set on Kindle.
The first part takes care in Maine, where the quirky detective entertains us by getting into as much trouble as possible and still catching the bad guys or gals.
Most of her jobs are in her hometown of Mattawooprock, although she will venture outside of the area whenever she suspects crime – like when there is a rash of murders at a Poetry Slam in nearby Portland< Maine. The rest of the series is in South Dakota which Gertrude reluctantly drags Calvin to because she can practice as a private eye without a license.
Gertrude, Gumshoe Cozy Mystery Box Set: Complete Series

Gumshoe Gertrude is an Easy Read – Most of the Books are in Large Print
As I get more geriatric myself – I really appreciate books that are easy to read.
Most of the Gertrude books are large print!
Where can you Practice as a Private Eye without a License?
Well South Dakota of Course!
Yes, because you see Gertrude kept getting in trouble with the real law – so she packed up all of her 20 plus cats, and she and her friend Calvin – went to South Dakota.
You can just imagine the trouble they got into there!
Buy the entire set from my eBay store
I love my Gertrude books – but I have decided to release them so that someone else can enjoy them. This is a bargain deal and the sale will help the ASPCA,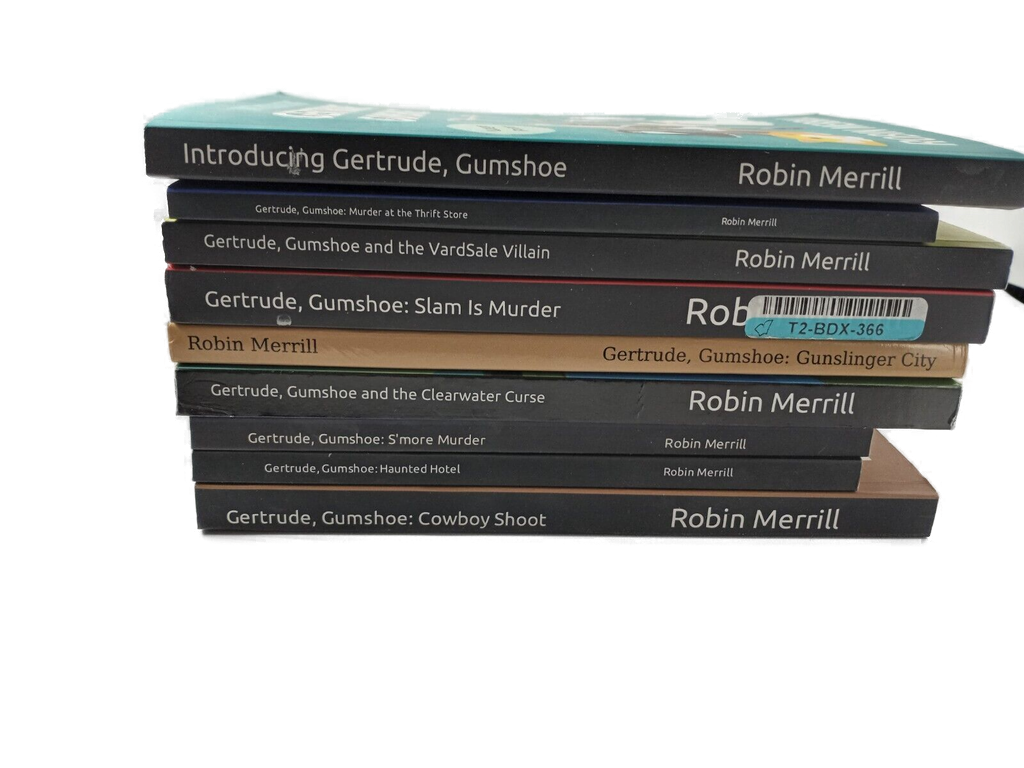 Lot of 7 Gertrude the Gumshoe – Cozy Detective Mystery Novels

Robin Merrill – the author of Gertrude Gumshoe is Worth Following
On Robin Merrill's author page she says "I have been a merchant mariner, Great Lakes pilot, dog trainer, high school science teacher, high school English teacher, adjunct college instructor, coach, referee, (terrible) saleswoman, slam poet, line dance teacher, editor, and bumper boat technician. I used to think I had trouble making up my mind. Now I know I was just doing research.
My circuitous route led me to my dream job. Today I get to make up stories every day."
Robin calls herself a Christian author, but the books are not theological. Instead they are light, entertaining and addicting. I have only read the Gertrude books but because of Ms Merrill's command of the English language I will read some others.
I am grateful for Gertrude for helping me get through some dark hours!
Check Out Other Related Posts On Webnuggetz