Gifts for Librarians and Book Lovers
Gifts for a Favorite Librarian or a Book Lover
I'm a retired librarian, and love getting librarian or book-themed gifts at Christmas time or for other special occasions. Actually most of the gifts will appeal to anyone who loves to read.
Don't wrack your brain trying to think of the perfect librarian or book lover gift. I've done the hard work of pulling it all together in one spot for you.
Relax and browse these gifts that any librarian will love. Trust me, I may be retired but I'm still a librarian at heart, so I should know.
Super Librarian Mouse Pad by busybrain
Of course a librarian needs an inspiring mouse pad. This one can be ordered from Zazzle…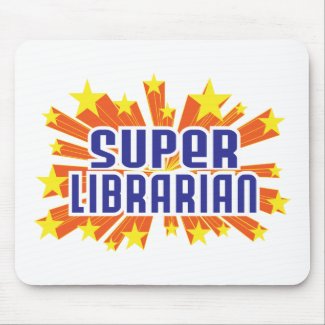 Super Librarian Mouse Pad byView Now
Here I Am – in the Children's Area of the Library
This was a photo taken of me when I was the Director for the Weslaco Public Library in Texas.
Don't you love the graphic created to greet children when they arrive! I wanted it to seem like a magical place where they could discover books and learning.
The gifts I'm featuring here are exactly what I'd like. I'll need to show this page to my family before Christmas rolls around.
Besides drawing on my own experience, I have an aunt, a niece, a sister and lots of friends who are librarians. Be assured that you'll find the right gift here.
Even though I'm retired now from my library career, I still love matching readers with books.
Source: My Family Album
Great Point Light GP-02-01-63 Flex Neck Reading Light 2 LED, Clip On Light
Mighty Bright XtraFlex2 Light –View Now
Of course, librarians and book lovers like to read in bed before falling asleep. For this, they need a book light.
Just clip this handy book light onto your book and start reading. It illuminates just the area of the book so is less likely to keep your spouse awake than a bedside lamp would. Very sleek and modern looking too.
Booklover's Gift Set
Book Lovers Barnes & NobleView Now
Send your book lover the Book Lovers gift basket. This gift comes in a book end chest filled with sweet treats and coffee to enjoy during reading time. Barnes and Noble gift cards can be added in $15 or $25 denominations. Give the Book Lovers gift basket to your favorite librarian or book worm!
Here's what's in the Book End Chest:
Malta Bella Almond Toffee Malt Balls (wow, those would be gone in a flash. I love malt balls.)
Chewy Gourmet Fudge Brownies (Chocolate is my downfall. I can't resist.)
Java Bon Coffee Caramels (I've never tried coffee caramels. Bet they are gourmet.)
Wolfgang Puck gourmet coffee (Ooh, a special coffee to sip as I read. Good idea.)
$15 Barnes & Noble Gift Card (Us booklovers always need more books, so this is perfect)
If You're Crafty, Make a Beaded Bookmark for Your Librarian or Book Lover
Gifts for Book Lovers — Handmade Bookmarks
Make one of these for each of the library staff members that you interact with or make them for the teachers at school. For a bigger gift, add a handmade bookmark with a book gift.
Source: Design created for me by Gigglish
Deluxe Librarian Action Figure
This is the deluxe version (the basic one is below). Use it for a library display. Kids love it and adults think it is fun too. It comes with a little book cart and tiny books. How fun!
Deluxe Librarian Action FigureView Now
Nancy Pearl Librarian Action Figure
Nancy Pearl is a hero to librarians in her championing of reading.
Nancy Pearl Librarian Action FigureView Now
The Librarian's Night Before Christmas
Great for a Christmas gift for a favorite library staff member. Very enjoyable reading.
Librarian's Night Before Christmas (TheView Now
Men Are Book Lovers Too
Here are some great gift options for the men in your life who are book lovers!
100% Silk Book of KellsView Now Librarian Book Lover Tie byView Now Cufflinks I Love Books –View Now Book Locket CufflinksView Now Coffee Mug I Love Books,View Now Style Cool I Love ReadingView Now CafePress I Love Big BooksView Now Sterling Silver Cufflinks I LoveView Now Sterling Silver Cufflinks I LoveView Now
Booklover's Diary
For years, I kept a log of every book I read. I've let that lapse, but maybe if I had one of these, I'd start doing that again.
Marvelous for keeping track of reading, list favorite books from childhood, organize a to-be-read list. Every book lover needs one of these.
The Book Lover's Journal (ReadingView Now
Amazon Gift Cards for the Whole Library Staff & the Book Lovers on Your List – Box of 50 gift cards ($10 face value)
When National Library Week comes around treat everyone on the library staff to an Amazon gift card. Think of all the help they've given you over the years.
Actually with 50 of these, you'll be able to take care of your whole gift list. Everyone loves shopping on Amazon. If you don't want this many, just click through and select the number or the price range that suits you.
Amazon.com $10 Gift Cards –View Now Amazon.com $10 Gift Cards –View Now Amazon.com $50 Gift Cards –View Now
Make a Cozy Reading Nook
Make a Cozy Reading Nook
My resolution each January is to read more. I enjoy reading, but get busy with other things and neglect this pastime that I love. What I need is a comfy space set aside just for reading. Then when the icy snow pelts against the window, I can cuddle..
Fun Gifts for Those Who Enjoy Books
I've been wanting the book stamps for years. Guess no one is getting my hints, so I might just treat myself to one. It's customized with the name of the owner. Press the design into the page of a book and no one will dispute who the owner is. You can get gold foil seals and press your name into that too and place it in a book.
This Book Belongs to GiftView Now Paddywax Candles Library Collection EdgarView Now Paddywax Library Collection Leo TolstoyView Now CafePress Borges library quote-Bilingual MugView Now
Curl Up for a Cozy Read
with This Book Themed Blanket
I know it gets a little chilly in the evening when you're sitting still to read. Pull this over your legs and lap to be toasty warm.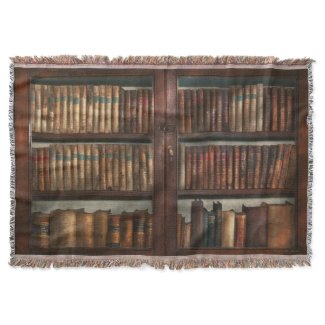 Librarian – In the library Throw
by
suburbanscenes
Browse for another Throw Blanket at
Zazzle
Check Out Other Related Posts On Webnuggetz