7 Elegant Gift Ideas for Wine Lovers
Seven Gifts any Wine Amateur Will Love!
Finding gifts for wine lovers is not always easy. Especially if you are not an amateur yourself, not to mention an expert. Still, wine lovers enjoy nothing as much as getting presents related to their passion. These make wonderful presents for wine enthusiasts.
When you search for presents for someone who has wine as a hobby, make sure to pay close attention to the type of item you choose. Indeed, wine amateurs are exigent and what would work for someone without expertise won't work for them.
The 7 gifts for wine lovers listed below will help you start your shopping without too much trouble. And if you happen to feel the need to share an idea that you didn't find here, let me know in the comments.
Photo credit on home page: White wine © Magdalena Bujak @ Dreamstime.com
Wine of the Month Club Membership
A wine subscription gift
Wine of the month club memberships make wonderful gifts for wine lovers. The subscription to such a club enable your recipient to receive one or two and sometimes more bottles of international wines. They will also receive information about the beverage they got each month. For amateurs and even experts, this is goldmine. Along with such a great present, they also receive a monthly newsletter that keeps them updated on what's going on in the wine world.
To make the deal even more fun, some clubs offer a discount or coupon codes for you to get a lower price on such wine subscription to membership clubs. Here is one if you wish: use code GMC$10 and get $10 off any 12 month prepaid club sign-up.
Wine Tasting Sets and Aroma Kits
Make valuable gifts for wine lovers
Wine tasting sets and even wine aroma kits make wonderful presents for amateurs.
People love to share their passion and hobbies with others. A wine tasting set will make them able to show off their knowledge and pass their passion on to their friends and relatives. These sets will help them host attractive parties to which you are going to take part.
Tastevin are stunning presents for wine amateurs. These tools are not just exquisite, they enable to savor all the aromas of this precious beverage. Such items have been used for ages by professionals. Getting a tastevin as present to a wine amateur is a one-of-a-kind gift.
Lastly, aroma kits will enable your recipient to smell the aroma of different grapes used to produce wines all over the world.
How to Host a Wine Tasting

Wine Tasting Notebook – Handy notebook

True Fabrications Duo Red and White

Wine Awakenings Education Kit White Wine

Pulltex Glass Tastevin | Test wine

Tastevin With Silver Neck Chain

Professional Model Blind Wine Tasting Kit

True Fabrications Blind Wine Tasting Kit

Wine Decanters Made out of Glass or Crystal
How to reveal wine aromas
Wine decanters, whether made out of glass or crystal make stunning gifts for wine lovers. A decanter is a recipient in which wine amateurs pour the content of a bottle of wine before serving. This way the wine is able to reveal all its aromas. By the way, the wine decanter emphasizes the beverage's colors.
It is thought that airing out the bottle can relax the flavors of this precious liquid. This makes them taste smoother. The materials that hold the beverage is thus important. Actually, crystal wine decanters are the best decanters. But as long as they are made out of glass, they will work fine.
Luigi Bormioli Esperienze Crystal 68oz Decanter

Ravenscroft Crystal Flight Decanter

Peugeot 230197 Ibis 10.75 Inch Decanter

Wine Enthusiast Vivid Wine Decanter

Metrokane Houdini Decanter with Wine Shower

Horn Wine Decanter – 51-ounce

Godinger Dublin Wine Decanter

Wine Enthusiast Individual Decanters, 4

Lenox Tuscany Classics Crystal Pitcher

Professional Corkscrews
A corkscrew is surely going to please anyone who loves wine
A professional corkscrew is also a marvelous gifts for a wine amateur. Professional corkscrews allow the opening of a bottle of wine with no damage at all to the wine stopper. Actually wine stoppers may have the same or more value than the bottle.
As you know, corks can be hard to remove. The oldest is the bottle of wine, the hardest it is to remove the cork. Amateurs will enjoy getting a corkscrew used in the best restaurants. Some professional corkscrews can be very simple. Yet you will find more intricate or automatic corkscrews and personalized ones.
Quest Corkscrew Wine Opener Set In

Shenkichen Professional Wine Opener Corkscrew

Le Creuset Waiter's Friend Corkscrew, Black

Premium Wine Opener. Screwpull Corkscrew Type.

FlyingColors Laguiole style Waiter's Professional

Waring Pro WO50B Cordless Wine Opener

Metrokane Rabbit Corkscrew with Foilcutter

Professional Wall-mounted Corkscrew Wood Backing

Personalized Wine Bottle Labels
Paying homage to a wine lover's collection
Personalized wine bottle labels are also enjoyable. They are especially welcomed when an amateur makes their own wine at home.
There are two options for that type of present. You can buy them pre-made from stores – online stores offer a wide range of these items. Or you can create them yourself at home. Here is how to proceed: wine personalization is done with editable labels. Those labels feature a Castle or vineyard picture and you can add the name and birth date of your recipient to them. Some even offfer enough space to write down a special message.
Custom large wine labels – set of 12Check Price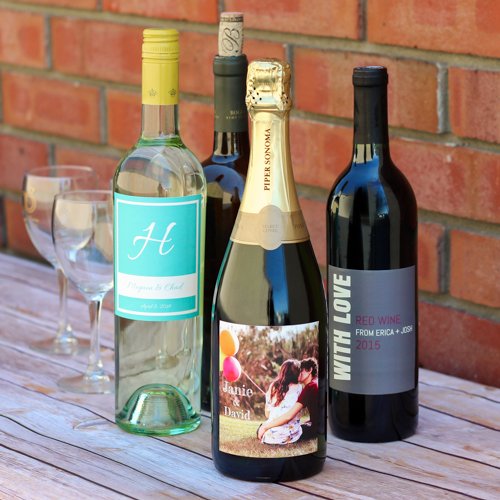 Personalized Wine Labels – Choose your favorite designCheck Price
Custom large wine labels – set of 12Check Price
Wine large labels – set of 12Check Price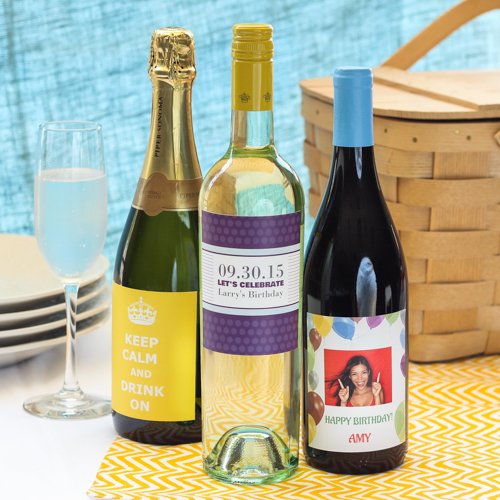 Personalized Birthday Wine LabelsCheck Price
Wine square labels – set of 24Check Price
Gourmet Gift Baskets for Wine Lovers
A great gift idea for epicureans
Gourmet and wine gift baskets enable you to go wrong when you get such a present to wine amateurs. Wine gift baskets include different products such as cheese, crackers, bottles of wine, fine delicaties, and much more.
Wine is an excellent gift to be given on any occasion. From an intimate reception to the celebration of important events (birthday, Christmas, etc.), themed gift baskets are a sure way to satisfy your present recipient. These sets can also be bought with non-alcoholic wine.
Around the World Wine ChestCheck Price
Mothers Day WineCheck Price
Toast of California Wine BasketCheck Price
Wine Jellies
From under $10 gifts for wine lovers
Wine jellies are a type of present that will please any wine lover who also happens to be a gourmet. These are cheap gifts for wine lovers. You can purchase a jar for less than $10. A set of 5 will not cost you more than $40. So if you are on a tight budget, you may want to opt for a series of such jellies.
The wine amateur who enjoys preparing wine based meals will enjoy these presents. Wine jellies enable them to prepare delightful meals, just like "grand chefs" do.
Wine jellies are made of red, rose or white wine. Although they are mostly used to create succulent sauces and slow cook meals, one can use them as jam spread on bread and butter. They also add a very special taste to pies – meat pies included.
Setter Mountain White Wine Jelly, Manseng,

Cabernet Wine Jelly (10 oz Jar)

Setter Mountain Red Wine Jelly, Merlot,

Lambrusco Wine Jelly (handmade jelly)

Wine Jelly and Brandy Preserves Variety

Shayne Foods – Basket – Grown

Check Out Other Related Posts On Webnuggetz