Great Dog Toys all Dogs love
Great Dog Toys for All Dogs
No matter what kind of dog you have, you can find the perfect dog toy for them. There are toys to throw, hide and otherwise be silly with.
It is important for dogs to play. It is great exercise for them so it is good for their bodies, and it will is great for their spirits, and mind. And it will be great for your spirit too!
f you don't have any of these – then just run around the backyard with your dog, but really playing with your dog will make both you and your dog happier!
Every Dog Loves His Ball!
Creative Balls of all Kinds
These are some of my favorite dog toys: especially from the Kong and Chuckit companies which are very high quality.
KONG Air Dog Squeakair Birthday Balls Dog Toy, Medium, Colors Vary (3 Balls)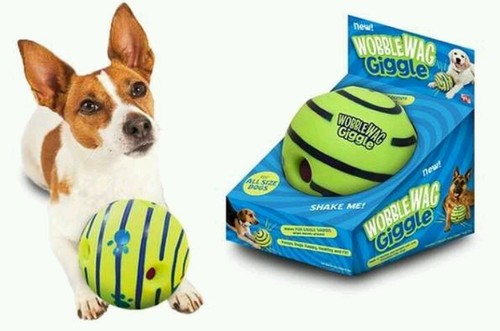 Wobble Wag Giggle Dog Sounds Movements Pet ToyBuy Now on eBay
Chuckit! Indoor Ball
KONG Extreme Ball, Dog Toy, Medium/Large
& 
Adorable dog Jerry could play with his ball all day long
This is how a very clever dog – and very clever dog owner have found a great way to help him play.
Cozy and Safe Stuffed Toys for Dogs
KONG Cozie Tupper the Lamb, Medium Dog Toy, Tan
Multipet Plush Dog Toy, Lambchop
ZippyPaws Donutz Squeaky Plush No-Stuffing Dog Toy – Chocolate
KONG Cozie Marvin the Moose, Medium Dog Toy, Brown
Outward Hound Kyjen 32022 Hedgehogz Dog Toys Plush Rattle Grunt and Squeak Toy, Large, Brown
& 
The Ever-Present Durable Kong
Dogs Cannot Tear up these Durable Toys, and They are a Puzzle
Kongs are wonderful toys: durable and challenging for your dog. You stuff them with food and then the dog can gradually shake out the food. Buckwheat used to love his, they made eating so much more fun.
KONG Classic Dog Toy, Large, Red
KONG Extreme Ball, Dog Toy, Medium/Large
KONG Extreme Dog Toy, Large, Black
& 
Many Benefits of Playing with Dogs with Cool Toys
All animals need to stay busy, but for dogs it is essential.
Depending on the breed, dogs can be either working out their prey instinct, like with balls, or performing tasks more specific for the breed like retrieving. It is essential to the mental health of a dog to play with it and rewarding to you as well.
Life becomes more interesting if there is a bit of a challenge, zoo keepers have found that their animals are much happier if their food is fed to them in puzzles rather than just given to them. Toys like the Kong work on the same premise.
Toys help bond dogs to you.
It is of course important to learn which toys are safe and durable.
And the truth of the matter is that you need to play too: playing with your dog improves both of your lives.
Check Out Other Related Posts On Webnuggetz