Good Reads: Learn About Greek Mythology
Have always enjoyed learning about Greek myths and legends. Are you familiar with the harpies?

"In Greek mythology, the Harpies were monstrous bird-like creatures with a woman's face. Believers thought they acted at the behest of the gods, carried out acts of vengeance and were snatchers of human souls."

Quote Source: Soul Snatchers Versus Soul Savers – Virily.

Are you familiar with Edith Hamilton (1867 – 1963) ? She was an American educator, a classical scholar, and her area of expertise was Greek and Roman mythology. She was so good that in 1957, the Greeks made her an honorary citizen of Athens.

Well I'm no Edith Hamilton, but I do have a collection on Pinterest labeled Legends, Myths, Fables, Folklore, Culture. :) It's an interesting board. In addition to pins about Greek and Roman mythology, there are also links to informative articles about Egyptian, Chinese and Norse mythology; angels, unicorns, and dragons; and even urban legends.

Test your knowledge of Greek mythology.

Want to have a little fun! TAKE A QUIZ:

There are nine muses of Greek mythology. These muses were also goddesses. They were the daughters of Zeus and Mnemosyne (the goddess of memory). They can sing, dance, play and are care free; and can inspire those they touch to do the same. One of the muses is named Urania – The Muse of Astronomy.

Can you name the other eight (8)?

Without Googling or checking an encyclopedia or other reference work or cheating and the clicking on the link below that leads to the correct answer.

Write the answers down on a piece of paper or in a Word doc or notepad, and then click the link to check.

ANSWER: http://bit.ly/guess_muse

Add to your private library or a gift for a book lover.
Vector illustration of beautiful woman with lute guitar: she is music muse

Featured Image Credit: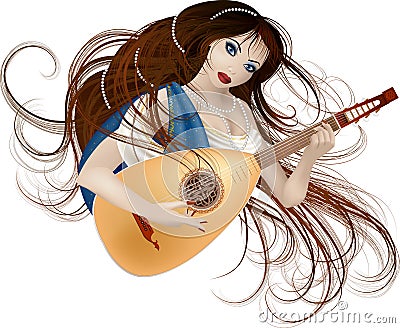 © Photographer: Madpushup | Agency: Dreamstime.com

This webpage was created by My Shopping Channel
Thanks for visiting!
* * *
If you have time, please visit my other pages for more gift ideas. My Wish List for You

DON'T have time to read? DO have time to listen?
Audible has audiobooks for every passion.
Many good reads now come in audiobook format and may be available FREE with your Audible trial.
$14.95/month after 30 days. Cancel anytime.

Check Out Other Related Posts On Webnuggetz