Halloween Snow Globes – Beautiful Spooky Collectible Decorations
Spooky Snow Globes are Perfect Halloween Decorations
It is wonderful to know that there are some snow globes perfect for Halloween! Snow Globes Have been the Medium of Artists, Children and Grownups for Several Centuries.
Some of the globes called water globes actually have "snow" and some are just water in glass or acrylic but they are all kind of magical.
The first snow globes were French, but they spread throughout the world. Children of course delight in them, but what is wonderful is that adults do too. In fact snow globe collecting is a popular hobby and some of the most valuable snow globes sell for thousands of dollars today. That is not just the historic snow globes, but also many of the Disney snow domes as well. And of course many people get a new snow globe every Christmas.
If you get into snow globe collecting, the Stealstreet Furry Bones will probably be just the beginning. I like them because they are a spoof – they are supposed to be scary but they are really sweet and funny.
Many other snow globes have an equal charm. Many people collect snow globes of their towns, or towns across the world that they have visited. Some allow you to put your own photos in them, so you can create your own little scene.
Artists use this medium as they do any other, and some snow globes are truly value as art pieces.
Whatever the monetary value, I think that snow globes – also called "water globes" are fun, and I am delighted as a little girl when I see one.
Witch Snow And Water Globes: Wizard of Oz Good Witch and Wicked Witch
Harry Potter's Hogwarts Castle
Nothing says Halloween like witches, and these Witch snow and water globes are perfect for the season.
Wizarding World of Harry Potter : Hogwarts School of Witchcraft and Wizardry Castle Glass Snow Globe
Wizard Of Oz Wicked Witch Castle Water Globe
Wicked Witch Peering at Foursome Collectible Musical Water Globe from Westland Giftware
Wizard of Oz Glinda in Water Globe with Flower Shaped Stand
Department 56 Wicked Witch/Dorothy Waterball
& 
Make Your Own Snow Globe
Some people prefer the craft of making their own snow globes. What would you add to this to make it a Halloween decoration?
Halloween Snow Globes are Perfect for Halloween and All Year Round – Snow Globes are Highly Collectible
Snow Globe collectors are an enthusiastic lot, and they usually like more than one! There is something magical about making it snow just by shaking a little ball, and people of all ages love them. And snow globe collectors love snow globes no matter what time of year it is.
Halloween Michael Meyers Blood Snow Dome
Special Halloween Snow Globe for the 20th Anniversary of Movie
Very special snow globe for Halloween: celebrates the 20th anniversary of the scary Michael Myers movie.
Halloween Michael Meyers Blood Snow Dome
& 
Spooky Ghost Snow and Glitter Globes

Disney Parks Haunted Mansion Hitchhiking Ghosts Musical Glow in Dark Snowglobe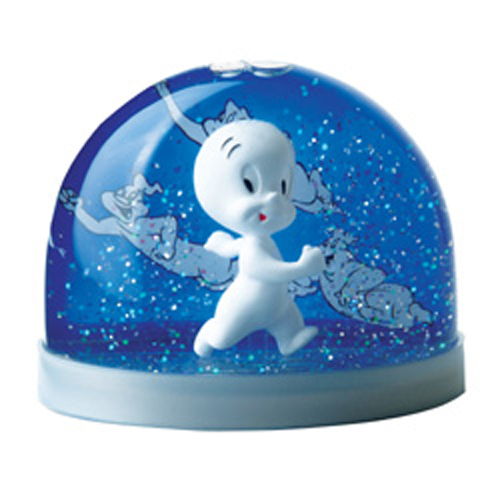 Casper The Friendly Ghost Snowglobe Demons Merveilles Water Dome
Disney Parks The Haunted Mansion Glow in the Dark Musical Snow Globe
6
Heather Goldminc Boo Globe with Ghosts for 2003 – Blue Sky38; Clayworks
Steal Street Furry Bones Snow Globes
All the Furry Bone Snow Globes are about 4 x 4 x 5.5 inches
All weigh about 2.2 pounds and have various shipping options
Furry Bones Black Bun Bun Bunny Water Glitter Snow Globe
Furry Bones Octopee Octopus Water Glitter Snow Globe
Furry Bones Bun Bun Mao Mao Hugs Water Snow Globe
& 
Nightmare Before Christmas Spooky Snow Globes
Tim Burton's movie "The Nightmare Before Christmas" is one of my favorite movies. These water globes would be perfect for Halloween – and Christmas!
Disney Nightmare Before Christmas Jack Westland Giftware Water Globe
Westland Giftware Sparkler Water Globe Figurine Jack from Disney Nightmare Before Christmas
Tim Burton's Spooky Water Globe
Water Globe Figurine: Disney Nightmare Before Christmas Sally from Westland Giftware Sparkler
Westland Giftware Water Globe Figurine Disney Nightmare Before Christmas Celebrating Our Love
The Nightmare Before Christmas 2009 Jack & Oogie Water Ball
Nightmare Before Christmas ~ SANTA JACK Snow Globe
Nightmare Before Christmas Snowglobe Ornament with Stand
NECA Nightmare Before Christmas
& 
Halloween Snow Globes are Great to Celebrate Halloween
Bats, Witches, Pumpkins, Goblins and Ghosts – all are beautiful in glitter domes
It is funny to think of globes with snow being perfect for Halloween, but actually that is only one of the best times to have them.
I love celebrating the spooky side of life all year round!
Check Out Other Related Posts On Webnuggetz