Heated Pet Beds
Heated Beds & Houses for Dogs & Cats
Heated pet beds keep your cats, dogs, and other small pets, warm no matter how cold your home gets. Use these year around to keep your fur babies warm, comfortable and happy.
Provide warm beds or heated houses for your pets in a variety of rooms throughout your home. That gives them options where to sleep and rest, and gives them a variety of places to enjoy napping. Cats especially enjoy finding new places to sleep every so often. They will pick one place for days or weeks, then suddenly they will decide to sleep somewhere else for a while. When they have warm options throughout the home, you'll have happier cats (and other pets, too)! Your pets will love their very own heated pet beds and/or houses!
You'll find heated beds and houses here for cats and dogs (and any other little critters you want to keep warm). There are many styles and sizes available, and you're sure to find a color you love, too.
Heated Cat Beds
Thermo-Kitty Bed Deluxe Hooded Cat Bed 4 Watts
Available in Small or Large and 2 Colors!
K&H Manufacturing Thermo-Kitty Bed Dlx Hooded

Cats and small dogs will find this heated cat bed a haven of warmth and sweet slumber! Place one or more of these around your house to provide warm places for your pet to sleep during cooler seasons.
*Heater uses only 4 watts and is MET Listed
*Hood zips off easily to create a kitty cup
*Removable heater and cover for easy wash and care
*For indoor use
*Available in 2 sizes and 2 colors
&
&
Mod Dream Pod
Choose Heated or Unheated
K&H Manufacturing Thermo-Mod Dream Pod, 22

3 Colors Available!
This cool pod for cats can be purchased heated or unheated.
Cats will love the privacy this pod offers, and they'll enjoy the warmth, too!
Removable heater for year round use
Large enough for any cat
Unique bowl design for comfort
Rugged 600 Denier polyester exterior
Plush lycra interior
&
&
Heated Cat Beds
Some of these cat beds are heated, while others are self warming, meaning when your cat or dog lays on them, they will warm up with their body heat.
Thermo Kitty Fashion Splash Heated Cat

K&H Manufacturing Extreme Weather Heated Kitty

K&H Manufacturing Self-Warming Lounger Sleeper Small

ALEKO® PBH20X16X8 Warm Soft Leopard Print

Cat Bed – Purrfect Thermal Cat

FFMODE Cozy Pet Dog Cat Cave

Petforu Hamburger Style Shell Nest Windproof

Milliard Thermal Cat Mat, 23 x

ALEKO® PHBED17S Warm Soft White Gray

Meow Town Thermal Cat Mat –

Thermal Pet Mat and Bed –

Oster Heated Pet Bed, Small

&
Heated Cat Houses
Thermo-Kitty Cabin
Available in 3 Colors
K&H Thermo-Kitty Cabin, Sage Cat

This cute heated cat house can be formed into three fun shapes, each cuddling your cat in year-around comfort! Provide your cat with a cozy hide-a-way to retreat away from the hustle and bustle of a busy household.
Heater uses only 4 watts and is MET Listed
Recommended for indoor use
Easy wash and care
One year limited warranty
&
&
Outdoor Kitty House
Choose Heated or Unheated
K&H Outdoor Kitty House, Heated

While made with outdoor cats in mind, you can also use this heated cat house indoors. Your cats and small dogs will thank you!
Heated version uses only 20 watts
Perfect for any outdoor cat
Water-resistant for use outdoors
Two protected exits so pet can't be trapped by predators
No tools required for assembly
&
&
Heated Cat Houses
Cat houses offer your cat a get-a-way from your busy household. Houses also surround your cat on all sides offering a feeling of security. The heat is an added bonus, since we know cats love to stay warm year around!
K&H Manufacturing Thermo-Kitty Sleephouse Tan/Leopard 12-Inch

K&H Manufacturing Mod Thermo-Kitty Shelter Gray

K&H Manufacturing Outdoor Heated Multi- Kitty

FrontPet 20 Watt Heated Cat House

FrontPet 40 Watt Canvas Heated A-Frame

K&H Manufacturing 20W Outdoor Heated Extra-Wide

ALEKO PHH01S Portable Heated Outdoor Indoor

Pawhut Outdoor Heated Cat House –

KatKabin DezRez Outdoor Cat House –

Milliard Portable Outdoor Pet House for

Allied Heated 14 1/2-Inch by 17

Feline Furniture Heated Feral Cathouse

Large Outdoor Heated Cat House/Oak &

K&H Manufacturing Birchwood Manor Thermo-Kitty Home

Outdoor Cat House For Winter &

&
Heated Dog Beds
Thermo-Pet Cuddle Cushion
K&H Manufacturing Thermo-Pet Cuddle Cushion Mocha

Your small to medium sized dog will love her very own heated pet bed! This soft and comfortable bed will keep your pets cozy and warm during cold days and nights.
Heater uses only 4 watts and is MET Listed
Removable cushion and removable heater make washing a breeze
Thermostatically controlled to warm to your pet's normal body temperature when in use
Great for cats and small dogs
MET Listed for safety
One year limited warranty
Recommended for indoor, household use
& 
& 
Lectro-Soft Outdoor Heated Bed
Variety of Sizes Available!
K&H Manufacturing Lectro-Soft Outdoor Heated Bed

Use this heated dog bed indoors or outdoors to keep your dog warm and comfortable.
Perfect for doghouses, basements, garages, barns, sheds, or any other outdoor shelter.
This soft, orthopedic bed will provide soft comfortable warmth even in sub-zero weather!
Super Soft PVC is used on the exterior to ensure the bed doesn't absorb water and stay wet like a regular dog bed does.
Thermostatically controlled to warm to a pleasing 102ºF.
Heats only when your pet lies on the Lectro-Soft, and will only heat under the pet.
&
&
Heated Dog Beds
You dog will appreciate the warmth and comfort of these dog beds. Keep your dog warm during every season both indoors and outdoors, when you provide him with a warm dog bed!
K&H Manufacturing Thermo-Snuggly Sleeper Medium Sage

Pawhut 24

K&H Manufacturing Self-Warming Lounge Sleeper Small

K&H Manufacturing Self-Warming Crate Pad Mocha

Heating Pads for pets, Electric Heating

K&H Manufacturing Self-Warming Lounge Sleeper Large

NEW K&H Lectro Soft Heated Dog

Perfect Life Ideas Self Warming Heating

Milliard Pressure Sensitive Auto On/Off Pet

Milliard Pet Bed Warmer, 23 x

Milliard Indoor/Outdoor Heated Pet Pad –

VIVOSUN 20

Warming and Cooling Pad for Dogs

Namsan Warmer Pet Heat Mat –

Allied Heated 17-Inch by 24-Inch Pet

&
Heated Dog Houses
Deluxe Dog Palace Large Doghouse
Includes Heater and Fan
ASL Solutions Deluxe Dog Palace Large

2″-4″ of real foam (Styro/EPS) insulation in every panel Easy pass-through, self-closing, well-fitted insulated door (not a "flap"). Sized for medium to large dogs (Lab thru Small St. Bernard) Self-storing window panes easily reposition from winter's closed position to summer's open cross ventilation position without tools. Floor is insulated and raised 4″ to provide a dry and warm bedding area Floor is sloped and has a drain hole to make cleaning a breeze – just hose down and water runs out Includes 18″x 18″ electrical floor heater, designed for this dog house – just plug in and give extra comfort to your pet Heater cord portal (provides for cord to directly exit rear panel ) keeps dog/owner from tripping over electrical cord. Includes a solar exhaust fan for those hot summer days, replaces the air in the house 5 times per minute using direct sunlight Pets can see out while they rest in comfort (see-through window in front door).
&
&
Deluxe Insulated Dog Palace with Floor Heater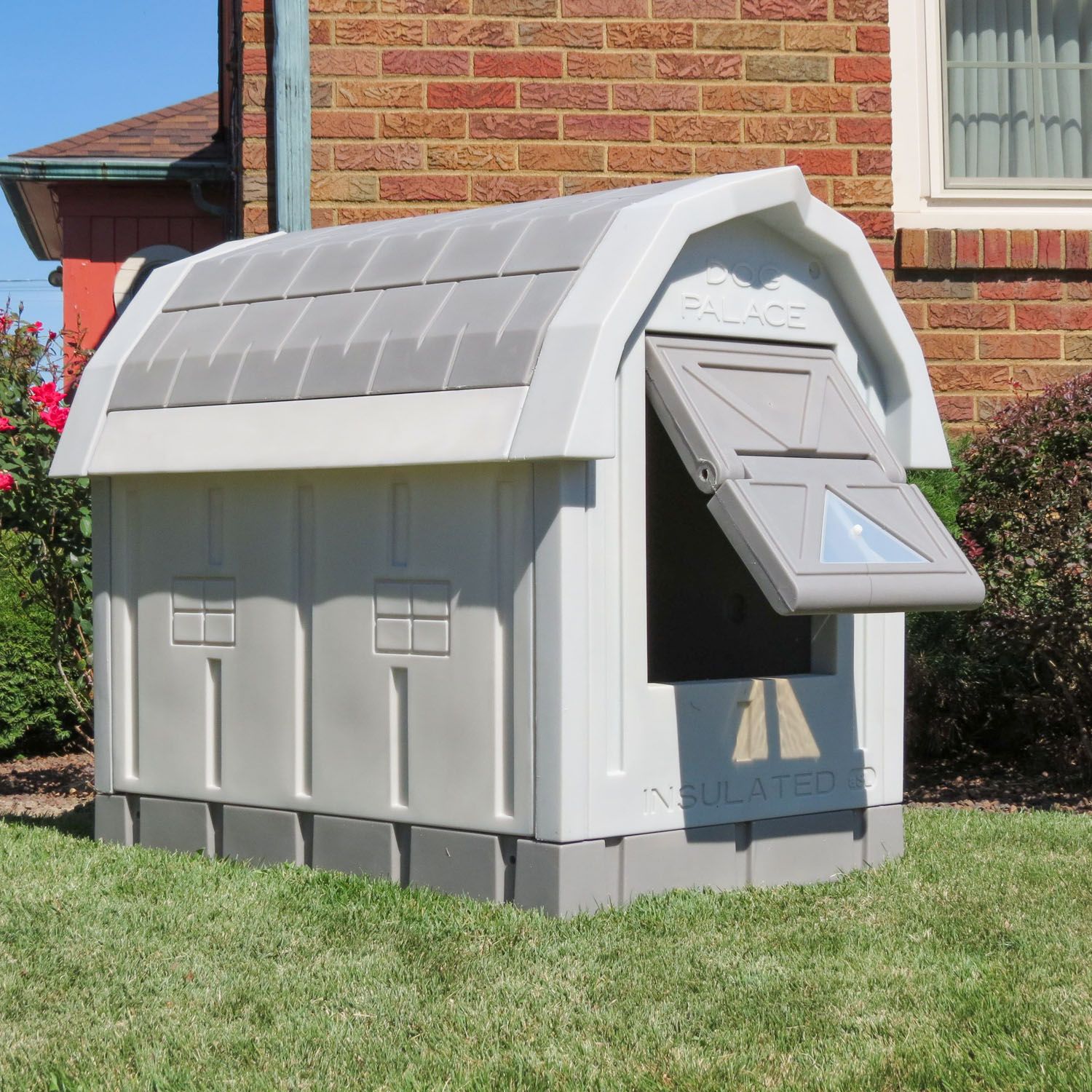 ASL Solutions Deluxe Insulated Dog Palace

The Deluxe Dog Palace is a rotationally molded plastic house. It is made from material that can be commonly found in outdoor play ground products. All panels of these products are filled with recycled ESP foam. ESP foam (expanded polystyrene) can be commonly found in drinking cups. It is also used as an insulation material in construction.
Your dog will stay warm, dry and safe in this cool heated dog house.
&
&
Heated Dog Houses
If your dog must stay outside during colder weather, then please provide him with a heated dog house (or at least a heated dog bed). These houses keep your pooch warm, dry and secure.
K&H Manufacturing Lectro-Soft Igloo Style Heated

ALEKO PHH01S Portable Heated Outdoor Indoor

Large Heated Weather Resistant Dog House

New Heated Doghouse Outdoor Insulated Medium

Dog Palace Insulated Dog House DP20

Pet House Supplies Dog House Brown

&
More From This Author
Click on the Pic Below
See List of Other Websites by This Author Click Here
92616
Check Out Other Related Posts On Webnuggetz