Vintage Lady Golfers on Mousepads
Vintage Golf Designs on Mousepads for Women Golfers
Golf has a long history, and women are a part of that. I've gathered some great old-time golf art featuring women golfers. You'll love the variety and styles of the art. These mouse pads make great gifts for any lady golfers in your life or treat yourself to one of these classic golf designs.
Take a look at how the golf attire for women changed over the years. Compare the 1908 ladies' golf outfit to one from the 1920s or 1930s. Every time you sit at your computer, you'll see these classic lady golfer prints.
I've been using more golf-themed decorative touches in my home. Golf is pretty consuming and we spend four days a week on the links. That is reflected in our home through pictures on the wall, a display of our hole-in-one plaques and now I can have a golf design on my mouse pad too.
Old Time Designs with a Woman Golfer
I enjoy seeing the fashions worn by women golfers from earlier eras. It's hard to imagine playing 18 holes of golf while wearing a long, full skirt, but women did in the 1800s.
Women Golfers from the 1800s on Mousepads
Vintage Golfing Lady Art (three) Mouse Pad

Vintage Golfing Lady Art Mouse Pad

Vintage Golfing Lady Art (two) Mouse Pad

Vintage Lady Golfing Mouse Pad

TOP Golf Couples Mouse Pad

Vintage Woman Golfing, 1910s Mouse Pad

Vintage Women's Golf Fashion 1910s Mouse Pad

TOP Golf Girl Mouse Pad

Vintage Women Golfers and Antique Auto on a Mousepad
1920s Scene
Women in car see friends playing golf

Great Golf Attire from the Past 130 years for Ladies
The look sure changed for lady golfers over the one hundred plus years that it has been played. Although I really like the classic look from the 1880s, the 1920 and onward, I wouldn't want to wear those fashions myself on the golf course. Shorts and a golf shirt suit me fine or a divided short skirt.
Still I like the long tradition that is golf and so I found these mousepads intriguing. Any of them would look great on my desk for my computer mouse. They remind me of sunny days on the links even while I'm working hard at my computer.
1920s Golf Fashion for Women
Featured on a Mousepad
vintage retro woman golfer golfing design mouse pad

Woman at the links mouse pad

Woman Golfer Mouse Pad

More 1920s Styles
Sables D'Or Les Pins France Vintage Poster Art Mouse

Pretty Girl Golfers, 1920s Mouse Pad

Fashionable Golf Attire Mouse Pad

This Design Is Available on a Card as Well
1920s Woman Golfer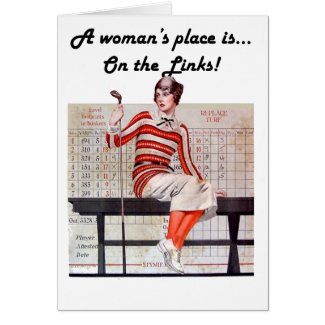 Woman at the links greeting cards
by
Gallipoli15
Shop for a
card
with zazzle.com
Check Out Other Related Posts On Webnuggetz