Cutest Halloween Inflatable Costumes for Kids
Inflatable Halloween costumes for kids add more fun to the party
Inflatable costumes are becoming more and more popular and inflatable Halloween costumes for kids are appearing everywhere. Although most times you will see inflatable costumes at grand openings or sporting events you'll also see them at high school, college games, Halloween parties and even birthday parties.
While similar to adult party outfits, inflatable Halloween costumes for kids are made just for children. You can choose from a funny costume or an inflatable mascot attire or many other options. Let's look at a couple samples of such fancy dress outfits for children here.
Here is how inflatable costumes for kids work
Are air blown party outfits safe for children?
Inflatable Halloween costumes for kids can be almost anything you would like. And, indeed, they are safe for your child. Here is the reason why…
Take the inflatable clown costumes for instance. They are generally made from a silky 100% nylon fabric that is actually one-piece body suit. Once the child is zipped into the suit, you go to the net pocket at the back of the suit and drop in the inflator fan. Once you turn it on the suit will quickly inflate and will also keep the child cool and comfortable.
Inflatable costumes' neck, wrists and ankles have elastic so they will hold in the air enable the child to move more freely and stay cool. Generally, air blown costumes require AA batteries which are not included.
Jurassic World T-Rex Inflatable Costumes
Scary costumes for boys and girls who want to scare the world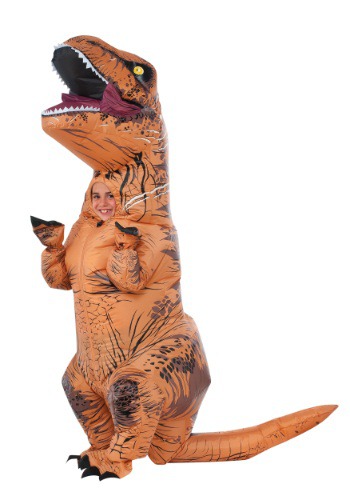 Child Inflatable Jurassic World T-Rex Costume

& 
One of such party attires that are sure to be popular this year are the Jurassic World T-Rex inflatable costumes especially designed with kids in mind.
The T-Rex inflatable costumes do have everything to please children and adults alike. In the movie, the Tyrannosaurus does not attack humans. Instead he helps them to take the Indominus Rex down and save Jurassic World resort's clients lives.
This superb costume will certainly inspire all children around in recreating sceneries from the film.
Inflatable Jurassic World costumes for kids include the dino attire and a fan which is powered by 4 AA batteries.
Available sizes: one-size fits all. The costume is licensed Jurassic World.
Which inflatable costume to choose
There are less inflatable costumes available for kids than there are for adults. However, the children's inflatable costumes we can find on the market are original enough to provide your child with an award winning costume this Halloween.
Naturally Halloween brings to mind the thought of pumpkins. Why carve a pumpkin when you can actually be a pumpkin for Halloween? Inflatable pumpkin costumes are available and generally include the orange jumpsuit, fan activated by the battery pack and of course the pumpkin headpiece. Standard size child pumpkin inflatable costumes that comes with battery operated fan for easy inflate. It is made out of 100% nylon. Batteries to be purchased separately. The fan pack will have the suit fully inflated within seconds and it will stay soft and fully shaped.
Another type of air blown costume that is ideal for kids is the inflatable clown costume. The one featured below includes an inflatable clown jumpsuit, a headpiece and, naturally, a battery operated fan.
Inflatable Pumpkin Child Costume Standard
Ghostbusters Inflatable Slimer Costume – Standard
Inflatable Ghostbusters Marshmallow Man Kids
Child's Inflatable Sumo Costume Battery Operated
Rubie's Child Inflatable Clown Costume
Scareblown (Blue) Inflatable Child Costume
Inflatable Muscle Boy Child Costume
Donut Police Kids Costume
&
Super hero and ride-on air-blown costumes
Inflatable costumes kids love
Kids love playing super heroes and more particularly Superman who, in the movie Superman Returns, come back on Earth after having been absent for several years. The Superman inflatable costume includes an air blown suit (pants and shoes not included in the pack).
Kids can also ride an ostrich this Halloween; a very fun and comfortable inflatable costume that inflates in a matter of seconds. If your child doesn't feel comfortable being entirely wrapped in costumes, then this one and the Star Wars Tauntaun are good alternatives.
In general, inflatable costumes are 100% nylon and although they come in one size fits most, for children, it is possible to find them in a specific size.
Star Wars Childs Inflatable Tauntaun Costume
Inflatable Ostrich Costume,Standard
Inflatable Dinosaur Costume for Kids
&
Check Out Other Related Posts On Webnuggetz