Irish Coffee Glasses
Serve Irish Coffee in Just the Right Glasses
I'd never had Irish coffee, until I married my husband. He had a lovely set of Irish coffee glasses and I was intrigued by their stylish look and special use. I've since found that Irish coffee glasses come in a variety of shapes, with or without a handle.
If you're wanting some for a special occasion like St Patrick's Day, or just because you like Irish coffee, take a look at the selection I've hand-picked for you here. There are some recipes too, in case you've never made Irish coffee.
Enjoy the special taste treat of having your Irish coffee in a glass made just for it
Set of Two Irish Coffee Glasses
Sagaform 5002585 Glass Irish Coffee Set, 2-PackMore Info
Heat resistant glass with stainless steel handle
Includes straw with spoon
Includes stainless steel coasters
Sagaform is all about joyful and innovative gifts for the kitchen and beautifully dressed table, both indoors and out.
Irish coffee set made of heat-resistant glass, with handle, coaster and straw-spoon of stainless steel, set of two.
Wishing you a very warm welcome to the wonderful world of Sagaform.
Irish Coffee Coffee Mugs by HolidayObsessions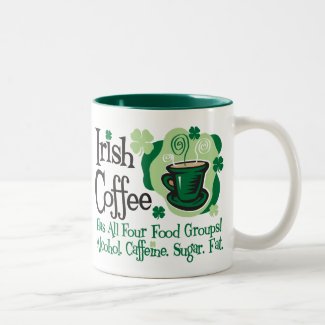 Irish Coffee Coffee Mugs by HolidayObsessionsMore Info
Make Irish Coffee in the Keurig
Don't wait for a special occasion, enjoy Irish coffee everyday
Coffee K-Cup for Keurig Gourmet Single Cup Brewer; no messy grinding or clean up
Airtight to lock in freshness and flavor
Brewing occurs inside the K-Cup so no flavor residue is left behind to spoil the next cup.
Single-serving packaging means no mess or wasted pots of coffee; for use with Keurig brewers
Please note: 'regular', 'bold' and 'extra bold' refer to the amount of coffee in the K-Cup
Keurig K130/B130 Brewing SystemMore Info
Timothy's World Coffee, Irish Cream, K-Cup Portion Pack for Keurig K-Cup Brewers, 24-Count (Pack of 2)More Info
Irish Coffee Glasses – Set of 4, available from Amazon
Original Irish Coffee Glass (Set of 4)More Info
Elegant 6-ounce, uniquely heat-retaining Irish Coffee glass used at San Francisco's Buena Vista Cafe.
Perfect for traditional Gaelic mix of whiskey, coffee and brown sugar with an inch of heavy cream floated on top.
Measures 5 3/4-inches high; 2 7/8-inches top diameter; 2 3/4-inches bottom diameter.
Decorative pedestal foot and curved flare design provides the perfect presentation.
Gift box includes 4 Irish Coffee Glasses PLUS booklet with the drink's history and recipe.
Recipe: How to Make an Irish Coffee
Jamison Irish Whiskey Essence- for the Irish Coffee
Still Spirits Top Shelf Irish Whiskey EssenceMore Info
Mixing Instructions: Add this beverage flacouring essence to 2.25 Liters (2.3QT) of 40% distilled spirit or vodka. Makes three 750ml (26 fl. oz.) bottles. Shake well before use.
Use it to add to Irish coffee, too, if you don't want real liquor added.
Irish Coffee lovers gifts Postcards by Funkart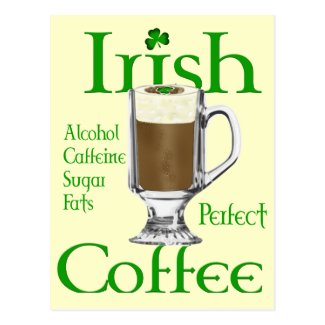 Irish Coffee lovers gifts Postcards by FunkartMore Info
Make a Lovely Irish Coffee Gift Basket for Someone Special
Grasslands Road Celtic 10-OunceMore Info Coffee Masters Flavored Coffee, Irish Creme, Ground, 12-Ounce Bags (Pack of 4)More Info Grasslands Road Celtic 10-OunceMore Info Turin Baileys Irish Cream Filled Chocolates – 3 Pack Variety Pack Gift SetMore Info Grasslands Road Celebrating HeritageFriendship Loyalty Love Celtic Knot Claddagh Symbol Irish Coffee MugMore Info Best Irish Drinks (Bartender Magazine)More Info
St. Patrick's Irish Shamrock Card by PheteFirst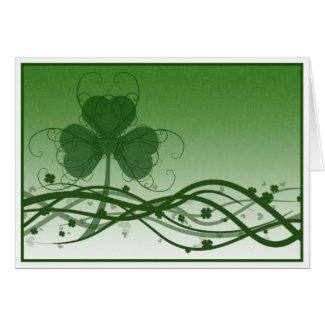 St. Patrick's Irish Shamrock Card by PheteFirstMore Info
Libbey 12-Piece Irish Coffee Party Set
Libbey 12-Piece Irish Coffee Party SetMore Info
Tradtional Irish Coffee Mug design
Bonus drink recipes
Storage box
Safe to use in the dishwasher
Made in USA
Real Irish Coffee Humour mug by Blahx3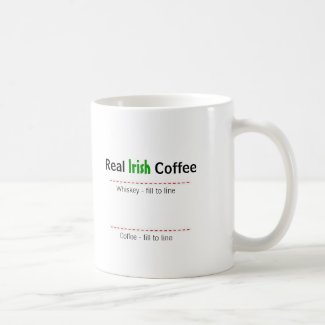 Real Irish Coffee Humour mug by Blahx3More Info
Drink your Irish coffee in this funny mug, or give it as a gift to family, friends or co-workers.
This coffee mug is available on Zazzle, and designed by one of the creative artists on there.
Irish Coffee and Irish Martini Recipe Cards
To See Recipes Better, Click on Cards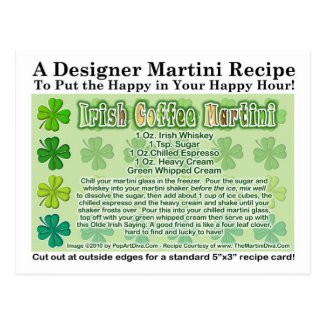 Irish Coffee St. Patrick's Day Martini Recipe Card Post Card by TheMartiniDivaMore Info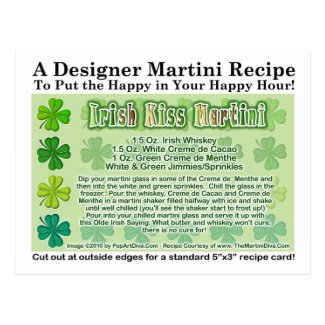 Irish Kiss St. Patrick's Day Martini Recipe Card Postcards by TheMartiniDivaMore Info
Check Out Other Related Posts On Webnuggetz