Jigsaw Puzzles for the Whole Family
Jigsaw Puzzles for the Whole Family
Jigsaw puzzles can be a valuable part of family life, with different puzzles that will educate and entertain family members in all parts of their lives.
From large puzzles with pieces too big to swallow for the youngest members of the family to challenging puzzles and 3-D puzzles for adults, for puzzles that are adjusted to help with the mental challenges of those who are suffering from Alzheimer's – jigsaw puzzles have a lot to offer. And they are fun!
Jigsaw puzzles are named after a jigsaw that was used to cut the printed wooden sheets into different pieces of the puzzle. It is believed that the first puzzles were "dissected maps" that a cartographer around 1760 made so that children could learn the geography of Britain.
I have recently got into collectible jigsaw puzzles, although I admit I am most comfortable with the easiest puzzles.
I was surprised to find out how calm puzzles can be, and at the same time amusing. Jigsaw puzzles are like board games for the whole family without the competitive edge. I hope you find plenty of puzzles here for your amusement.
Safe, Non-Toxic – Jigsaw Puzzles for the Youngest Members of the Family
Little people can start in with jigsaw puzzles much earlier than you might imagine. Just be sure that you supervise them and everyone will be having fun.
Melissa and Doug puzzles and toys are especially well-loved by kids and well-respected by their parents! The barnyard puzzle is especially well received.
Melissa & Doug On The Road Wooden Jigsaw Puzzle With Storage Tray (12 pcs)

Melissa & Doug Wild Animals 4-in-1 Wooden Jigsaw Puzzles in a Storage Box (48 pcs)

Melissa & Doug Busy Barn Shaped Jumbo Jigsaw Floor Puzzle (32 pcs, 2 x 3 feet)

Blackcell 4-Pack Wooden Kids Children Jigsaw Education And Learning Puzzles Toys,Highest Quality Materials,Fit For 1-3 Years Baby,Training Kids Imagination,Non-toxic Paints(random style)

Giant Road Jigsaw Floor Puzzle (20 Piece)

Fisher-Price Silly Sounds Puzzle

Melissa & Doug Vehicles 4-in-1 Wooden Jigsaw Puzzles in a Storage Box (48 pcs)

Whimsies Make Jigsaw Puzzles More Fun
Whimsies link back to the Victorian times. A whimsey is a puzzle piece crafted into a recognisable shape such as a flower or bird, they were – as the name suggests – cut on a whim by the original Victorian puzzle cutters. They make jigsaw puzzles much more fun and challenging.
Educational Jigsaw Puzzles for Slightly Older Kids
Learn Your ABC's, Numbers, and Geography as Well as Some fun Play
It is nice if kids learn something as well as having fun. With your puzzle the child can make all kinds of creations!
MasterPieces Explorer Kids – USA Map – 60 Piece Kids Puzzle

Melissa & Doug USA Map Wooden Puzzle (45 pcs)

GeoPuzzle World – Educational Geography Jigsaw Puzzle (68 pcs)

Patch A to Z Puzzles

Melissa & Doug Numbers Sound Puzzle – Wooden Puzzle With Sound Effects (21 pcs)

A Family Works on a Huge 3-D Jigsaw Puzzle
The whole family started working on this, and then disappeared and then came back later. You don't have to finish all of a puzzle at one time.
Birthstones and Zodiac – Double-Sided Puzzle
Birthstones and the Zodiac 2-sided 500 Piece Puzzle
Travel Around the World with Jigsaw Puzzles from Amazon or eBay!
My eBay name is "Gypzeerose," so that tells you what I think about travelling!
If you love to travel – you can travel around the world and see all kind of beautiful places, even if you don't have a passport.
A lot of these puzzles are from my eBay store – and a lot of them help charity.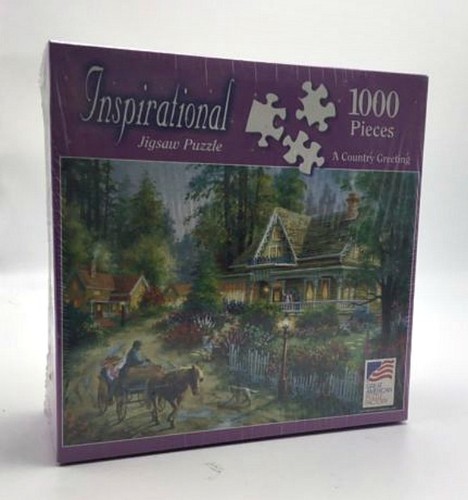 A Country Greeting

Buffalo Games 2000pc, Neuschwanstein Castle, Bavaria – 2000pc Jigsaw Puzzle

White Mountain Puzzles Travel The World Jigsaw Puzzle (550 Piece)

International Ballooning Festival, Switzerland – Puzzlebug – 500 Pieces Jigsaw Puzzle by LPF

Monsters, Super-Heroes and Dinosaur Jigsaw Puzzles for Kids
I love the Creepy Creatures!

Lot of Two Fantastic Four Toys: 100 Piece Jigsaw Puzzle and Make a Match Toy

300P jigsaw Godzilla, Mechagodzilla, King Shisa! (Godzilla vs. Mechagodzilla) (japan import)

Melissa & Doug T-Rex Dinosaur Jumbo Jigsaw Floor Puzzle (48 pcs, 2 x 3 feet)

Bfun Woodcraft 3D Puzzle Assemble and Paint DIY Toy Kit, T-Rex

Aquarius DC Comics Justice League of America 1000 Piece Jigsaw Puzzle

Batman vs. Superman Wonder Woman and Spiderman Puzzles 48 100 Pieces Ages 6+ Bundle of 2 Puzzles for Boys Superheroes v-2

Buffalo Games – Wonder Woman – Glow in the Dark 1000 Piece Jigsaw Puzzle

Aquarius Wonder Woman Logo 600 Piece 2 Sided Diecut Jigsaw Puzzle

Jigsaw Puzzles Can Help bring Families Together
It is nice to have a puzzle out so that the whole family can work on it over time. Some work groups also have puzzles in the office.
Disney Themed Jigsaw Puzzles
The whole family loves Disney: and here are puzzles with all levels of complexity for everyone.
Ceaco Disney Villains 5-in-1 Multipack Jigsaw Puzzle Set

Thomas Kinkade: Cinderella Wishes Upon a Dream Puzzle, 750 pc

Ceaco Thomas Kinkade The Disney Dreams Collection The Little Mermaid 750 pc. Jigsaw Puzzle

Disney Stained Art Jigsaw Puzzle[1000P] All Stars Stained Glass (DS-1000-764)

Ceaco Classic Disney 5-in-1 Multipack Jigsaw Puzzle Set

Thomas Kinkade The Disney Dreams Collection: Beauty and The Beast Falling in Love Puzzle, 750 Pieces, 24

Maybe You Just Want to Wear Some Puzzling Clothing from Zazzle
Puzzles are cute – and here are some of the cutest designs from Zazzle. Of particular interest to me are the autism puzzle shirts.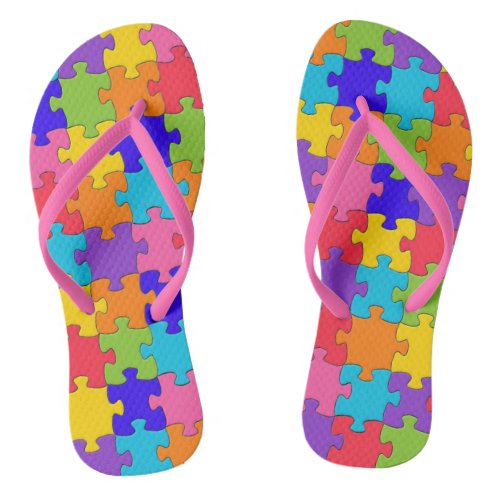 Colorful Jigsaw Puzzle Rubber Flip Flops – 2 different footbeds and 4 different strap

Colorful Jigsaw Puzzle All-Over Print Polyester Tank Top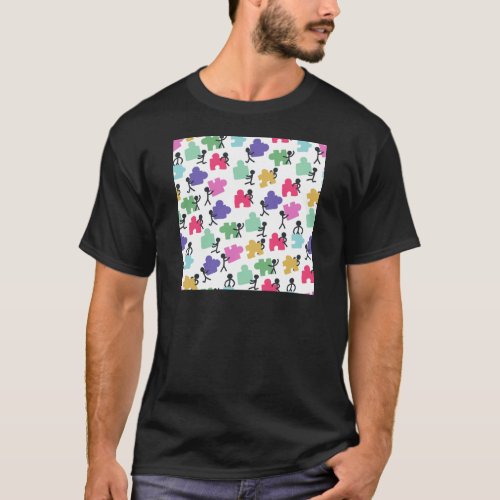 Autistic people T-Shirt for Adults, Children and Infants – Autism Puzzle

Collectible, Rare Par Handmade Wooden Puzzles on eBay
One of a Kind Treasures since the Depression Era
Par Puzzles were a Depression Era miracle. Frank Ware and John Henriques, desperate young men with no job prospects, decided to try a create a luxury item with jigsaw puzzles.
They succeeded with Par Puzzles, which are unique, one of a kind wooden puzzles that are still made today. Par Puzzles are known for "whimsies" – little representational shapes or figurals that usually refer to the subject of the puzzle i.e sailfish in an ocean scene.
Rare Par Puzzles are very collectible. I have found wonderful examples on eBay.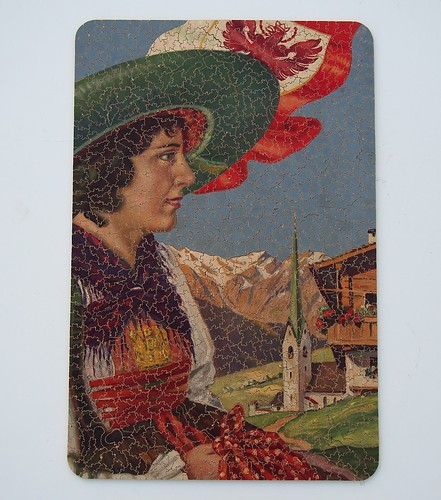 VINTAGE PAR PICTURE PUZZLE EAGLES FLY HIGH WOMAN MOUNTAIN POLISH FLAG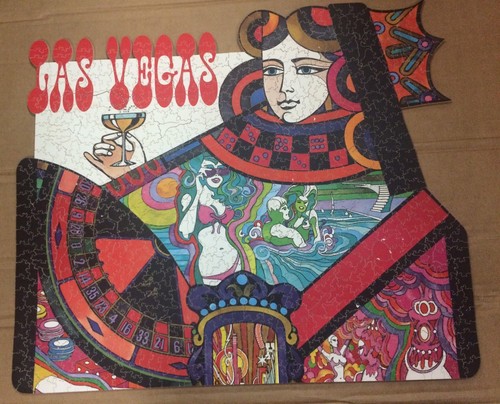 PAR Puzzle Jigsaw Wood 833 Pcs 26 FIG Las Vegas David Klein TWA COMPLETE

Challenging 3-D Jigsaw Puzzles
3-D Puzzles are even more fun than regular jigsaw puzzles! I actually have never done one of these, but I can imagine that it would be very rewarding.
Here are some for children as well as adults.
Neuschwanstein Castle 3D Jigsaw Puzzle, 890-Piece

Ravensburger 3D The Earth Puzzleball – 540 Piece

Original 3D Crystal Puzzle – Deluxe Pirate Ship Black

Original 3D Crystal Puzzle – Dog

Ravensburger Eiffel Tower 216 Piece 3D Building Set

Original 3D Crystal Puzzle – Panda

Fascinations Star Wars R2D2 Model Kit Metal Earth Fascinations

Original 3D Crystal Puzzle – Deluxe Pirate Ship Black

Cinderella's 3D Castle 200 Piece Puzzle

Hogwarts Astronomy Tower 3D Jigsaw Puzzle (875 pieces)

A trio of Beautiful Rosewood 3-D Jigsaw Puzzles from Rosewood Puzzles will delight your family
3-D puzzles are special, even more so when they are wooden. I love these quality rosewood puzzles, each of moderate difficulty.
Carousel 3D Puzzle – Rosewood Color – Rosewood Puzzles Inc. – Fun Mind-Challenging 3D Puzzle!

Boat 3D Puzzle – Rosewood Color – Rosewood Puzzles Inc. – Fun Mind-Challenging 3D Puzzle!

Dinosaur 3D Puzzle – Rosewood Color – Rosewood Puzzles Inc. – Fun Mind-Challenging 3D Puzzle!

Puzzles to help Family Members with Alzheimer's and Dementia
Jigsaw Puzzles for Grandma and Grandpa
When adults get older they sometimes find it more difficult to operate the same as they have been cognitively. It has been discovered that they respond well to jigsaws with large, few pieces like children's puzzles only with adult themes.
Puzzle With Me

Puzzle With Me Jigsaw Puzzle

Puzzle With Me

Life on the Pacific 35 Piece Sequenced Jigsaw Puzzle for Dementia and Alzheimer's

Puzzle With Me Jigsaw Puzzle

Jigsaw Puzzles are a Relaxing Way to Bring your Family Together
Sometimes it is hard to think of things to do with the whole family, and jigsaw puzzles are just the perfect solution!
Jigsaw puzzles are a hobby that can be started when you are a toddler and continued through your whole lifetime.
Whether you are kids learning, or just having fun – there is a jigsaw puzzle that is perfect for the occasion.
Check Out Other Related Posts On Webnuggetz