The Rolling Step Stool and Other Great Librarian Tools
Library Products Find New Life in the Home
I'm thrilled to see that anyone can get these fabulous rolling step stools now. It used to be that Kik Steps were only available through library supply catalogs. I've got to have one and not just for old-time's-sake.
I worked for thirty years in libraries, starting out as a book shelver. Putting books away remains a tedious task, but these rolling steps made it go more quickly. Just nudge it with your foot to roll it where you need it. As soon as you step on it, it hunkers down on the rubber rim and stays securely in place as you reach the top shelves.
Later as a reference librarian, I counted on the Kik Step while I retrieved books for students and other library patrons. I pretty much took it for granted. At retirement time, I was a library director. Perhaps I should have asked for one of these as a retirement present instead of the traditional wrist watch. It would have been more useful, after all retirees don't worry much about what time it is.
This will get a real workout around my house. My husband added extra shelves in the top of all the closets and the pantry. That's great for storing things we stock up on, like rolls of paper towels or things we use infrequently like out-of-season items. This will wheel right into position so I can climb safely to retrieve them. Currently I find it too much trouble to go get the step stool and unfold it, so I just knock a roll of towels down with the broom handle. Usually it comes hurtling down on my head.
I have tall bookshelves in two of my rooms. Again, the Kik Step is perfect for retrieving books from the top shelves. It's also great for sitting on for examining the the contents of the bottom shelves. Beats sitting on the hard floor.
Other places that we would use the rolling step is in the garage to retrieve the stored Christmas boxes. My clothes closet has high shelves too that I normally can't reach. It looks like we could use 2 or 3 of these so they are conveniently at hand when we want it.
Not Just Basic Gray Anymore!
Wow, they have red, blue and a whole rainbow of colors now for these rolling step stools.
Match the color to your kitchen or other room where you expect to use it.
Colors Add Zip to the Kik-Step
 Cramer LLC Kik-Step 1001 Rolling Step Stool 500 Lb Capacity w/Steel Body Non-Skid Base-RedCheck Price on Amazon Kik-Step 2-Step Steel Step Stool, 14Check Price on Amazon Kik Step Stool Celery GreenCheck Price on Amazon Kik-Step Two-Step Steel Step Stool 14 High 500Lb Duty Rating OrangeCheck Price on Amazon
Other Great Cross-Over Products from Libraries
Personal Library Book Embosser – ExcelMark
Every Book Lover Wants One of These
These items were originally designed for school and public libraries but they are great for home or office use as well. Why should librarians have all the fun!
Libraries would emboss their name onto a page of a book to show ownership. This is customized with your name. It looks really classy to have your imprint in each book that you own.
Now you can loan a book to a friend and not worry that they will forget who to return it to.
 Personal Library Book Embosser – ExcelMarkCheck Price on Amazon
The Book Cart for the Non-Librarian
Handy for Home or Office
Anyone who works with books like a teacher, a researcher or just a heavy-duty book lover will find this book cart useful. Wheel it over by your desk when you need material at hand, then roll it off to a corner or into the closet when you are finished.
The smallest one is convenient if you don't have much space and can serve as a mobile bookshelf.
 Welded Book Truck – 31x13x48Check Price on Amazon 31Check Price on Amazon Bretford Book/Equipment Cart with Slant Shelves, 17-Inch by 14-Inch by 43-Inch, Putty/BlueCheck Price on Amazon Check Price on Amazon
Remember Card Catalogs?
They Are So Useful – Everyone Should Have One
I'd love to have bought a vintage card catalog when libraries started phasing those out. Now their catalog is computerized, but I can think of so many things I'd like to store in these drawers.
If you're a crafter, this is perfect for storing all those little bits and pieces. If you're a genealogist, imagine keeping your family lines organized with this.
There are some on Amazon with full-size file drawers and the faux front is like a card catalog.
 Birchwood Oak Library Card Catalog Storage Cabinet – 12 DrawersCheck Price on Amazon Library Card File Multimedia Cabinet Walnut – Classic StylingCheck Price on Amazon Leslie Dame Solid Oak Library File Media Cabinet, CherryCheck Price on Amazon Retro-Style Wooden 12-Drawer Multimedia Library File Cabinet in Oak FinishCheck Price on Amazon
Release Your Inner Librarian
and get these useful items for your home.
Show Your Love of Books with This Custom Designed Stamp
Order from Zazzle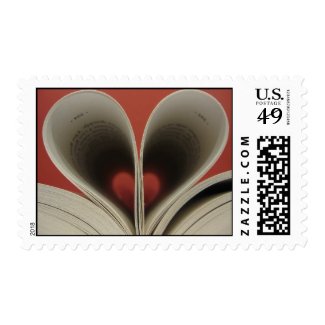 Book of Hearts Postage Stamps
by
RoamingRosie
Buy stamps online
at Zazzle
Check Out Other Related Posts On Webnuggetz