Lightweight Wheeled Laptop Bags for Women
Stylish Rolling Laptop Bags For Women
Any woman who travels for work will really appreciate a lightweight laptop bag with wheels. You can carry more items on you like change of clothes for those overnight trips, books to read, healthy snacks while travelling, etc, without having to carry an extra bag or purse.
The weight of the bags depend on the type of material used and the size of the bag. Nylon bags are lighter while leather laptop bags tend to be heavier but are durable and trendy.
Below is a collection of wheeled laptop bags for women and girls. I have arranged them in order of the laptop sizes they will fit.
You will find both sturdy, heavy duty professional ones and cute fancy ones for everyday use.
Womens Wheeled Laptop Briefcase
For 17 Inch Computers
If you frequently travel for work or bring large amounts of paper and books home, a wheeled laptop briefcase will make your commute easier.
eBags Laptop Collection SOHO Leather Mobile Office (Red)Read Reviews
This classy and stylish leather rolling laptop briefcase by eBags has small front compartment has organized panels to hold phones, charges, pens, passport and other essentials handy.
The dedicated laptop pocket holds notebooks of upto 17 inch secured with a velcro while the rear integrated file folder compartment has three dividers to hold files, note books, tablets and notes so you are ready when you get to your office or class.
It also comes with a removable accessory pouch to keep make up and toiletries.
Leather Vertical Detachable-Wheeled Ladies' BriefcaseRead Reviews
A vertical rolling laptop bag by McKleinUSA LA GRANGE is preferred for its ease in maneuvering in narrow crowded places. Front flap pocket holds tech accessories and closes with a clasp and key lock. Three stylish ways to carry – wear it over your shoulder, roll it or use it as a tote.
I liked the green leather with silver hardware design. Also available in Aqua Blue, Pink, Orange, Red, and Black.
Measures 7 x 17 x 14 inches and weight 8.7 pounds
Fly-Through Checkpoint-Friendly 17-Inch Detachable-Wheeled Laptop Case. File divider in the front compartment.Check Price
Targus Compact Rolling Backpack for Laptops up to 16-Inch/MacBook Pros up to 17-Inch, Black/Red. Retractable handle.Check Price
London Fog Luggage Chelsea 17 Inch Computer Bag, Olive Plaid. Fit Most Airline Overhead CompartmentsCheck Price
Ladies Leather Rolling Computer Bag
15 Inch Computers
McKleinUSA WILLOWBROOK 94988 Blue Detachable-Wheeled Ladies' BriefcaseCheck Price
McKlein USA W Series Willowbrook Leather Detachable Wheeled Women's Laptop Case
– Roll your bag to work then detach and use as office tote bag. Comes with a shoulder strap to carry over the shoulder.
– Made of Italian leather.
– Front organizer to store pens, credit card, business cards
– Middle compartment is equipped with file divider
– Padded laptop compartment hold laptops upto 17 inches. Some reviewers have stated that it is tight for a 17″ notebook though
– Ideal for a 15 in laptop or an iPad
– Chrome wheels that glide smoothly
– These fit under airplane seats
– Free shipping
– More colors to choose : Aqua Blue (shown), Black, Orange, Red, Green, and Pink
– Total wt. 10 lbs
McKlein Willowbrook Detachable Wheeled Laptop Briefcase Video Review
Kensington Contour Roller Laptop Case
#1 Best Seller
Kensington Contour Roller Laptop CaseCheck Price
– Fits Most 15-Inch Notebooks
– Famine laptop bag / tote that is compact, light weight and easy to maneuver.
– Weighs 5.3 lbs
– Measures 18 x 9 x 13.5 inches
– Ergonomically designed contour telescoping handle transfers weight to the wheels thus minimizing strain on your arm and eases rolling through airport lines and security.
– Laptop compartment is deep and quilted with cushioned bottom to protect from bumps.
– Side pocket for water bottle that secures with a magnet when not needed.
– Made with water proof material and scuff resistant material at the bottom to keep the case dry.
– Comes with a lifetime limited warranty and free technical support.
15 inch Rolling Laptop Totes
Here are some more cool looking rolling laptop cases that will fit a 15 inch computer. These fun and functional womens laptop bags will stand out at work places, bus and train stations and at the airport. You do not have sacrifice style for organisation and functionality.
Cabrelli Fashion Executive Laptop Briefcase and Tablet Tote Set (Set of 2)Check Price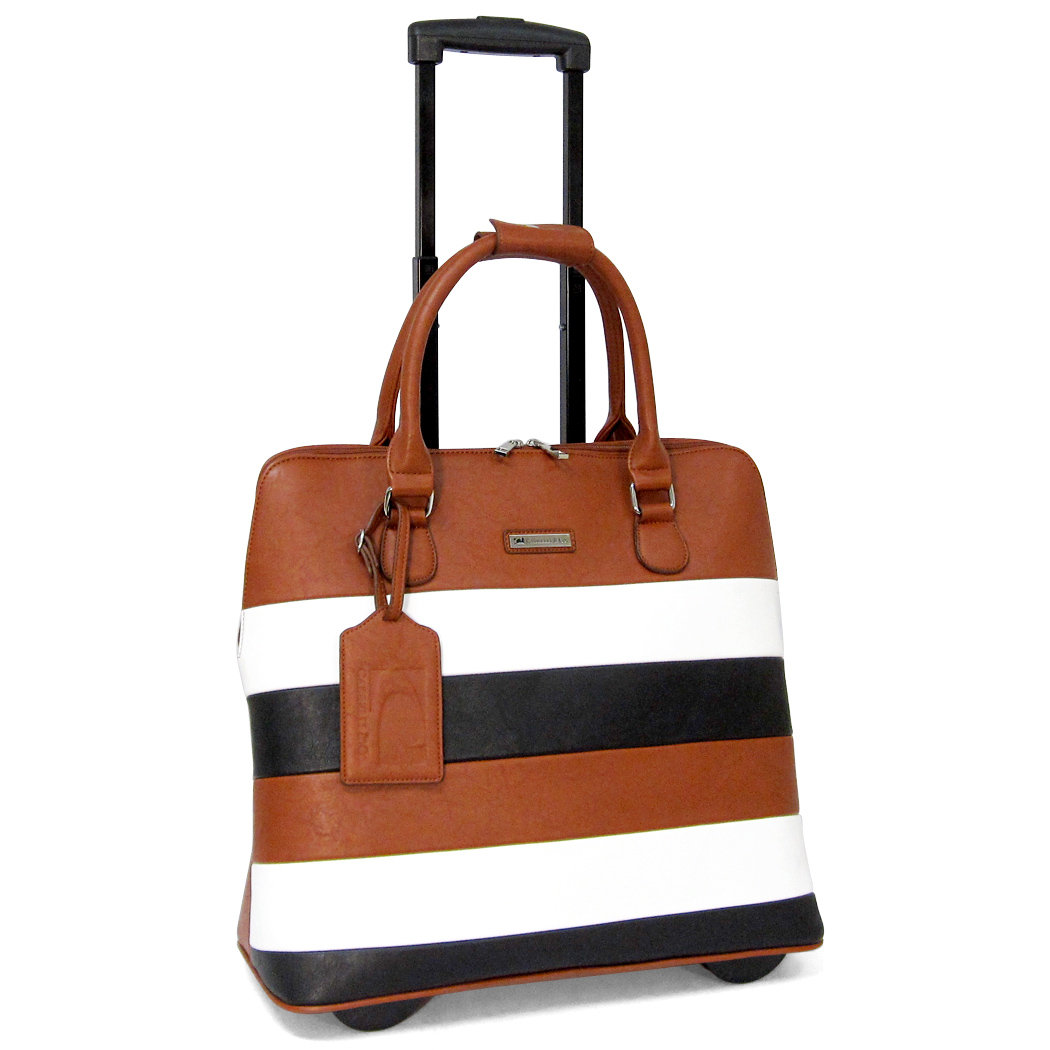 Cabrelli Chelsea Stripe Laptop Briefcase. Airplane Carry-on Size.Check Price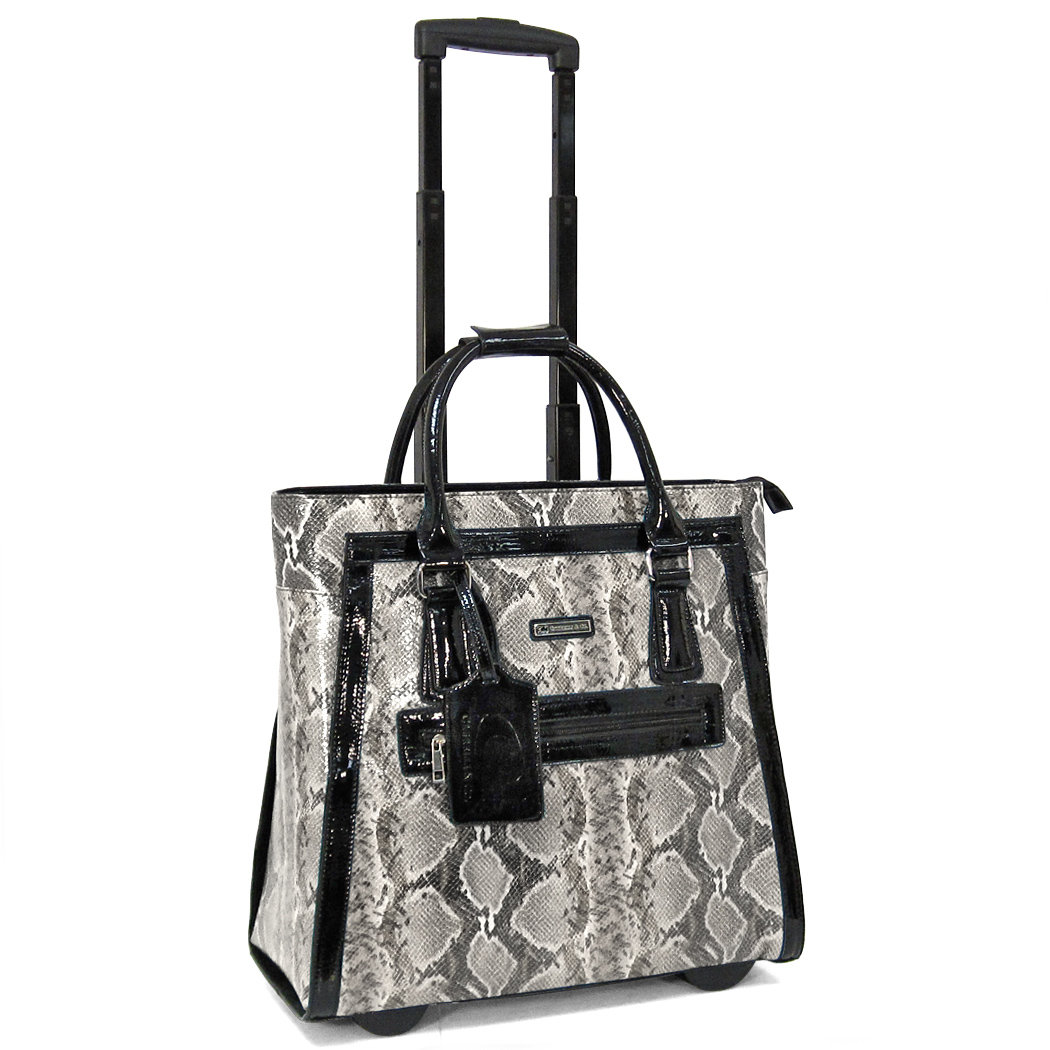 Cabrelli Beverly Boa Laptop Faux Snake Leather BriefcaseCheck Price
Siamod San Martino Womens Leather Laptop Bag
Siamod 35306 San Martino Italian Leather Ladies Wheeled Detachable Laptop Case (Cherry Red)Check Price
– All weather Italian Crocco Leather laptop case
– Fashionable and stylish. Durable, high quality and very functional.
– Detachable wheel and handle
– Padded laptop compartment holds a 15″ laptop
– Laptop Compartment Measures : 12″ H x 15″ W x 2″ D
– Overall Dimensions : 13″ H x 16.5″ W x 5″ D
– Comes with shoulder straps
– Easy and quick access to front pockets.
– Additional pocket at the back for documents, notebook, folder
– Total weight : 10.1 lbs
Bags and Back Pain: Could Your Purse or Handbag Be Causing Pain?
Want pain relief without a pill? Look no further than the bag on your shoulder, stuffed with everything from lipstick to lug nuts, as the source of your aching neck and back. Here, a guide to making y…
How to Find a Handbag That Won't Hurt Your Back
Chiropractor Isis M. Medina shares tips on how to shop for a stylish handbag that won't weigh you down.
Check Out Other Related Posts On Webnuggetz