Rustic Accessories for Lodge Decor
Accents for Your Cabin or Lodge
Whether it's just a dream or if you actually live in a lodge or cabin, it's fun to see all the possible accessories one can use in a rustic setting.
For me, it's just a fantasy exercise. After lunching at Bugaboo Creek, I was so taken with the massive wood beams and the rough stone fireplace that I started researching accessories to decorate my dream lodge.
This page is a showcase featuring the rustic pieces from a deer head for the wall or a bearskin rug that I found.
The grand old lodges in a forest or mountain setting would be such a treat to decorate in vintage lodge style. Some people have a log cabin that's newly made. With the right rustic accessories, it can look like it was there 100 years.
Mount Baker Lodge – Northern Cascade Travel Poster by LanternPress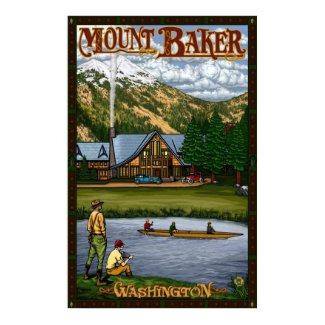 Mount Baker Lodge – Northern Cascade Travel Poster by LanternPressView Details
Hang this in your lodge or your home. It adds rustic appeal to your decor.
This poster was created by a talented Zazzle artist, however you can still customize it to say anything you want!
Make this one your own, and display it proudly in your home or lodge.
DEI Country Pinecone Welcome Sign, 17-Inch
DEI Country Pinecone Welcome Sign, 17-InchView Details
Very attractive silhouette of a pine cone for a welcome sign.
Perfect for the log cabin or a cottage.
*Woodland river collection
*Easy installation
*Dimensions: 17″ length
Get the Lodge Look with a Bear Skin
All Rights Reserved by Virginia Allain
Sheepskin Rug in Brown – Double Pelt – a reasonable substitute for a bearskin rug
Premium Sheepskin Rugs – Brown Double 2-PeltView Details
When you step out of bed, this plush sheepskin masquerading as a bearskin rug will keep your feet warm.
Even though I don't really live in a lodge, this one appeals to me. I'd love to step out of bed onto a warm grizzly bear. Not that I'd want a bear to die so I could have warm feet (so that's why you have a faux bear rug here).
My Sister Decorates Her Bookshelves with Rustic Touches
All Rights Reserved by Virginia Allain
Rustic Bookends
These bookends are perfect for your lodge! They offer a rustic appeal, and will add handsome decor to any room. I love when decor is not only attractive, but useful, as well!
Sterling Home Pair of Rainbow Trout Bookends, 6-Inch TallView Details
Sterling Home Pair of Muir Woods Acorn Bookends, 5-3/4-Inch TallView Details
Navajo Rugs and American Indian Patterned Blankets
These look great on the floor, thrown over the back of a sofa or stretched to display on a wall. The prices vary greatly depending on if it is handmade or mass-produced. Take a look at this one and then Amazon will show you a variety of patterns and colors.
Southwest Sampler Maize and Cornflower blanket throwView Details Southwest Geometric Deep Red blanket throwView Details Southwestern Area Rug, Home Dynamix Premium 2'x3′ Black RedView Details United Weavers Apache Beige Rug 5'x8′View Details Southwest Sampler Cornflower and Red Tapestry ThrowView Details Southwestern Contemporary Geometric Area Rug Navy 3 Pieces 2′ X 3′, 2′ X 6′, 5 X 8′View Details
Carved Wooden Canada Goose Decoy
Look at Ways a Wooden Decoy Adds Drama to a Room
Canada Goose Decoy by Roger Desjardins Limited Edition of 2500 Signed & NumberedView Details
My father-in-law collected duck and goose decoys. He would love these in a lodge or cabin.
These also make great decorations for any man cave or library in your home.
The Decoy Shown Here:
*Reproduced from the original wood carvings
*Cold cast and hand-painted in exquisite detail
*Perfect for both novice and experienced collectors
*Certificate of Authenticity
*10.25 L x 5.75 W x 5.5 H
All Right Reserved by Virginia Allain for this photo and the decoys pictured above
Blue Ridge Log Cabin Model Home Tour
Rustic Whitetail Deer 12 Antler Cascade Chandeler with 9 Candlelights and 1 Downlight
Rustic Whitetail Deer 12 Antler Cascade Chandeler with 9 Candlelights and 1 DownlightView Details
Don't worry… no deer were killed to get these antlers. Deer naturally shed their antlers each year and they are collected for lights and decorative items like this.
12 Individual Whitetail Faux Shed Antlers, 9 25-watt Candle Lights, 1 60-watt Amber Shaded Downlight.
Includes mounting hardware and ceiling plate, UL Listed.
Comes with 3 feet of beautiful Antique brass hanging chain.
Measures: 32″W x 14″H, Weight: 15 lbs
A Handsome Moose Head Featured on Rustic Beams
All Rights Reserved by Virginia Allain
Animals for the Walls
These are faux animal heads. No animals were killed to make these gorgeous wall hangings!
North American Moose Head Bust Wall HangingView Details
Silver Resin Moose Sculpture HeadView Details
It's All in the Moose's HeadView Details
White Resin Moose SculptureView Details
Esschert Design Wall Décor DeerView Details
White Resin Deer Sculpture HeadView Details
Mud Pie Small Deer Wall Mount, TanView Details
`Remus` Gray Wolf Head Mount Wall Statue Bust 16 In.View Details
Wolf Head Sculpted Wall Plaque DecorationView Details
Natural Looking Wall Hanging Big Black Bear HeadView Details
Black Bear Coat Hook, 6View Details
Wall Mounted Black Grizzly Bear HeadView Details
Handpainted Large Mouth Bass Wall Mount Decor Plaque Game Fish Replica 18View Details
Large Decorative Fishing Pole with Fish Wall PlaqueView Details
Trout Fish Hanger, Wood Look Sign Plaque, 12-inch, Fishing Wall DecorationView Details
Birch Trees Wall Mural – for a dramatic look in the lodge or cabin
You'll have the feel of being right in the birch forest with this wall mural. The sun gleaming through the trees… love it.
Width: 13′ 8″ (416 cm)
Height: 8′ 3″ (251 cm)
8 panels (4 top, 4 bottom)
These murals are applied to the wall like wallpaper with the included paste.
(99×164) Forest of Birch Trees Huge Wall MuralView Details
Carved Wooden (or look like wood) Trout Sculptures and Other Decor are Perfect for Displaying in a Lodge Setting
Some of these are carved from wood (and have the price to match the work that went into it). Others are a carved wood look, meaning they are cast in resin or some other material. Read the reviews and decide which you want.
I must admit that I'm not a fishing fanatic, but love seeing trout swirling through the water so that's why I would feature one of these on the wall of my lodge or on a bookshelf.
Big Sky Carvers Stonecast Rainbow Trout River Duo SculptureView Details Rainbow Trout SculptureView Details Handpainted Rainbow Trout Wall Mount Decor Plaque Game Fish Replica 18View Details Brown Trout SculptureView Details Rainbow Trout Fish Wood Carved Statue, Hand Painted, 12-inch, NauticalView Details Trout Fish for Shelf or Mantle (Carved-Wood Look) 11View Details Handmade Wooden Rainbow Trout MagnetView Details Handmade Wooden Double Sided Trout OrnamentView Details Handcrafted Wooden Rainbow Trout FigureView Details
Antique Looking Fishing Creel – to display in a lodge or cabin
Antiqued Fly Fishing CreelView Details
This one is fairly inexpensive, but it has mixed reviews on Amazon.
To get really authentic, you may have to pay quite a bit.
This is perfect decor for a lodge family room or living room.
Massive Stone Fireplace – A Focal Point
All Rights Reserved by Virginia Allain
Pine Cone Decor
Pine Cone decor is ideal for decorating any lodge or cabin, or to use in your home with rustic or country decor themes.
AHS Lighting L1562-UP1 Pinecone Accent LampView Details Dennis East 76116 – 1 Light 22View Details Meyda Lighting 103185 63View Details Set of Two Pinecone Pine Cone Candle Wall Sconce Lodge Home DecorView Details DEI Pine Cone Table Pillar, 2 by 13.5-InchView Details DEI Pine Cone Wall Hook, 20-InchView Details DEI Country Pinecone Towel Bar, 18-InchView Details DEI Country Pinecone Toilet Paper Holder Wall Mount, 6-InchView Details DEI Country Pinecone Towel Ring, 6-InchView Details Pinecone Night LightView Details Set of 3 Pine Cone CandleholdersView Details Pine Bluff DispenserView Details
A Carved Wooden Ship or Boat Makes a Wonderful Display Piece
Photo taken at Campobello. Source: Virginia Allain
Vintage Paddles Look Great on the Wall of a Lodge
You can just casually lean them on the wall to look like you're heading to the lake soon or mount them parallel or crossed on the wall.
Decorative Antique Finish Wood Oar / PaddleView Details
Handcrafted Nautical Decor Wooden Lockwood Squared Rowing Oar with Hooks, 36View Details
The Stupell Home Décor Collection Vintage Prized Oars Trio PlaqueView Details
Handcrafted Nautical Decor Wooden Timberlake Squared Rowing Oar with Hooks, 24View Details
How about a Vintage Canoe Poster for the Wall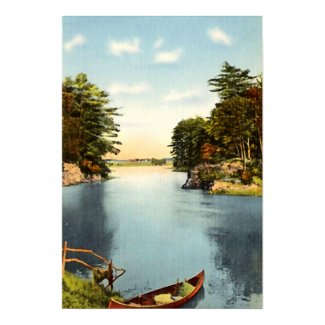 Kennebunkport Maine Posters by sepiatownView Details
Check Out Other Related Posts On Webnuggetz