Outdoor Bars for the Deck or Patio
Party Time – Outdoor Bars & Accessories
Make sure you get one of these fabulous outdoor bars before your next party or gathering! They are so convenient, and they'll help you to stay organized and focused on serving your guests. We have one that opens out and provides a good bar area for setting out wine and all the glasses, napkins, etc. that you need for serving beverages.
There is a marvelous selection of outdoor bars, bar tables, bar chairs and more showcased on this page. See which one fits your daily and special occasion needs on your patio.
Check out the ones I'm featuring here. Won't they look classy on your patio or in your back yard! You'll have some fun parties.
Zazzle has marvelous outdoor party invitations. Here's one…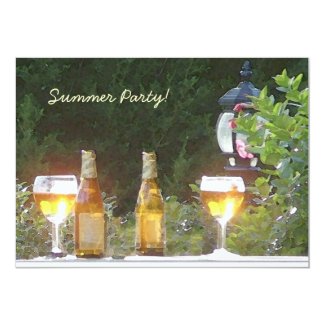 Sunlit beer party invitation 5″ x 7″ invitation card by ruralfrance
Tiki Bar 360 Degree – Tropical Kiosk w/ 8 Bar Stools & Thatch Roof
Tiki Bar 360 Degree – Tropical Kiosk w/ 8 Bar Stools & Thatch RoofView Details
Just picture the fun time by the pool with this cool Tiki Bar.
They've placed theirs in a sandy area, but you can put it on your deck, on the lawn, near the pool or wherever suits you.
Tiki Bar 360 Degree – Tropical Kiosk w/ 8 Bar Stools & Thatch Roof:
With this kind of bar, you have 4 sides for guests to gather around. It will be the favored spot at the party to chat with everyone.
The overhang of the roof gives some shade as well for everyone.
Palm Harbor Wicker Bar and Stools – for the Patio
Outdoor Patio Seven Piece Brown Wicker Bar Set with 6 Backless Bar Stools and Bar Table, Storage Shelving, and Weatherproof MaterialView Details
Just imagine your guests seated here sipping their drinks. Having an outdoor bar like this moves your entertaining up to a new level of fun.
This one is fairly compact and stylish too. The brown tones blend in nicely with the greens and browns of the outdoors. The wicker is easy to care for and withstands the seasons well.
Great Outdoor Bars – in a variety of styles
Palm Harbor 3 Piece Outdoor Wicker Bar Set – Table & Two StoolsView Details Home Styles 5661-99 Montego Bay U-Shaped Outdoor Bar Cabinet, Eucalyptus FinishView Details Home Styles 5660-99 Bali Hai Outdoor Bar Cabinet, Natural Teak FinishView Details GoPong Portable High Top Party Bar, Includes 3 Front Skirts and Carrying CaseView Details Leisure Season OB4727 Outdoor Bar with StorageView Details Living Accents Bar Set Corona WickerView Details Jimmy Buffet Margaritaville Outdoor Sling BarView Details Outsunny 7-Piece Rattan Wicker Bar Stool Dining Table Set, BlackView Details
Outdoor Serving Cart with a Beer Cooler
Summit CartOSBC Outdoor Stainless Steel Serving Cart With Beer CoolerView Details
My husband would love having something like this to use with his bar tending duties at parties. Very handy!
Sleekly elegant stainless steel. Keep the ice in an insulated compartment with a sliding cover. There are bottle wells for keeping the cold beverages chilled.
Here are invitations for your next party on the deck or patio
These can be ordered from Zazzle. Allow a few weeks to be sure you get them in time. I like getting Zazzle invitations because you can customize them. Their printing is top-quality too.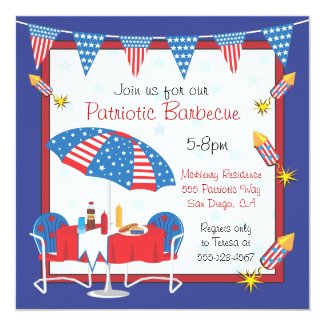 Election Day Patriotic Picnic BBQ Party Invitation 5.25″ Square Invitation Card by McBooboo
Heritage Outdoor Living Elisabeth Cast Aluminum Party Bar Table – Antique Bronze
Heritage Outdoor Living Elisabeth Cast Aluminum Party Bar Table – Antique BronzeView Details
Here's a stylish look and cast aluminum is easy to care for.
15-Year Frame Warranty – Heritage Outdoor Living products are sold through our Exclusive Amazon.com Retail Partner – Patio Import.
Fully Welded, Solid Cast Aluminum Construction is 100% Rust Free!
Masterfully Crafted To Combine Comfort, Elegance, & Quality.
Five-Stage Powder Coated Finish is the Toughest in the Outdoor Furnishings Industry – Antique Bronze Finish
Dimension W75″ x D38.5 x H40″
Bamboo Outdoor Bars – Tiki Bars
Here you have even more tiki bars to choose from. Which one would look the best in your backyard? Each is different but true to the Tiki look.
Some come with 3 bar stools. You'll see variations in the colors and layouts too.
Tiki BarView Details 3 Piece Set with Bamboo Tiki BarView Details Palm Harbor 3 Piece Outdoor Wicker Bar Set – Table & Two StoolsView Details Sunjoy L-DN202SAL-A-T 3-Piece Maximilian Tiki Bar SetView Details Best of Times Patio Bar and Tailgating Center Deluxe Package- TikiView Details Home Style 5660-9982 Bali Hai 5-Piece Outdoor Bar Cabinet and Stools, Teak FinishView Details Home Styles 5662-988 Bali Hai Tiki Bar and Two Stools, Eucalyptus FinishView Details RAM Gameroom Products 60-Inch Bamboo Tiki BarView Details Keter Rattan Cool BarView Details
Outdoor Bars Are Fun
This is my bar on my patio in Florida. The two side sections swing around to close when not in use. Opened out, it makes a great area to set out glasses and drinks on the top area. The shelving can hold bottles or other bar supplies.
The wood looks good without any effort on my part. I've never had to oil it or anything.
It has wheels on one end, so simply tip it up and easily roll it to any spot where you want your bar.
Inflatable Outdoor Bars – Don't go thirsty in the pool
What will they think up next? What a great idea as people lounge around in the pool chatting. They are bound to get thirsty.
The other opportunity that I've see for using these is for floating down the river. Get a bunch of friends with big inner tubes or floats and set off for a lazy float down the river. Tie this to one of the tubes so you can have your drinks with you.
7.5′ Water Sports Inflatable Floating Tropical Tiki Bar for Swimming PoolView Details
Spa – Hot Tub Bar Refreshment Float – NIBView Details
Intex 58820E Mega Chill Floating CoolerView Details
Kelsyus Floating CoolerView Details
5 Piece Bar Assembly with Canopy Mounts, Storage Bag, 33 Quart Cooler, and blue 6×6 pop up canopy
This one is great for the lake. Everyone is having a great time and keeping cool. The canopy gives some shade over the bar. How cool is that!
When the hottest summer days drag on for weeks, your lake will be a destination for family and friends. They can while away the 100 degree temps in cool comfort as they float about and visit.
5 Piece Bar Assembly with Canopy Mounts, Storage Bag, 33 Quart Cooler, and blue 6×6 pop up canopyView Details
Building a Patio Bar
How-To Information and Ideas for Building Outdoor Bars
How to Construct an Outdoor Bar | eHow
How to Construct an Outdoor Bar. Outdoor gatherings are a blast, but running back and forth to the kitchen can be a drag. Save time and keep the party hopping with an outdoor bar.
Building our Outdoor Bar :: Hometalk
Building our Outdoor Bar – We've been working diligently on our outdoor space changing what once was an unused wasteland of white rocks into a relaxing outdoor…
Check Out Other Related Posts On Webnuggetz