Cute Primitive Outhouse Bathroom Decor
Fun Outhouse Bathroom Decorating
For the cutest and most unique primitive outhouse bathroom decor ideas, you simply need keep reading here.   My favorite outhouse bathroom decorating ideas are on this page.  And I salute you for having such a great sense of humor.  Enjoy creating your outhouse bathroom and laugh as you work.   Your guests will love it!
Easy Outhouse Bathroom Decorating Ideas
It's all in the details – and with this bathroom theme, you can have fun and do all sorts of quirky things.  A metal bucket with burlap ribbon makes a cute trashcan — and is easy to do.  The same bucket idea would work for those bathroom magazines in the outhouse library.
Are you daring enough to paint a crescent moon on the bathroom door?   If your family does not object to your outhouse bathroom idea, they probably will love having a crescent moon on the door.
Find a vintage Sears catalog to tuck in the bathroom, too.  Do you know what the catalog is for?
Have a brainstorming session with your family or best friend.   Prepare to laugh — hilariously.  You will be surprised at the ideas that come out of that session.  Outhouse bathrooms are funny now– even if they were not so funny when they were a necessity.
Wall Sticker Mural
Beautiful Cresent Moon decal
Cute Bathroom Storage Ideas
My favorite outhouse bathroom storage ideas are easy to create yourself.  It would be simple to create a wooden box with an old license plate to secure the toilet tissue or towels.  You might even find old license plates in your grandma's garage.  Always look in grandma's attic or garage or shop the re-sale stores for great authentic bargains.
Scoop Toilet Paper Holder
Nice Butt Bathroom Decor
Galvanized Toilet Paper Holder
Mason Jar Bathroom Storage
Wall Decor for Your Outhouse
The possibilities for outhouse bathroom wall art are endless. Be as discreet or openly naughty as you wish, but do select items that make you smile.
Bathroom Outhouse Rules
Fragrant Outhouse Framed Art
Bear Bottoms Welcome
Printed Wood Plaque
Outhouse Bathroom Practical Items
The basics – from themed shower curtains to hand towels and bathmats can be quickly purchased at Amazon or Zazzle.  Click on your favorites to read details and reviews.  Shopping online is fun and fast.  While you are painting and creating your outhouse crafts, your shower curtain and towels will be on the way to your house.  Bathroom decorating themes are easy with the help of online shopping!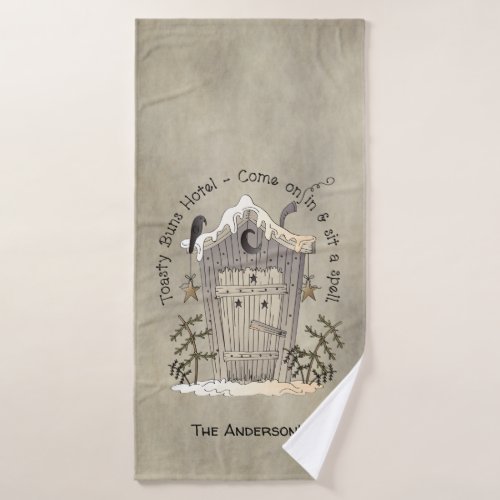 Primitive Country Outhouse and Crow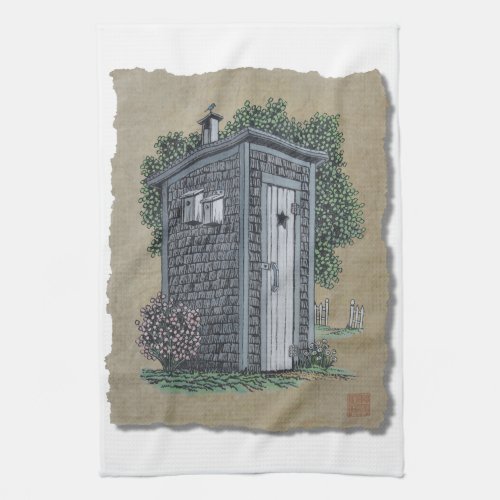 Vintage Outhouse Towel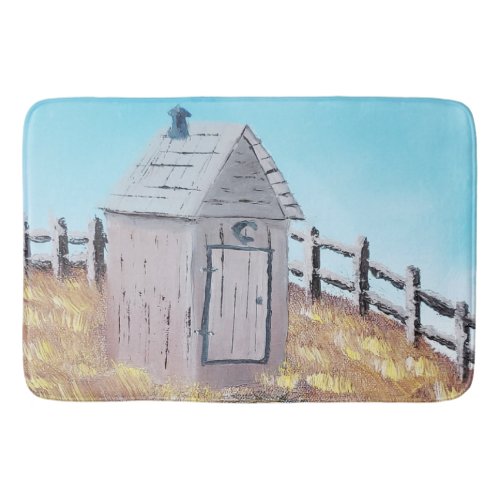 Outhouse Bath Mat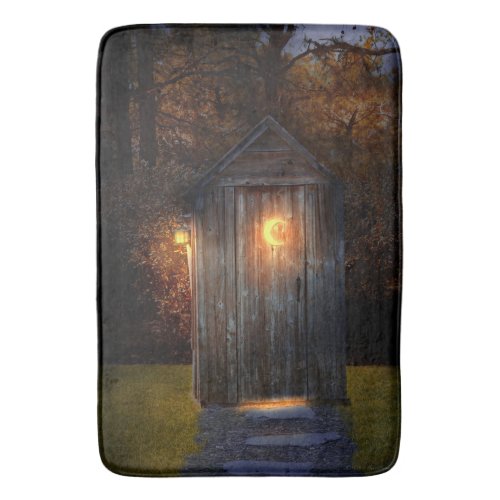 Rural – Outhouse – Bath Mat

Check Out Other Related Posts On Webnuggetz