Pickle Labels
Pretty Pickle Labels for Your Homemade Pickles
My mom made many pickles over the years to feed our large family. I'm glad to see that pickling is still popular. There are even some quickie ways to make refrigerator pickles now.
After you fix a batch of your special pickles, you'll want your jars to look special too. I've collected some great pickle labels here. Some can be customized with your name, while others just have a cute design and you write the name of the pickles on it. No matter what kind of pickles you're making (dill, sweet, bread and butter or refrigerator pickles), you'll find the perfect label here.
Customize This Pickle Label
Labels for Cucumber Preserves
Just Add Your Name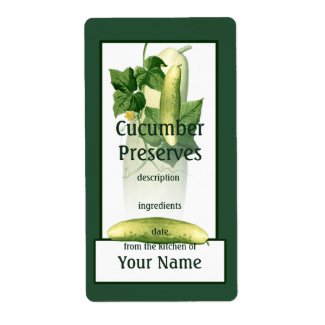 Cucumber Preserves Label
by
HomegrownLove
Create a
customized address label
at zazzle
Pickle Relish Label
Add Your Name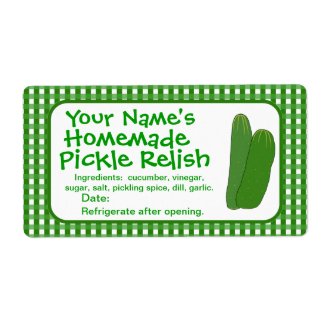 Personalized Homemade Pickles Labels Template
by
alinaspencil
Look at more Pickles Labels at
zazzle
Need a Recipe to Go with the Pretty Pickle Labels?
Video Tutorial for Dill Pickles
My Mother's Cucumber Spice Rings
Don't They Look a Lot Like Apple Spice Rings?
People love this faux apple rings which really are pickled over-sized cucumbers with the seed section removed.
Our Pickling Experience
Mom was quite the home canner over the years that she raised six children. The rows of jars lined up on the shelves in the root cellar meant her family would eat well over the winter months.
It's a laborious process to put up your garden produce in jars, but it means tasty meals later on. It's an even more laborious process turning cucumbers into a variety of pickles.
One variation that she tried made use of over-grown cucumbers. Ones that were large and too seedy in the middle, she turned into fake apple rings. Really! They looked just like those red apple rings that you can buy in the store.
She would slice the cucumber then cut out the middle with the seeds to create the rings.
(The photo from our family album shows her canning gear. The tongs for taking the jars out of the hot water were handed down from my grandmother.)
Canning Gear Used by My Mother and Grandmother
A Special Binder to Store Your Recipes for Pickles and Preserves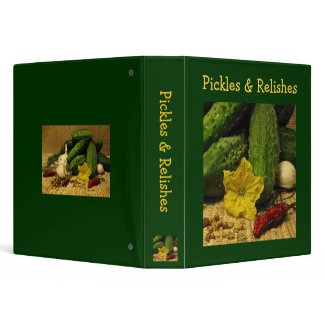 Pickles and Relishes Recipes 3 Ring Binder
by
Bebops
View other
binders
at zazzle.com
Have You Tried Making Refrigerator Pickles?
It's Easy with This YouTube Video
People like the quick results of making refrigerator pickles and not having to bother with the canning process.
Need Some Pickle Recipes?
This Kit Has That & Gift Wrap for Giving Your Tasty Pickles to Friends and Family and Co-Workers
Click on the photo to go to Amazon for this.
Check Out Other Related Posts On Webnuggetz