Pirates of the Caribbean Costumes For You And Your Pet
Pirates of the Caribbean Halloween costumes are popular among teenagers, pre-teens, and young adults. Since 2003 there have been five movies in the series. The story follows Captain Jack Sparrow, a pirate mastermind who goes on many adventures on the seas, battling and defeating pirate legends like Davy Jones and Blackbeard.
Captain Jack Sparrow Costume
Prestige Captain Jack Sparrow Costume

There's a wide array of cast members, making for an excellent series of Halloween costumes for any kid or young adult who loves pirates. The obvious first choice of costume is Captain Jack Sparrow, given that he's the hero. Jack Sparrow has long, brown dreadlocks and the top of his head is covered with a red bandana. Occasionally he would wear a tricorn hat. He has dark eyeliner circles around his eyes, patchy musketeer facial hair and light scarring on the face. His outfit consists of a white collared shirt with a vest and grey pants.
Most costumes will include the clothes and the hat, but won't always include the hair or the shoes.
Captain Jack Sparrow Classic Toddler Costume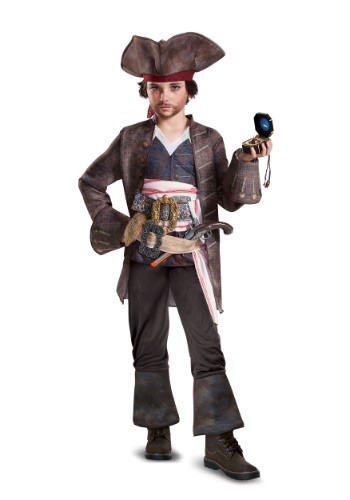 Captain Jack Sparrow Boys Costume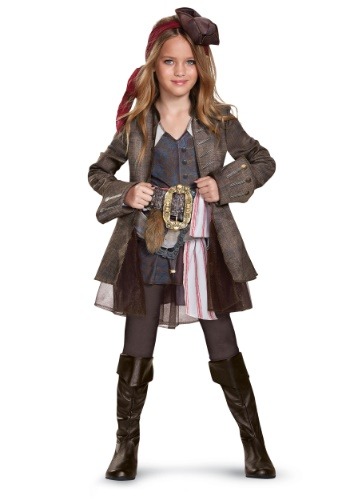 Deluxe Captain Jack Sparrow Girls Costume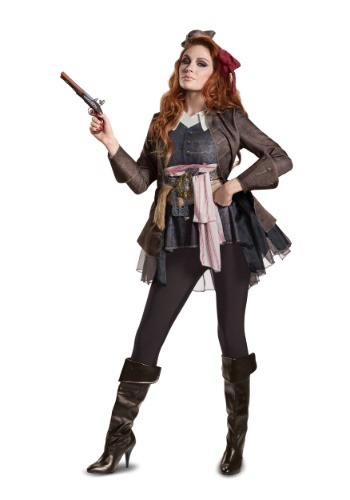 Captain Jack Sparrow Womens Deluxe Costume

Blackbeard Costumes For Adults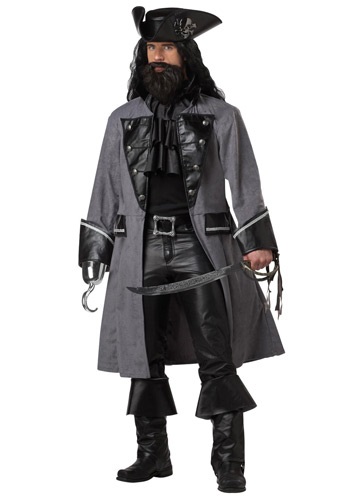 Mens Blackbeard Pirate Costume

Some may find the villains from the Pirates of the Caribbean movies more interesting than the lead actor. One such villain to dress up would be Blackbeard.
His large black beard has braids in the middle, tipped off with bits of silver. His clothes resemble those from the 18th century, mostly in black and grey colors. He too wears a black tricorn hat Just like the Captain.
To complete your look make sure the get the accessories, most obvious ones being the sword with a scabbard.
Elizabeth Swann Pirate Costume for Adults and Girls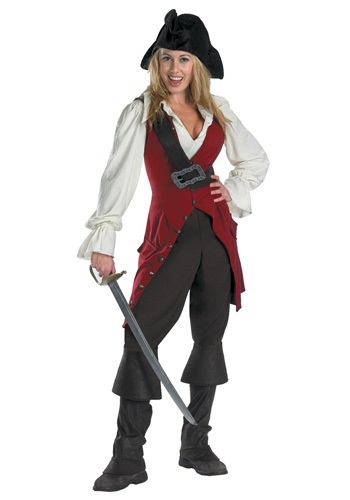 Elizabeth Swann Costume For Teens and Women

And not to forget Elizabeth Swann, the charming and intelligent daughter of the governor.
Her outfit consist of a blouse with wing collars and long gathered sleeves, dark red vest with pockets and silver buttons, cropped pants, hat and boots.
Pirate Costume For Your Pet
These pirate pet costumes are great for Halloween, themed birthday parties and photo shoots.
Pirates of the Caribbean Style Dog Cat Costume Suit and Hat

Pirate Dog Pet Costume Size Large

Dog Tank Top, Skull & Crossbones, Black, Extra-Large

Pirate jacket for dog and hat with attached striped bandana

Check Out Other Related Posts On Webnuggetz