Plus Sized Business Fashions for Queen Bees
Plus Sized Business Fashions for Queen Bees
Queen sized woman can be attractive both off and on the job with the right clothes.
You don't need a huge wardrobe: if you have a few key jackets, skirts or pantsuits you can have an impressive yet beautiful work wardrobe.
I have found some lovely assets to any plus sized woman's wardrobe on both Amazon and eBay!
An Attractive Lane Bryant Jacket – Size 26 – New with Tags and a Huge Discount

Lane Bryant Queen Size Blue Jean NEW Jacket – Size 26 Plus – 1/2 Off Retail

&
This is a quality jacket from my own eBay store, where I am for great customer service and good prices: http://stores.ebay.com/gypzeerosesbargainsandtreasures/
Beautiful Plus-Sized Business Blazers and Jackets
The cornerstone of every business wardrobe are attractive blazers and jackets. I have found many beautiful blazers, in both solid colors and lovely patterns. I also found some nice pantsuits that would be great, both in the office or out. These jackets, from both eBay and Amazon will make many very nice outfits with whatever blouses or sweaters you choose to use with them.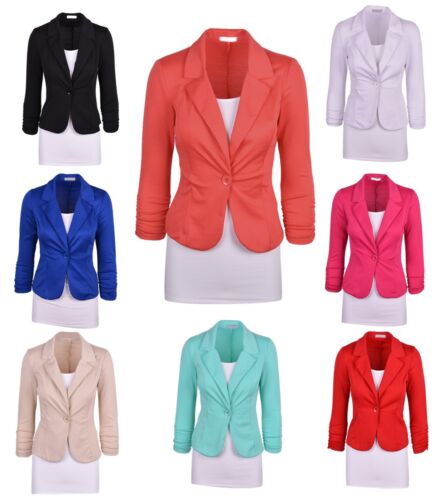 New Womens Color Blazer Jacket Suit Work Casual Basic Long Sleeve Candy Button

RubyK Womens Lightweight Ruched 3/4 Sleeve Open Front Blazer Jacket RBKWJC1174(BLACK)XX-Large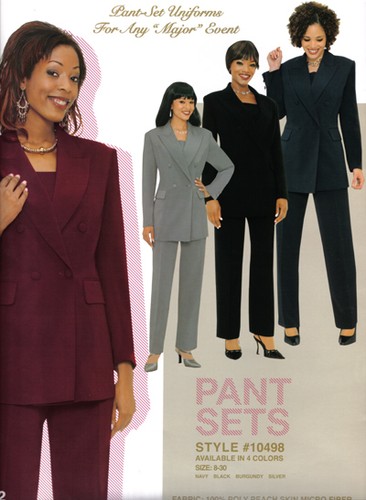 Pant Suits for Business and Beyond, Many Sizes

RubyK Womens Plus Size Classic Slim Fit Blazer and Skirt Suit Set
Plus Size 3/4 Cinched Sleeve Open Front Blazer Jackets Red 2XL
Womens Plus Size Blazer Asymmetrical Open Front Fold Over Lapel Jacket Career (3x, Midnight Black)
Kenliee Womens Ultra Lightweight Summer Open Front Draped Tuxedo Blazer RBKWJC2103_LEOPARD XX-Large
JJ Perfection Women's Lightweight Chiffon Ruched Sleeve Open-Front Blazer YELLOW M
2LUV Plus Women's Draped 3/4 Sleeve Open Front Blazer Black 3XL (V911 BK-X)
& 
Excellent Queen Size Pant Suits and Skirt Suits for the Office
Elegant in just your size.
RubyK Womens Plus Size Classic Slim Fit Blazer and Skirt Suit Set
Le Suit Women's Plus-Size 2 Button Pant Suit, Midnight, 24W
Le Suit Women's Two Color Business Suit Pant Set (24W, Ruby/Black)
& 
Queen Sized Dresses for the Office and Beyond
Sometimes you just want a beautiful dress in the office. Some of these dresses are perfect under a jacket, some by themselves, and some are convenient and gorgeous jacket dresses that offer you both options in one.
Sapphyra® Women's Plus Cut V-neck Solid Color Lace Short Sleeve Cocktail Dress
Sapphyra® Women's Plus Size Ruched Wrap Front Tie Belt Knee Length Shift Dress
Roamans Women's Plus Size Scalloped Jacket Dress New Khaki Black,20 W
Jessica London Women's Plus Size Jessica London Jacket Dress Black,22
Roamans Women's Plus Size Duster Jacket With A-Line Dress Lilac,18 W
Sandra Darren Women Plus Size 3/4 Sleeve Printed Shirt Dress – Wear to Work (14W/16W, Black/Ivory/Coral)
Dearlovers Womens Sleeveless Casual Career Dress XX-Large Black
& 
Plus Sized Curvy Work Wear
Plus sized business attire can be gorgeous and practical.
Here is a queen sized woman showing how she can truly be beautiful.
A Plus Sized Leather Blazer that Will Make Your Business Wardrobe Gorgeous and Memorable
I was extremely pleased to find this beautiful leather jacket in every size from small and petite to plus size 5X. These stunning jackets will definitely make your work wardrobe stand out.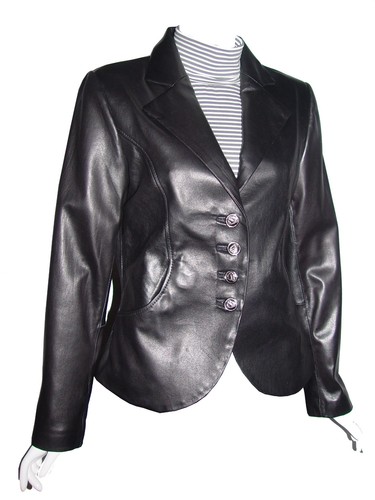 Women's Lambskin Leather Blazer, Silky Polyester Lining

&
Plus Sized Business Outfits can Make Any Woman Beautiful at Work
You're as beautiful as you feel, and attractive business clothes will make you look professional as well as attractive, regardless of your size. These attractive queen sized business clothes will improve how you feel about yourself as you go to work and how others see you too.
Queen bees deserve it!
Check Out Other Related Posts On Webnuggetz