Put Your Kids on Santa's Nice List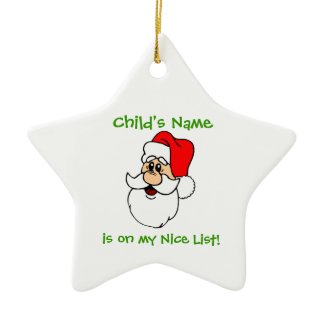 Have your kids been naughty or nice this year? We all know that Santa makes a list and checks it twice every year to see who should get presents and who should get a lump of coal, and if your kids don't wake up on Christmas morning to a big black lump in their stocking, they'll undoubtedly assume they made Santa's Nice List. But wouldn't it be fun to see their expression if Santa Claus left a special personalized gift proclaiming their inclusion on that all-important list of good girls and boys?
Two eays ways to let your children know they've made the right list is to present them with a personalized Nice List certificate or to let Santa Claus deliver a small Nice List gift.
You can get Santa's Nice List certificates online from a variety of sites. Professional Santa letter companies such as Package from Santa will include a Nice List certificate with your child's letter. These professional packages can be pricey, but the quality is great and you won't have to do any work. You can also get printable Santa's Nice List certificates online at sites such as Santa Letter Templates.com. For a really fun Nice List certificate that includes a photo of your child, check out Letters to Kids from Santa.com.
You can also get gifts such as T-shirts and Christmas tree ornaments at Santa's Nice List Shop. They offer fun Santa's Nice List gifts that can be personalized to include your child's name and the year. To learn more about any of these products, click one of the links below.
Santa's Nice List Gifts
[zstore contributor handle="IndiaL" productlineid="196599675828877453″ zsstoreassociateid="238944901182459498″]
Check Out Other Related Posts On Webnuggetz