Raising Bunnies as Pets
Raising Bunnies As Pets- They Are Very Social and Easily Trained 
Raising Bunnies as pets can make wonderful additions to your family. Many people keep them as indoor pets. They are lovable and social and can be easily trained to fit right into the family. They can even be liter box trained
, but as with any pet, they are also a lot of work and expense, so make sure you are prepared to commit to a rabbit or any animal before you make them a part of your family.
Rabbits need a lot of fiber in their diet, so hay
should be a constant dietary item available to them. If anyone in your home has hay allergies, then bunnies as pets might not be the best choice for your family.
When You Have Bunnies As Pets –
Hay Is Essential For Their Health
Bunny Basics Essentials Adult Rabbit Pet Food
Oxbow Western Timothy Hay, 40-Ounce Bag
Kaytee Timothy Hay
Fact-Bunnies As Pets Crave Socialization –
They Want To Be Part Of The Family
Since bunnies are social animals, make sure they have one or more places in your home where your family spends the most time. Like guinea pigs, raising bunnies as pets, they can easily become depressed if they are stuck in a corner of the house alone for long periods of time.
If you are keeping your rabbit in a pen, make sure it's large enough to house the rabbit while giving it room to hop around and you'll also want to let it out of the cage daily for supervised play time. It is best if you can allow it to roam freely all the time like you would a cat or a dog. Rabbits can be trained to use a litter box and learn good behavior from bad, but that will take work on your part. If you commit the time to train your rabbit, they can easily roam free.
House Rabbits As Pets Need Safe Housing When Not having Free Range and Play Time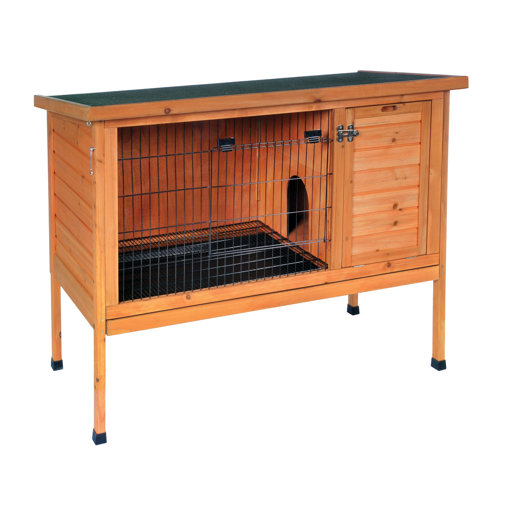 Rabbit Hutch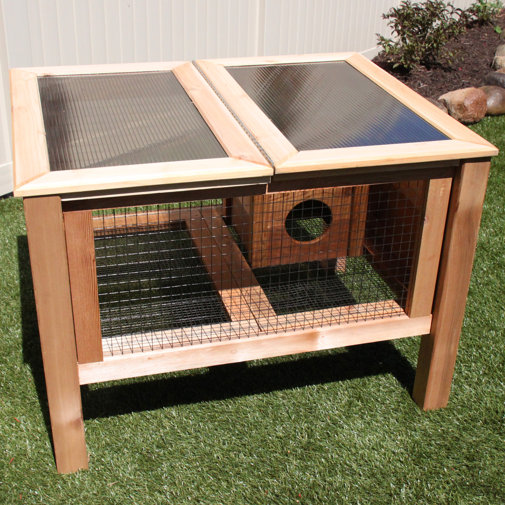 Heavy Duty Rabbit Hutch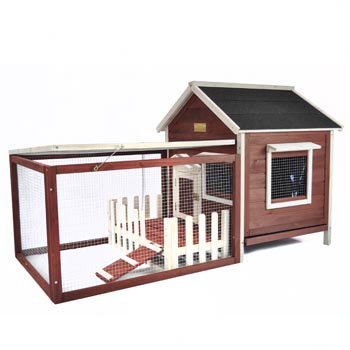 Hollowell White Picket Fence Rabbit Hutch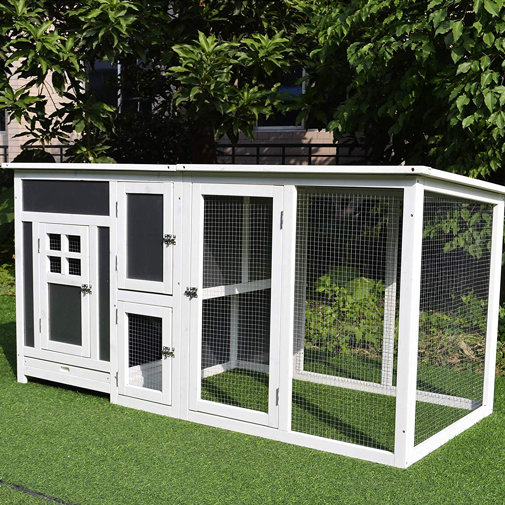 Camarillo Wood Rabbit Hutch with Run

More Very Fine Hutches for Bunnies For You to Choose
Rabbit Hutch with Sloped Roof (M), Gray/White
Merry Pet Tudor Rabbit Hutch
Confidence Pet 62" Rabbit Hutch / Chicken Coop
Pawhut 48
TRIXIE 2-Story Rabbit Hutch With Attic – Extra Large
Remember! Bunnies Love To Chew –
So Keep Them Safe With Their Own Toys to Chew And Not Your Electric Cords
Whether you keep your rabbit caged or let it roam free, you're still going to want to make sure you "bunny-proof" your home. Put wire covers over all cords
and keep important papers and other items out of reach of your pet. Rabbits love to chew on things, so keep them busy and give them their own chew toy
s such as a cardboard house (preferably many of these together or spread around your home), old phone books, hamster chew toys (or similar items) and more. Raising bunnies as pets can be very rewarding if you take the time to do it right.
Bunny Blast Yucca Chew Toy
Kaytee Perfect Chews for Rabbits
Peter's Chew Toy for Rabbits and Small Animals, Apple
Peter's Woven Grass Mat for Rabbits
Be Patient With Your Bunnie – They Will Be Stressed When First Brought Home
If you get an animal from a rescue shelter it might already be potty trained or have a good start. If not, be persistent and patient. And remember that any animal coming into a new environment has to adjust to new scents, sounds, people, other pets and so on. They might (and probably will) be stressed for a while, so please give them patience and love. They will soon adjust and learn the rules if they have a loving family who understands them and gives them love and guidance.
Bunnies As Pets Can Be Outdoors If the Climate is Warm and the Cage is Large Enough and Protected
Advantek White Picket Fence Rabbit Hutch
Rabbit Hutch with Sloped Roof (M), Glazed Pine
Advantek Penthouse Rabbit Hutch
TRIXIE Pet Products Rabbit Hutch with a View, 59.25 x 31.25 x 42 inches
Raising Bunnies As Pets? You Bet!
Bunny Rabbit pets are a great idea, but make sure you are able to care for them for their entire life. They can live 10 or more years. They will probably live 15 or more years with good care.
Your costs will include food, treats, cat litter, vet bills, possible
medicines, possible flea treatments and more. Rabbits can cost up to $700.00 per year, and as much as $900.00 the first year when you factor in initial costs of preparing for your new pet. But they are well worth the investment and will offer your family many years of affection and good times!
Check Out Other Related Posts On Webnuggetz