Saloon Decor for the Man Cave or Home Bar
Use a Wild West Saloon Theme in Decorating
Entertain in style with an old-west saloon in your home. You'll feel just like Clint Eastwood or Wyatt Earp as you lean your elbow on the vintage looking bar while sipping your drink.
This makes the perfect theme for a man cave, a home bar or for a poker room. It's great for the rec room or a finished basement.
What should you put in your saloon themed room? Get lots of ideas below for wall decor, lighting, poker tables and more. I've included some videos showing vintage saloons too.
Buffalo Head for a Wild West Saloon
This brings the flavor of the old west to your man cave, for sure.
Source: Virginia Allain
Elk 18 Antler Chandelier – for a Real Western Look
Rustic Elk 18 Antler ChandelierLearn More
You just don't see something like this except out west. Even if you live on the east coast, this transports you to the Wild, Wild West as soon as you see it.
Add it to your room for that rustic elegance that will make your room special. Elk shed their antlers each year, so no animals were injured to make this lighting piece.
Actually this one is reproduction antlers, but it sure looks realistic to me.
I find these elk antler chandeliers amazing. They really bring in that old west look or the rustic lodge feel.
My Dad Would Have Loved a Saloon in His House
Clyde Martin checks out the bar in a vintage saloon.
Source: From my family album
What a great way to entertain your buddies without having to go out in all weather to a bar. With a room decorated in old west saloon style, everyone will want to hang out at your house.
Who wouldn't want to belly up to the bar and swig down a cool beer on a hot day with a stunning look like this.
You might want to have your pals bring a carton of beer over now and then so it's not dipping into your budget all the time.
Here's a photo of my dad visiting a western style saloon. Photo taken by my sister
Saloon-Sized Glass Beer Mugs
McSorley's Wonderful Saloon Beer MugsLearn More
Remember the scene in the old western movies when the bartender slid a full glass of beer down the bar to some gunslinger or to a thirsty cowpoke?
When you decorate with a saloon theme, you need to remember even the small details. Here's exactly the right glasses for you to serve beer in.
I like them for my root beer floats too.
Choose a Swinging Saloon Door or Door Cover – These come in various prices and styles on Amazon
These swinging saloon doors (and faux wall art of saloon doors) add some fun to your bar area. You can have the real louvered, swinging half-doors that you see in the wild west or get the fool-the-eye artwork to apply to your wall.
American Wood Products 858042 DixielandLearn More Gizaun Art Saloon Door 28-InchLearn More Custom Made Solid Oak WesternLearn More Old Western Swinging Saloon DoorsLearn More Cafe Doors by Cafe DoorsLearn More Cafe Doors (Prefit for 36Learn More Cafe Doors Prefit for 32Learn More Saloon Doors on Cantina WallLearn More Beistle 57127 Saloon Door Cover,Learn More
Marble Top Bar That Won't Overwhelm a Room
Coaster Marble Top Bar inLearn More
For an average poker room or family room, this is a good size. It leaves space for other activities in the room. If you have a really big space, like a whole basement, you might want something larger.
You could put a pair of these together if you want a longer bar for a bigger impact. Think about the number of people you want to "belly up to the bar" at any given time.
This has a classy look and the detailing like you would see in the early days.
Western Cowboys With Horses inAvailable on Amazon
Buffalo Head for the Wall – of your saloon or poker room
Design Toscano YB2075 American BuffaloLearn More
Sometimes this one goes out of stock on Amazon. Click on the picture to see similar buffalo wall sculptures.
You could also opt for a deer head or an elk.
You can also check eBay for these too. Unusual stuff shows up on eBay, so you might find the real deal here… a vintage buffalo head or taxidermy mount. Good luck on your bidding.
I can't get over how realistic this looks. It is cast from resin and hand-painted.
8 Point Buck Deer Head Bust Wall Hanging
8 Point Buck Deer HeadLearn More
One reviewer raved about how realistic this looks on the wall.
Should be perfect for your saloon decor.
This awesome, cold cast resin replica 8 point buck wall mount is a perfect addition to any room with a masculine theme. The head, with antlers, measures 23 inches tall, 16 inches wide and 8 1/2 inches deep. The head alone is 13 1/2 inches tall, 14 inches wide, and 8 1/2 inches deep. The detail is incredible, down to the hand painted eyes. Antlers are removable for space-saving storage and shipping.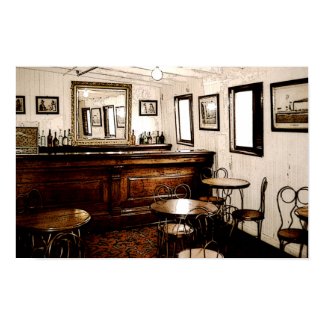 Ticonderoga Saloon Posters by CricketNoel
Western or Poker Room Signs
These are fairly inexpensive, so browse the selection, and see what fits your room. Wall decor really livens up any room, and these are especially nice in a saloon decor theme, man cave or home bar!
Trademark Poker Classic All WoodLearn More Vintage Old Town Saloon MetalLearn More Beistle 57768 4-Pack Western SignLearn More Old Style Western Sign CutoutsLearn More Western Wanted Sign (slotted toLearn More Gift Craft Cast Iron WesternLearn More Welcome to the Ranch SignLearn More Dogs Playing Poker Metal TinLearn More RAM Gameroom Products Wall Sign,Learn More Vintage Poker Signs (Poker Room)Learn More Poker Room Hand Color VintageLearn More Trademark Fine Art Growlers Saloon by Ayr*Line Canvas Wall Art, 10×24-InchLearn More
Saloon Mirror to Go behind the Bar
John Wayne Saloon Mirror: WesternLearn More
You can't get more wild west than John Wayne. This will set the tone for your man cave. The Duke!
Celebrate a Western legend with this first-of-its-kind John Wayne saloon mirror, available only from The Bradford Exchange.
Officially licensed by John Wayne Enterprises.
Impressively sized at nearly 2 feet wide, this John Wayne wall decor is inspired by the iconic saloon mirrors of the Old West and boasts high-quality glass with a handsome bevel.
Saloon Prints
Hang these in your home bar, man cave, or an actual business to spruce up the walls and add interest to your design.
Crazy Loon Saloon Tin SignLearn More Anderson Design Group: Coastal Collection:Learn More Roadhouse Bar & Casino MetalLearn More Quality digital print of aLearn More Photo Print, Saloon On TheLearn More Quality digital print of aLearn More Countryside Saloon Poster Print byLearn More Antique Print-SALOON CAR-AUTOBINEAU-L'equipement Automobile-Riegel-1930Learn More 1934 Matson Line, Oceanic Line:Learn More Antique Print of Plan RichmondLearn More Framed Print of Barber sLearn More ElegantLearn More
A Mirror for behind the Bar – Pub Mirrors
Jack Daniel's Pub Mirror
Jack Daniel's Pub MirrorLearn More
Decorate the Walls with Wanted Posters
I also found an online site where you can put your photo and wording on a wanted poster form. You can save the resulting photo to your computer. I'm not sure how large you could print it to get the effect of an old west wanted poster for your wall.
Customize a Wanted Poster
Wanted Dead or Alive U can change PIC and words Posters by grandhelm
Customize a Wanted Poster with your own photo or a friend's…
You can change the picture and the wording on this poster. Personalize it!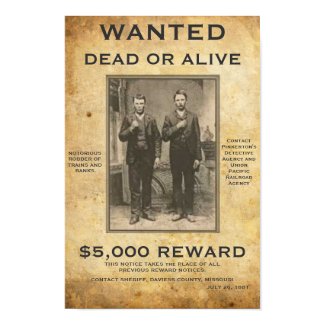 Wanted Dead or AlivePersonalize on Zazzle
Padded Poker Tabletop – Green Poker Layout – 52 X 52 Inch Octagon
51 X 51 Inch OctagonLearn More
Lay this out on your table and voila!! you are ready for poker night. Store it in its own case. It has a handy carrying handle too
3 in 1 Bumper Pool~Poker~Table Top with Oak Finish
Coaster Table Top Box 1Learn More
This table is magic! It can be a dining table, switch to a poker table or remove the top and you are ready to play bumper pool Look at the handsome carving on the base. This is a quality table that you will get years of use from.
Read More about Bars and Saloons of the Wild West – Books available from Amazon
Learn all about the saloons of the wild west. What a fun way to get some history.
Legendary Watering Holes: The SaloonsLearn More Hoist a Cold One!: HistoricLearn More Saloons of the Old WestLearn More
Check Out Other Related Posts On Webnuggetz