Stone Masonry, Stone Cutting and Bricklaying: Beautiful Work and Great Careers
Stonemasonry and bricklaying a gift to the world indeed
Stonemasonry is both a a practical craft and a beautiful art. Like quilting, weaving or carpentry the crafts-person finds ways to bring beauty to utility. Stone-masonry is an ancient craft. Masonry is a rewarding profession for many, and an art that can be enjoyed by everyone.
Stone masons, as well as bricklayers or stone cutters; are able to capture the soul of the natural rock. Masons create beauty and utility throughout the world with stone, brick and tile; and they have since ancient times.
Professional stone masons go through extensive training, often through stone masonry institutes or apprenticeships. Nonetheless, it is possible for people to explore stonemasonry on their own. However, luckily there are stonemasonry guides readily available to help.
Learning about masonry has opened up a new world to me. I have become much more aware of the beautiful stone around me, and have discovered why so many people have dedicated their lives to stone masonry.
Stone Masonry Tools
Masons Need a Variety of chips, blades and other tools. Here are some quality stoneworking tools.
I included some fine individual tools, but if you really want to give an excellent complete kit –
Check out the Bon 11-906 Complete Stone Mason Carbide Chisel Set in Tool Bag. It includes:
3-Pound steel mash hammer – Bondura bag – 8 by 5/8-Inch carbide hand point – 6 3/4 by 1 1/2 carbide hand tracer –
All high carbon American steel shanks on the carbide tools
An excellent alternative to the Marshalltown kit I featured above.
Bon 11-906 Complete Stone Mason Carbide Chisel Set in Tool Bag
Carbide Masonry Set
Stanley 16-295 2-3/4 Inch Mason's Chisel
Kraft Tool BL414 Toothed Stone Mason's Chisel, 2-1/4-Inch
Kraft Tool BL333 3-pound Stone Masons Hammer with 16-Inch Handle
& 
MARSHALLTOWN The Premier Line BTK1 Brick Tool Kit
One of the Best Stonemason and Bricklaying Tool Kits
The tools of the trade are the tricks of the trade – this Stonemason and Bricklaying Tool Kit
MARSHALLTOWN The Premier Line BTK1 Brick Tool Kit by Marshalltown
& 
If you want to buy just one book on stone masonry – make it this one.
& 
If you want to buy just one book on stonemasonry – make it this one. "The Art of the Stonemason" is lovingly written by a man who knows what he is talking about. The author Ian Crumb is a fifth-generation stonemason, and this book the expertise that he has developed himself and as being part of a mason's family. As wonderful as it is to go to training to be a stonemason it must be even better to be raised with a family of stonemasons, surrounded with beautiful stonework like the Cathedral, 15th century castle and stone ruins in Dunblane, Scotland where Crumb trained.
Ian Crumb is a fifth-generation stonemason, and this book shows it. As wonderful as it is to go to training to be a stonemason, it must be even better to be raised with beautiful stonework. Lovely, beautifully illustrated and with many clear instructions that will get you on to become a stoneworker. This is also a section on stone cutting, which is rare.
Terms You Hear in Stone Masonry
Although a lot of times this terms are used to describe people in this profession are used indiscriminately, there actually are many specific kind of workers in this field. You may be trained to do many of the jobs listed below in your apprenticeship, or you may specialize.
A Stone Mason shapes rough pieces of rock into accurate geometrical shapes and then arranges them and joins them with mortar to build different structures like walls or stone houses.
A Stone Sawyer uses a diamond tipped saw to cut rough stone shapes into blocks.
A Stone Carver will create beauty by carving into the rock: maybe animals or flowers or foliage. This is one extremely artistic aspects of the job.
A Quarrymen split veins, or sheets of rock, so that we can extract the proper stone from the ground.
A bricklayer uses bricks to form structures, joining them with mortar.
A block mason uses concrete blocks to create structures.
Most brick & stone covered buildings today have a steel support system underneath. The tallest building in the world that is completely masonry is the Philadelphia City Hall. It has had that honor since 1953 when the the upper part of the Mole Antonelliana in Turin, Italy collapsed. The City Hall is 548 feet high, and was the highest building in the world when it was built at 1901. It has walls 55 feet thick at the base that support it.It is primarily made up of limestone, granite and marble.
What Does a Stone Mason Do?
Before a mason places the first stone, they produce blueprints – decide what composition of clay, rocks or other substance will work best in the unique environment of the project – and use their artistic abilities to create a beautiful project. They have to be people persons too – they need to work with clients and at sometime manage a team. If they are doing all of the masonry themselves – especially stone-cutting – they have to have the strength and great HANDS.
The Stone Carver – A trailer for the documentary film
Do you want to see a happy person at work?
Visit this stone carver in action. Stone carving is an unique kind of stoneworking, and it takes a lot of talent.
Was Stonemasonry the First Profession?
A Stonemasonry Joke
Stone masonry was an ancient profession, one of the first. known to man. Stone masons have created all kinds of structures from stone since the first man or woman put some stones and mud together to make some kind of wall or path. That must have been exciting: realizing that the mason could create an object of beauty and strength with ancient materials.
Masons have worked all across the world in as diverse structures as the Taj Mahal, Easter Island's statues, Stonehenge, Notre-Dame de Paris with enormous flying buttresses that support the masonry at the back of the church to the Egyptian Pyramids to modern structures uses such as the Spanish inspired Plaza in Kansas City – or the wall in your garden.
Stone masonry is revered as a very old craft.
In the series about the eccentric detective:
Monk Episode #6.11 – Mr. Monk Joins a Cult:
CAPTAIN LELAND STOTTLEMEYER
She moved to North Beach, rented a basement apartment and started working off the books.
ADRIAN MONK :Doing what?
CAPTAIN LELAND STOTTLEMEYER
She became a member of the world's oldest profession.
ADRIAN MONK :STONE MASON, huh?
CAPTAIN LELAND STOTTLEMEYER: No…….
Masonic Institutes are the Most Direct Way to become a Stone Mason
Masons – and people who appreciate masonry – created masonic institutes to keep the trade thriving. These are organizations of trained masons that help new stone masons get their training. Masonic institutes are important because masonry or bricklaying is not a simple field. Masonic Institutes are there at all levels of the craft. Also, masonic institutes have been trailblazers among tradesmen in creating pre-apprentice programs. These programs are brief introductions to the field, and basically lower the learning curve for the stonemason apprentice considerably, thus making for considerably more skilled bricklayers.
Cyclopean masonry – Masonry without Mortar
Generally refers to structures made out of brick, stone, marble, travertine and a variety of other substances that are joined together by mortar. Indeed, the strength of the mortar is usually indicative of how strong the structure is and how long it lasts.
Therefore, it was fascinating to me when I learned of cyclopean masonry, which are giant stones held together without any mortar at all. Some of the most famous examples are in Greece: the walls of the ancient cities Mycenae and Tiryns. There are also examples of cyclopean masonry in medieval churches of Ireland.
The walls are kept steady by placing the boulders on top of each other and inserting smaller stones into the places between. It takes great skill to do this. There are examples of this being created in the Western world as well.
Cyclopean masonry is based on Cyclops, the huge giant of Greek mythology. Cyclops were the off-spring of Uranus and Gaia, primordial beings who became symbols of brute strength. They were known for building, and were often seen at their forge.
Cyclopean masonry are all beautiful examples of what is sometimes considered the lost art of the stone mason.
Celebrate the Life of the Stone Mason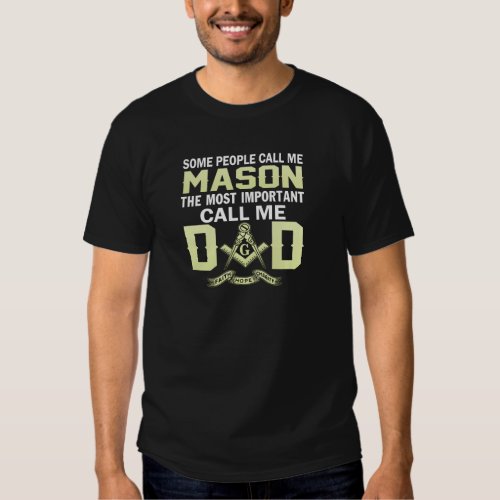 I'm a MASON and a DAD Shirt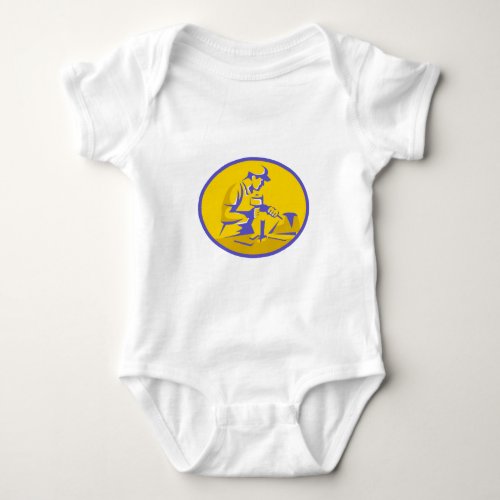 Stonemason Working Marble Oval Retro T-shirt

Britain's National Stone Centre
Terrific Resource for all Things Stone
The National Stone Centre is located in Middleton by Wirksworth in Derbyshire, England. The Centre is a 50 acre has a modest museum describing different types of stone work, but it it most notable because of the actual examples of stone work present. First of all is the Millennium Wall was a wonderful celebration of the new millennium by Britain's stone workers. It was built in 2000 by craftspeople from across Britain. It was built in sections, each of the nineteen sections – six meters long – are made out of local stone and in a way indicative of their region.
Besides the Millennium Wall, the Centre offers classes in stone masonry and many educational opportunities for school children.
The National Stone Centre is a national, indeed a world treasure. The centre is on a deposit of limestone, and is known for the fossil lagoon shark remains that people sometimes find. Truly an educational center that everyone can enjoy.
Stone has a Magic of Its own – And Stonemasons are Magicians in Their own Way
Is there a spirit in stone? Many people think there is, including myself. Ancient beliefs look for the spirit in stone, whether it is in the majesty of Sedona, or just in the small stones you add to your own rock garden.
Can you feel the spirits in stone?
Whether you become a stone mason yourself or just admire masonry, you will blessed by entering into the wonderful world of stone-masonry.
Excellent Books for the Do it Yourself Stone Mason or Home Bricklayer
Here are five books that any do it yourselfer can use for you to make beautiful masonry at your own home! The first book "Stone Primer" is an excellent guide to stone work by a stone mason for fifty years. McRaven has been a stonemason for fifty years, and he brings his expertise to bear in helping you with your own DIY stonemasonry projects, or when you are hiring a worker. I really appreciated the section on the different types of rock that do well in this work.
"Building Stone Walls" is an excellent guide to help you build a dry stone wall at your home. A stone wall – whether simple or complex – adds class to your home and this book will give you every step of the process.
The "Ultimate Guide to Masonry & Concrete: Design, Build, Maintain" well illustrated and practical guide to 60 of the favorite projects of home DIY.
The "Landscaping with Stone, 2nd Edition: create patios, walkways, walls, and other landscape features" is an inexpensive and recommended guide to using stone in your home landscaping.
"Bricklaying" is a practical bricklaying guide by an experienced Australian bricklayer, Peter Cartwright. He will lead you through the process of using brick beautifully in every part of your home. There are lots of gorgeous projects including brick arches and fireplaces – but more simple projects as well. An interesting feature of this book is that there is a section on bricklaying projects adapted for the handicapped.
Stone Primer
Building Stone Walls
Ultimate Guide: Masonry & Concrete, 3rd edition: Design, Build, Maintain (Home Improvement)
Landscaping with Stone, 2nd Edition: create patios, walkways, walls, and other landscape features
Bricklaying
& 
The Fastest Trowel in the West
A fun – and lucrative – contest for stonemasons in California.
Finding an Apprenticeship or other Training
It is more difficult to find a clear path to becoming a mason than becoming a nurse or a lawyer.
If you decide to become a mason your best bet would be to take courses in high school that can help you in math, art and industrial sciences : like drawing and geometry. College courses or course offered by the masonry institutes can round out your education. The Masonic Institutes have been trail blazers in creating pre-apprenticeship training to help you be more skilled and confident in your skills, and discover if you really want the profession.
And of course, there are now many on-line educational offerings, check out the International Union of Bricklayers and Allied Craftworkers" for information on masonry in the States. These trades are world wide of course, Click Here if you want to learn to lay brick in Australia.
Apprenticeship is still the standard way of training to be a mason, and your masonic institute can help you hook up to master masons that might take you on as an apprentice. It is also definitely worth your while to check around your area for local community college and adult school programs that might be offered.
Realize too – sometimes apprenticeships are made. Maybe – you will get money for your training!
Job Skill Superbook US.-World Vocational-Trades-Apprenticeship-Construction Job Guide
Skip College and Get Your Dream Job: Finding Alternative Pathways to a Great Career
& 
Stonemasonry Is Open to Women
Stonemasonry and bricklaying? Is there a place? For many years the trades were closed to women. Absolutely!
The trades originated from the guilds in the Middle Ages and they were definitely closed to women then. One noticeable exception is Sabina von Steinbach, a gifted woman in the Middle Ages who was an artist and a stonemason.
But how about now? The truth of the matter is that few women are actually either bricklayers or stonemasons – but the field is opening to them. Sisters In the Building Trades is a very active group and they have been having a National Conference.
In fact there are many careers in the trades and construction that are open to women.
Cool Careers for Girls in Construction
& 
If You Want to Become a Stone Mason in California
California has some good options for getting into the trade of bricklaying or stonemasonry. Using California as an example, you can get an idea of how to become a mason. You have several options:
You can connect with the branch of the AFL-CIO that deals with masonry Bricklayers, Tilelayers and Allied Craftworkers They may help you set up an apprenticeship.
Another resource if you want a brick apprenticeship is to contact JATEC at 8400 Enterprise Way, Room 114, Oakland, CA 94621 – phone 866-845-6275
Just ask around! If you see some bricklayers or masons work, see if you can strike up a conversation and find out where to get started.
Brickwork & Masonry: A Practical Text Book for Students and Those – Engaged in the Design & Execution of Structures in Brick & Stone
An old textbook that is still relevant
This book had become out of print for a long time – it was printed before 1923. It is an important text for students of masonry. It is a great apprentice mason training book.
Brickwork & Masonry: A Practical Text Book for Students, and Those Engaged in the Design & Execution of Structures in Brick & Stone
& 
Masonry Fiction and Creative Non-Fiction
"The Brotherhood of the Grape" is a gripping and poignant novel tells the story of Henry Molise, a 50 year old, successful writer who returns to the family home to help with the crisis created when his aging parents divorce. We meet his tyrannical father stonemason father Nick who is still able to strike fear in his children , and his weak, ill and devout mother who is still able to comfort and confuse her children. The "stonemason" here is symbolic for a man who is strong enough, and hard enough to work with stone. This is a wonderful and passionate novel by John Fante, and is said to be autobiographical.
"In Limestone County" by Scott Russell Sanders is a much lighter but equally enjoyable exploration of the world of stone. It tells of Southern Indiana quarries, literally the bedrock of the country, where much of the nation's limestone has come from. This is the stone that has made its way to the Washington Cathedral, the Empire State Building, the Pentagon and the the Chicago Tribune Tower.
"Stonemason (Medieval Lives)" is a creative non-fiction book is an exhaustive story of the stone mason's life in the medieval times. It is the results of extensive research by a teacher of twenty five years.
The Brotherhood of the Grape
In Limestone Country (Concord Library)
Stonemason (Medieval Lives)
& 
Could you be a Stone-mason or Bricklayer?
With the changing, difficult economy more people are looking to learn a trade, rather than pursue a college degree where the chances of actually getting a job are dubious.
But is becoming a stone mason a good idea? Apparently so.
And what about the age when you get into masonry school? Is 27 too old to go to trade school to become a cement mason? Probably not, it all depends on what you can arrange as an apprentice – it is done on a personal level. Job prospects are very good for brick masons, blockmasons and stone masons.
Masonry is expected to grow over 40 % between the years of 2010 and 2020, much more than other jobs. And you do not need college. Average wages are about $20 an hour – more if you own your own company. If you are more highly trained, especially in restoration work you have more opportunities.
The picture is of John Bryan's Tomb, an ancient bricklayer, who was laying brick until the very end.
Masonry is definitely a wonderful career: for the right people. Consider it for yourself if you have the following characteristics:
Are you Bright? And do you have a visual mind? Masons need to be able to picture their final project.
Are you physically strong? We are talking building stone walls after all. There are opportunities to get into more supervisory positions, but you definitely need to be strong especially at the beginning.
Are you willing to be part of a career that is not as respected in some circles as if you were a "professional" like an accountant or lawyer? Unfortunately, the trades are not given the respect that they deserve in the United States, as opposed to Germany for example.
Are you willing to snoop around until you can find a good training program? There is not a direct route to masonry, and you might have to be creative to get trained in your area.
Speaking of creativity, how creative are you? Stone masons deal with all kinds of projects and it takes an artistic nature to be a mason.
Can you learn basic math? You will use practical math every day as a mason.
Whether You Become a Mason, Build a Home Stone Wall or Just Admire your Neighbor's
Knowing about Masonry blesses your Life
Since I have learned about masonry, I appreciate travelling through life much more.
It is interesting how many beautiful walls you can find in your town if you know what you are looking for! It is like learning about to identify birds and butterflies, your garden will become even more fun.
Stone masonry continues to bless our lives.
Check Out Other Related Posts On Webnuggetz