Sunflower Christmas Ornaments
Sunflower Christmas Ornaments
Whether you're giving these as a gift or purchasing for yourself these sunflower Christmas ornaments are sure to put a smile on the receivers face. These ornaments are great for use on a Christmas tree or anywhere in the home you want to decorate with sunflower delight. Collectors will love to display the collectible ornaments with the paintings from Vincent Van Gogh and Susan Winget.
These sunflower ornaments make a great gift for a gardener.
Glass Sunflower Ornaments
These beautiful glass sunflower ornaments are hand painted by artisans. The Christmas balls and tear shaped ornaments are craftily detailed with exquisite workmanship. These are unique collectible pieces. They come packaged in a padded box for protection and storage. These ornaments will look great either hanging on a tree or place several in a bowl for decoration.
Hand Painted Glass Ornament, Teardrop
ArtisanStreet's Golden Giant Sunflower Ornament.
Vincent Van Gogh's Sunflower Ornament
Zazzle Vincent Van Gogh's Yellow
This is a depiction of Vincent Van Gogh famous sunflower painting. Originally painted in 1888 it features 12 flowers. The artist of this ornament has made the colors stand out more and added extra swirls. It is painted on a white ceramic base. It is ready to be hung on your tree by the gold string. This ornament is sure to delight your friends, family and loved ones for years to come. You can choose whether you'd like it on a square, oval, circle, heart or star shape.
Sunflower Ornaments On Zazzle
Give someone special one of these sunflower ornaments available from zazzle. Many can even be customized. They are ceramic and metal and available in various shapes and sizes.
Rustic Mason Jar Sunflowers Ceramic Ball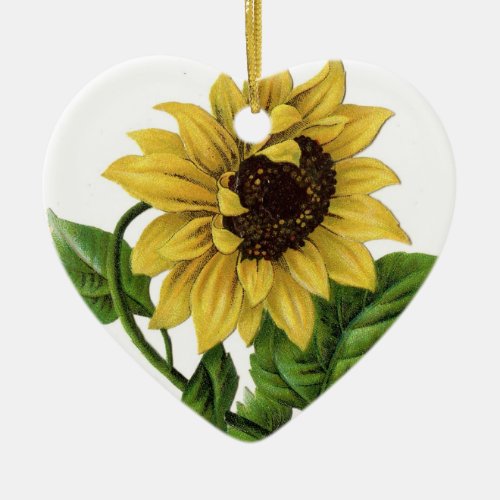 Vintage Sunflower Drawing Ceramic Ornament

Abstract Sunflower on Metallic Gold Metal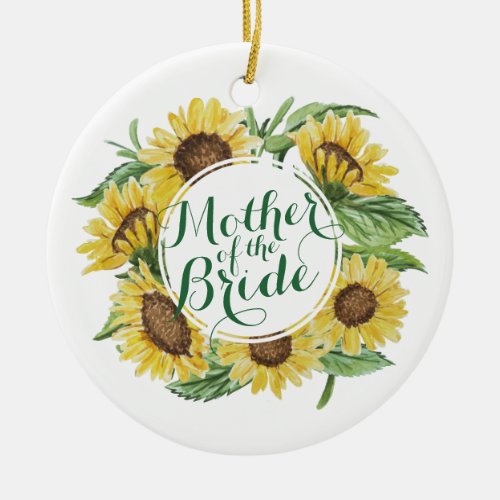 Personalized Sunflower Wreath Wedding | Ornament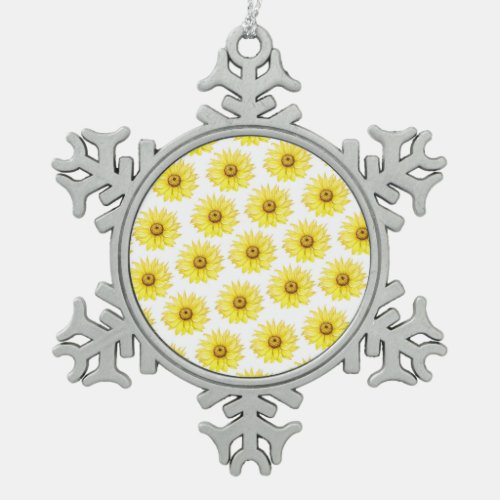 Sunflower On White Snowflake Pewter Christmas

Sunflower Ornament

ChemArt Sunflower Ornament
This keepsake is made from solid brass and finished in 24 Karat gold. It takes 17 hands to create the baldwin sunflower ornament.
Sunflower Snowflake Porcelain Ornaments
The sunflower image is printed on both sides of these high gloss finish snowflake porcelain ornaments. They are an overall size of 3 inches diameter. Easily hang as a window decoration or on a tree with the gold string that is included.
3dRose orn_88860_1 Colorado, Crested Butte.
3dRose orn_56879_1 1 Sunflower Rebels
3dRose SmudgeArt Designs 2016 –
Angel Ornaments Florene Flowers –
Old World Christmas Sunflower Ornaments
These mouth blown glass ornaments were skillfully molded. Then a hot solution of liquid silver was poured inside. Lastly it was delicately hand painted with vibrant colors and detailed with glitter. A few great pieces to add to your glass ornament collection.
Old World Christmas Garden Sunflower
Old World Christmas Sunflower Glass
Sunflower Items
If you love sunflowers you may also like:
Sunflower Fall Wreaths
Check Out Other Related Posts On Webnuggetz