Toddler Art Desk With Storage
Fun Arts And Crafts Tables for Kids
Children get so many toys that it is nice to give them something that has true value and will promote creativity and imagination. A toddler art desk with storage is a fantastic gift that will last them for a long time, and they will find all kinds of ways to utilize a desk when playing.
Here is a guide to show you what each of these art tables have to offer your little ones.
Children's Art Desk With Storage
There are so many fun ways to utilize the Step 2 Deluxe Art Master Activity Desk. Play school or simply enjoy becoming an artist while sitting at this creative filled desk. There is a large writing surface that will allow enough room for all size projects. The dry-erase surface is on a hinge, which opens up to a storage area. There is also a nice shelf that is raised, and can hold lots of art supplies or books. Better yet, there is a built in push button light, which will give your child added light to create their masterpieces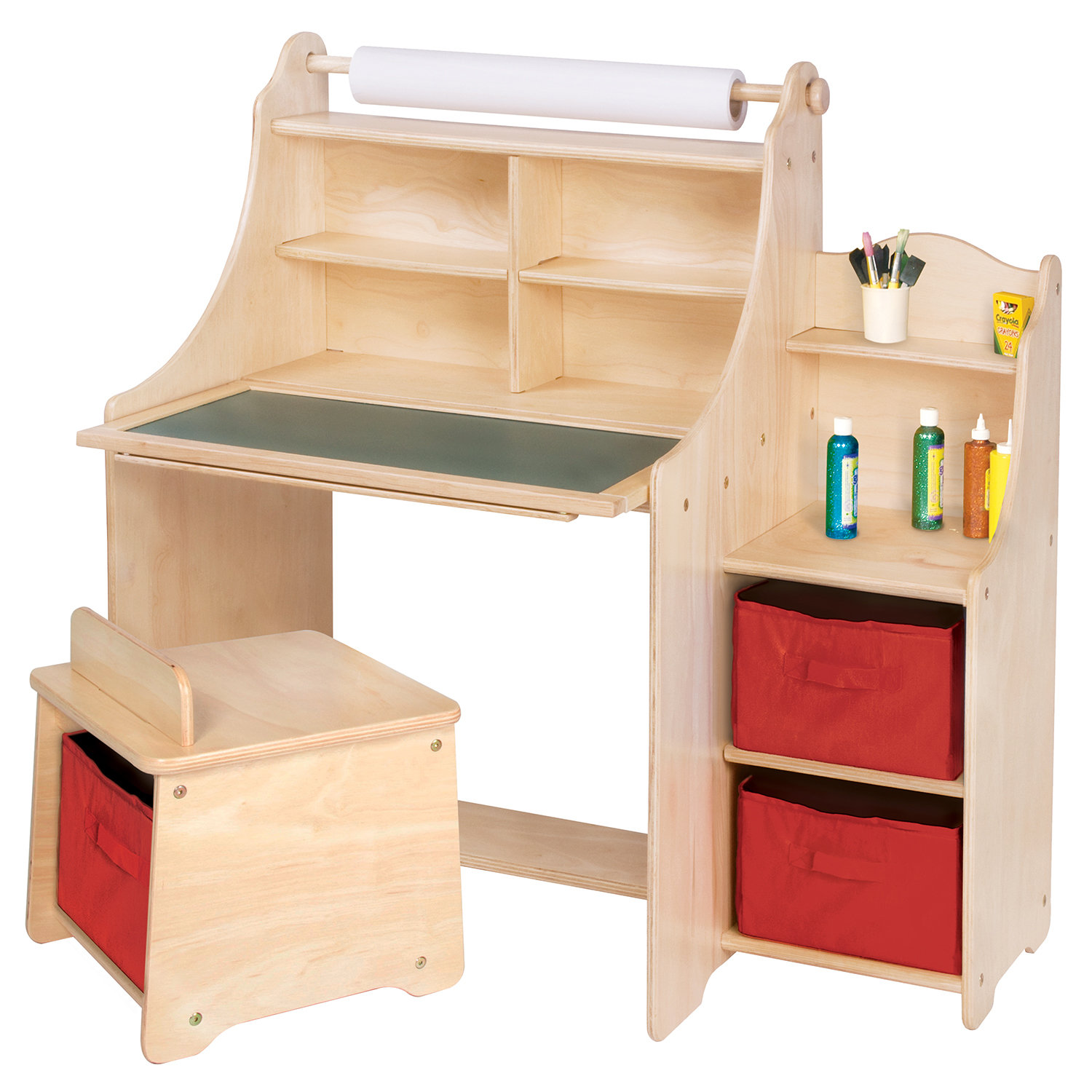 Guidecraft Art Desk Set with Fabric Storage Bins

Crayola Wooden Kids' 3 Piece Table & Chair Set
KidKraft Star Kid's 5 Piece Table & Chair Set

Writing Desk for Toddlers
The red and blue Step2 Write Desk is designed for durability and hours of play. There is a very good size drawing area. Plus, lots of storage room to hold all their artistic tools. This desk features a storage shelf that is elevated so little hands can reach for the art supplies easily, two desktop organizers, and a secret compartment just below the writing area. This is a great design for toddlers. The seat is both comfortable and safe. The writing surface wipes clean, for those who tend to color outside the lines.
Art Easel For Toddlers
If you are low on space, the Art Easel Desk is definitely a great choice. This desk has the ability to fold away so that it can be easily stored when your child is not using it. There is a dry erase board, which includes clips to hang all their artwork. The art desk with easel has plenty of work space and storage room for two children to share. There is an optional art supply holder, which can be purchased separately.
Step2 Easel For Two with Bonus Magnetic Letters/Numbers

Little Tikes 2-in-1 Art Desk & Easel Made in USA

Melissa & Doug Deluxe Standing Easel

Childrens Art Easel With Paper Roll
These art easels will give siblings some quality time to work together on their projects. With dry erase board on one side and chalk board on the other side, they can switch sides when done and not get bored quickly. The storage area at the bottom will keep all their art and craft supplies in one place.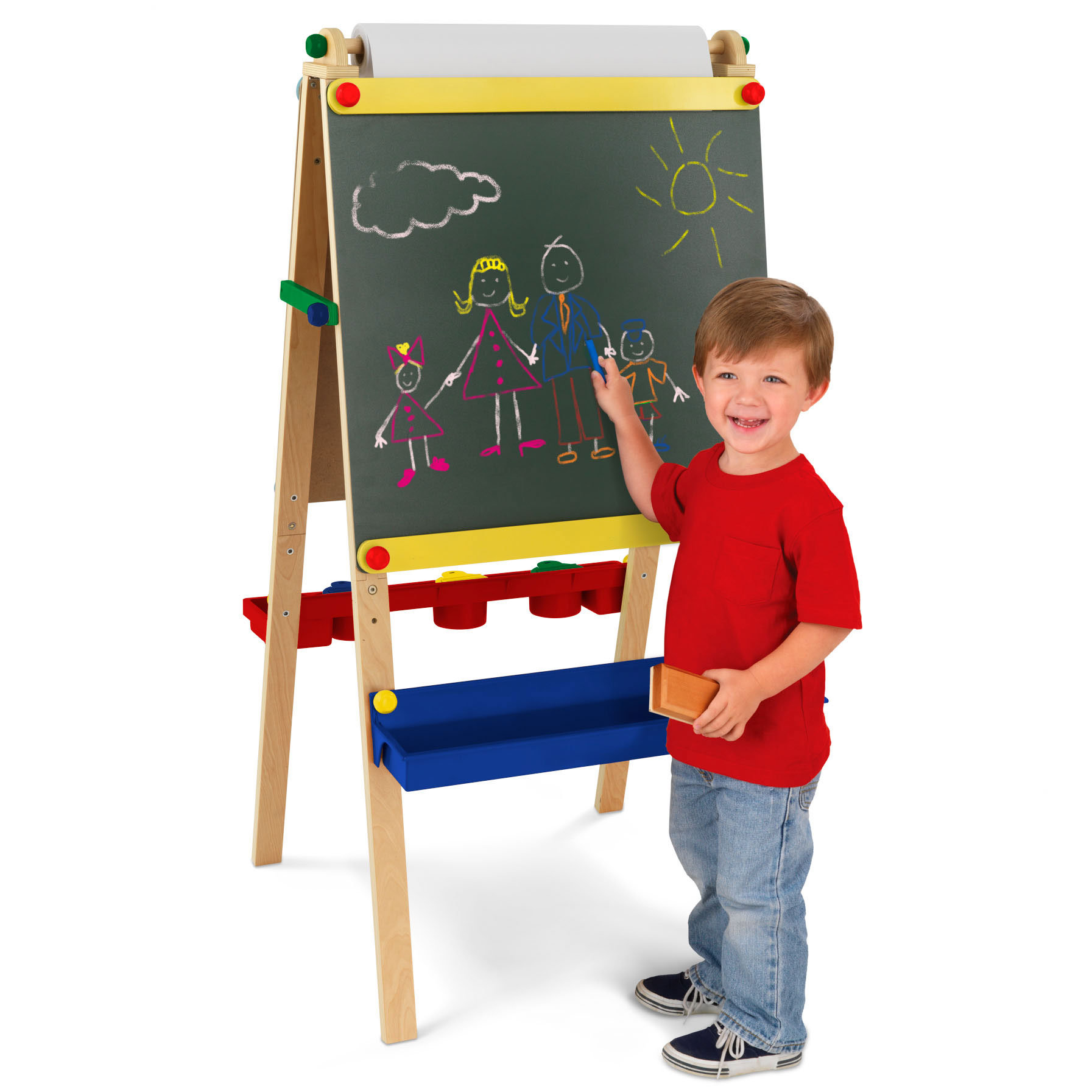 KidKraft Artist Easel With Paper RollRead Reviews
ALEX Toys Magnetic Artist Easel SetRead Reviews
KidKraft Easel Desk With ChalkboardRead Reviews
Kids Art Table With Paper Roll And Storage
These activity tables are sure to keep little ones busy for hours. Your child will have ample space to paint and draw and still have room to share with a sibling or a friend.
Alex Toys Super Art Table with Paper Roll

A favorite of parents. This table was awarded Dr. Toy's "100 Best Children's Products" Award.
It features a chalk board tabletop with a canvas storage bag on one side and 3 plastic cups with holders on the other. The desk set is made of sturdy wood and includes two benches.
KidKraft Art Table with Drying Rack and Storage

A wooden desk with plenty of storage space to keep art supplies organized and within reach.
I like the drying rack on the side for little ones to hang their painting projects to dry.
The desk can be used a play table or a snack table since the paper roll is tucked away underneath the desk.
Creativity and imagination
are two things all kids should be encouraged to have. These tools will help them in so many different areas of their life. Setting the foundation for the future will ensure your child's success.
Healthy School Lunch Ideas
Art And Craft Projects for Tots
5 Simple Art Projects for Toddlers
These easy paintings and prints are perfect for little hands to make.
25 Of The Best Toddler Crafts For Little Hands
his collection of arts and crafts is perfect for little hands. And big hands, too. Because let's be real, you're going to want to join…
Check Out Other Related Posts On Webnuggetz