Top Construction Site Work Radios
Tough Radios for the Building Site
Make the work day go by a little faster with the Top Construction Site Work Radios found here. These have multiple functions, with some having charging stations built-in or extra plugs on the side.
These machines are work tough so they will stand up to all the dirt and abuse you can throw at them.
Work radios are not just for construction sites, but also tough enough for keeping in your barn. It's nice to listen to the radio while you work around there. My friend has several horses and a couple head of cattle. Radios in that type of barn have to be able to take the abuse of falling down without breaking and maybe even getting kicked by a rogue animal or two. They've found that having soft music play on a radio in their barn helps milking cows and/or goats feel less stressed.
Weather is also important to farmers and outdoor workers, so why not get up-to-the-minute weather reports from your construction grade work radio as well?
DEWALT DC012 Worksite Charger/Radio – Most Wanted on the Worksite
DEWALT DC012 Worksite Charger/RadioLearn More
If you are looking for a durable worksite radio, this is one of the most wanted out there! Runs on electricity or battery and it stands up to the tough job site habitat. This is simple to use and extremely reliable.
My Grandfather Would Have Liked a Tough Radio Like These – When He Worked in the Kansas Oilfields
It was hard, dirty work that my grandfather did and my dad too. When Dad was a roughneck in the oil fields around El Dorado, they would have a small, portable building where they kept their tools, their lunch pails and changed into their coveralls.
I don't know how much time they spent inside the doghouse, as they called the small building. It would give them some shelter from the harsh Kansas winter weather. Outside by the oil rig, it was probably too noisy for a radio, but inside when they rested a bit, it would have been nice to have.
(photo from the Martin family album)
Popular Choice for Construction Work Radios – Bosch PB360D Deluxe Power Box Jobsite Radio
Bosch PB360S 18-Volt Lithium-Ion Power Box Jobsite Radio and ChargerLearn More
This one has volume that lets you hear the music even with saws and other noisy tools going on the work site. Amazingly rugged, so don't worry if it gets knocked off a counter. It keeps out dust and moisture which is crucial in a construction environment. The controls are easy to press, even if you are wearing your work gloves.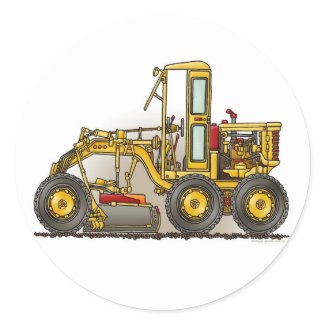 Road Grader Construction Sticker by justconstruction
Features to Look for When Choosing a Radio – for Building Site Use
1. If you'll be using it with a battery pack, look at what other cordless tools you have and stick with the same brand. Look at how long it says the battery will run.
2. Look for a built in charger. You can use it as well as a stand-alone battery charger.
3. Some nice features to have: USB ports, extra power outlets, memory card slots, a sub-woofer.
4. Pick it up and feel the weight of it. Think about carrying it back and forth to the truck each day. Consider the space it takes. Will it be in the road while you are working?
Makita BMR100W 18-Volt LXT Lithium-Ion Cordless FM/AM Job Site Radio (Tool Only, No Battery)
Makita BMR100W 18-Volt LXT Lithium-Ion Cordless FM/AM Job Site Radio (Tool Only, No Battery)Learn More
Top Rated
Workers really like this sturdy radio because it doesn't take much space. Other work site radios are huge compared to this one, yet you get good volume and it is resistant to damage.
This can run for sixteen hours on an 18 volt LXT battery or eight hours on a compact battery. Since it only weighs 9.2 pounds, it's easy to move around in the work area.
DeWALT Work Site Radio DCR018 Review
Radio Sold Below…
DEWALT DCR018 18V/12V/20V MAX Compact Worksite Radio
DEWALT DCR018 18V/12V/20V MAX Compact Worksite RadioLearn More
Runs on 12V MAX/18V/20V MAX battery packs
AC/DC power allowing the flexibility to run off AC power cord of DeWalt power tool batteries.
Device storage box protects digital audio devices from jobsite debris and damage.
USB power port allows device to be charged via USB when radio is plugged into AC wall outlet.
3.5 mm Auxiliary input allows for connection to CD, MP3, portable satellite receivers and other digital audio devices.
These Radios Are Great for the Home Handyman Too – Here's My Hubby Hard at Work
Oops, I cut off his head. Anyway, you can probably tell that he's building a deck. Would have been more fun if he'd had a radio to listen to.
Sangean LB-100 Compact AM/FM Ultra Rugged Radio Receiver
Sangean LB-100 Compact AM/FM Ultra Rugged Radio ReceiverLearn More
They call this the LUNCHBOX. This dynamo has terrific reviews on Amazon. Reviews rave about the great sound and durability of this compact radio. Ideal for any outdoor work site or to keep on hand for emergencies.
More Worksite Radios
Amazon offers an excellent selection of tough jobsite radios, each with the special features you need to protect it in a construction, logging, farming, or other rough environment.
Your wife would never think to get you one of these, unless you give her a good hint. Just casually leave this page open on the computer so she will see what you would like for Father's Day, your birthday or other special occasion. ;-)
Bosch PB180 18-Volt Lithium-Ion or 120V Compact AM/FM Radio with MP3 Player Connection BayLearn More Milwaukee 2790-20 12-Volt to 28-Volt Jobsite RadioLearn More Ridgid ZRR84084 X4 18V Cordless Mini Jobsite AM/FM Radio (Bare Tool)Learn More Makita XRM04B 18V LXT Radio with Blue ToothLearn More Pyle PWPBT250YL Rugged and Portable Bluetooth Speaker with FM Radio, USB/SD Readers and Built-in Rechargeable Battery (Yellow)Learn More Milwaukee 2590-20 M12 RadioLearn More Sangean TB-100 (Toughbox) AM/FM/AUX-In Ultra Rugged Digital Tuning Rechargeable Radio (Green)Learn More Ridgid ZRR84082 Cordless Jobsite RadioLearn More ECOXGEAR Rugged and Waterproof Stereo Boombox GDI-AQ2SI60Learn More Sangean FB-100 Fatbox Rugged Industrial AM/FM RadioLearn More Makita XRM02W 18V Compact Lithium-Ion Cordless Job Site RadioLearn More Pyle PWPBT250BK Rugged and Portable Bluetooth Speaker with FM Radio, USB/SD Readers and Built-in Rechargeable Battery (Black)Learn More
Check Out Other Related Posts On Webnuggetz