Tutti Frutti Jewelry
Tutti Frutti Jewelry
Do you know about yummy tutti frutti jewelry? Also called fruit salad jewelry? I have found some of it at a super-huge flea market in Southern California that I visited on a trip many of years ago.
I have also inherited some pieces from my mother. Every once in a while I find some at garage sales if I am lucky. I am always happy to wear them because I love unusual, colorful pieces.
Fruit salad jewelry should be fun and beautiful, it is based on one of my favorite foods – fruit salad!
The first Tutti Frutti Jewelry was Fine Jewelry
The original tutti frutti jewelry was fine jewelry. In, tutti frutti jewelry originated when the famous French jeweler Pierre Cartier created a beautiful bracelet for Queen Alexandra to wear with some beautiful Indian gowns she had.
The 1900's were a time of fascination for the West with all things Eastern. The East – aka the "Orient" was romanticized as a place of beauty and mystery. From Gilbert and Sullivan and the Mikado, to Asian art – America and Europe were fascinated by the East.
Pierre Cardin continued to be the face of tutti frutti jewelry, with many fine jewelry pieces created throughout the early 1900's.
Fine Jewel Tutti-Fruitti Jewelry from eBay
eBay is a fine resource for rare items of all kinds: including fruit salad jewelry.
All the jewelry below is fine jewelry: family heirloom quality.
Gorgeous, heirloom vintage tutti-fruitti jewelry from eBay. This is the finest fruit salad you will find.
Exquisite Cartier Tutti Frutti Jewelry
Here is a lovely video about the Cartier Tutti Frutti jewelry – fine jewelry indeed.
Tutti-fruitti Jewelry is Fun and Beautiful
Fruit Salad jewelry, whether kitsch costume jewelry or elegant precious jewelry is delightful.
Tutti-fruitti jewelry that is fun and festive. It
Much fruit salad jewelry is costume jewelry-just fun bright colored plastic and resin. But some is antique and beautiful.
It is full of colors and different designs, as varied as the gemstones and the materials that are used to make it. Much of it is vintage jewelry – and you will find some signature pieces as well.
Fashion Jewelry Fruit Salad Style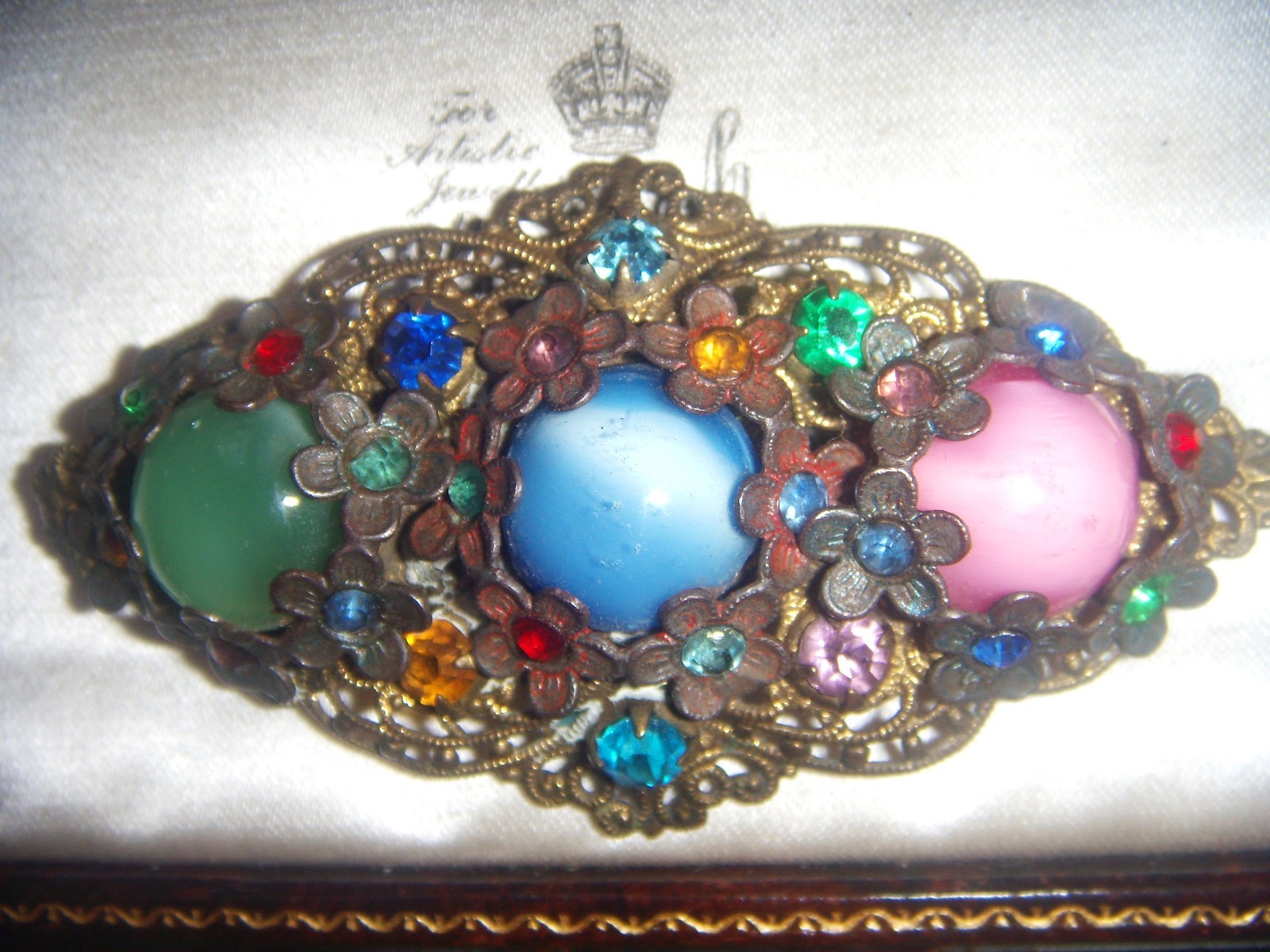 ANTIQUE ART DECO CZECH Tutti Frutti Satin Glass Crystal Flower VINTAGE BROOCH

VINTAGE Harlequin PASTEL TUTTI FRUTTI Crystals Two Tier Riviere BRIDAL NECKLACE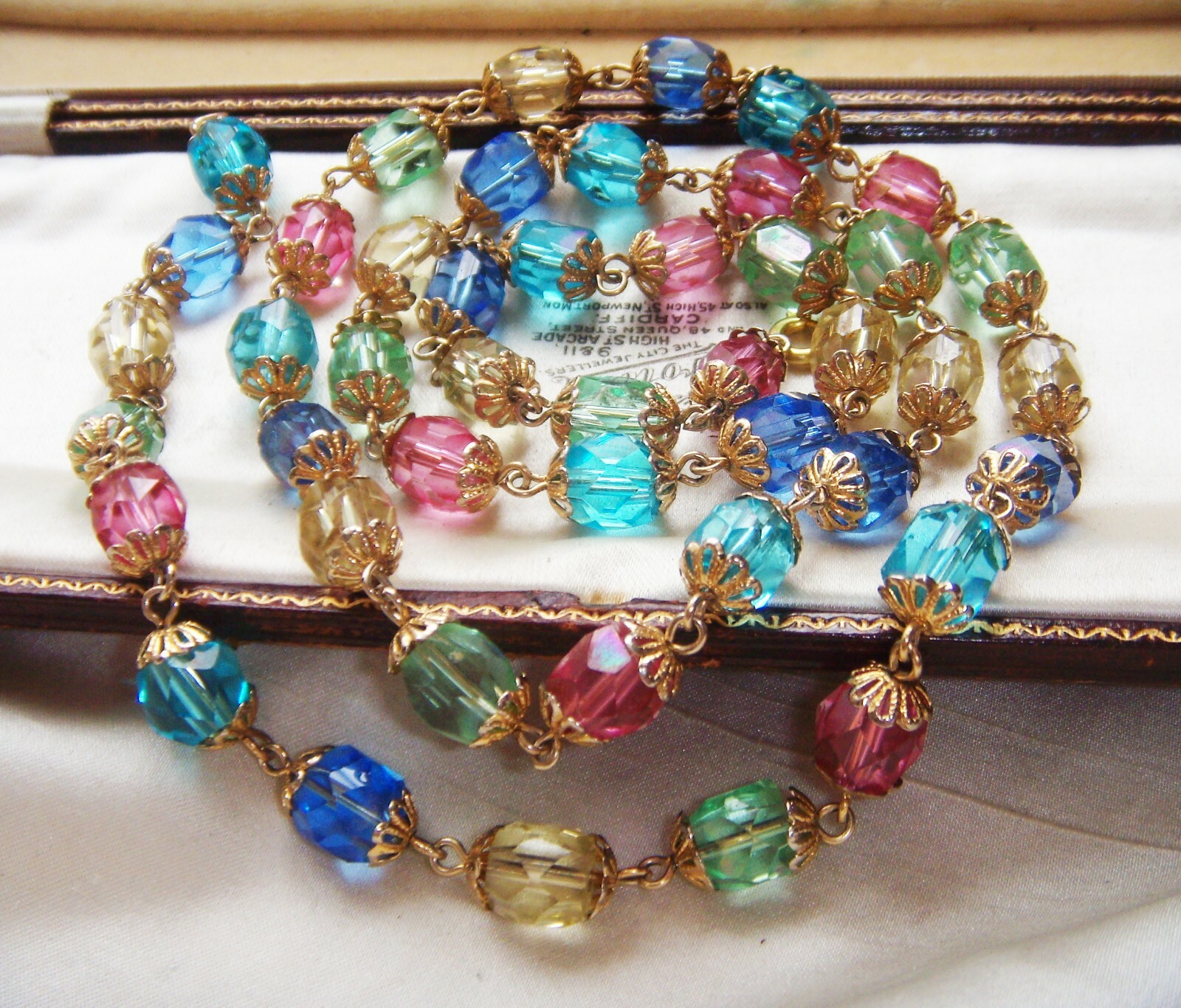 Gorgeous VINTAGE JEWELLERY Tutti Frutti Harlequin CRYSTAL Long 30″ NECKLACE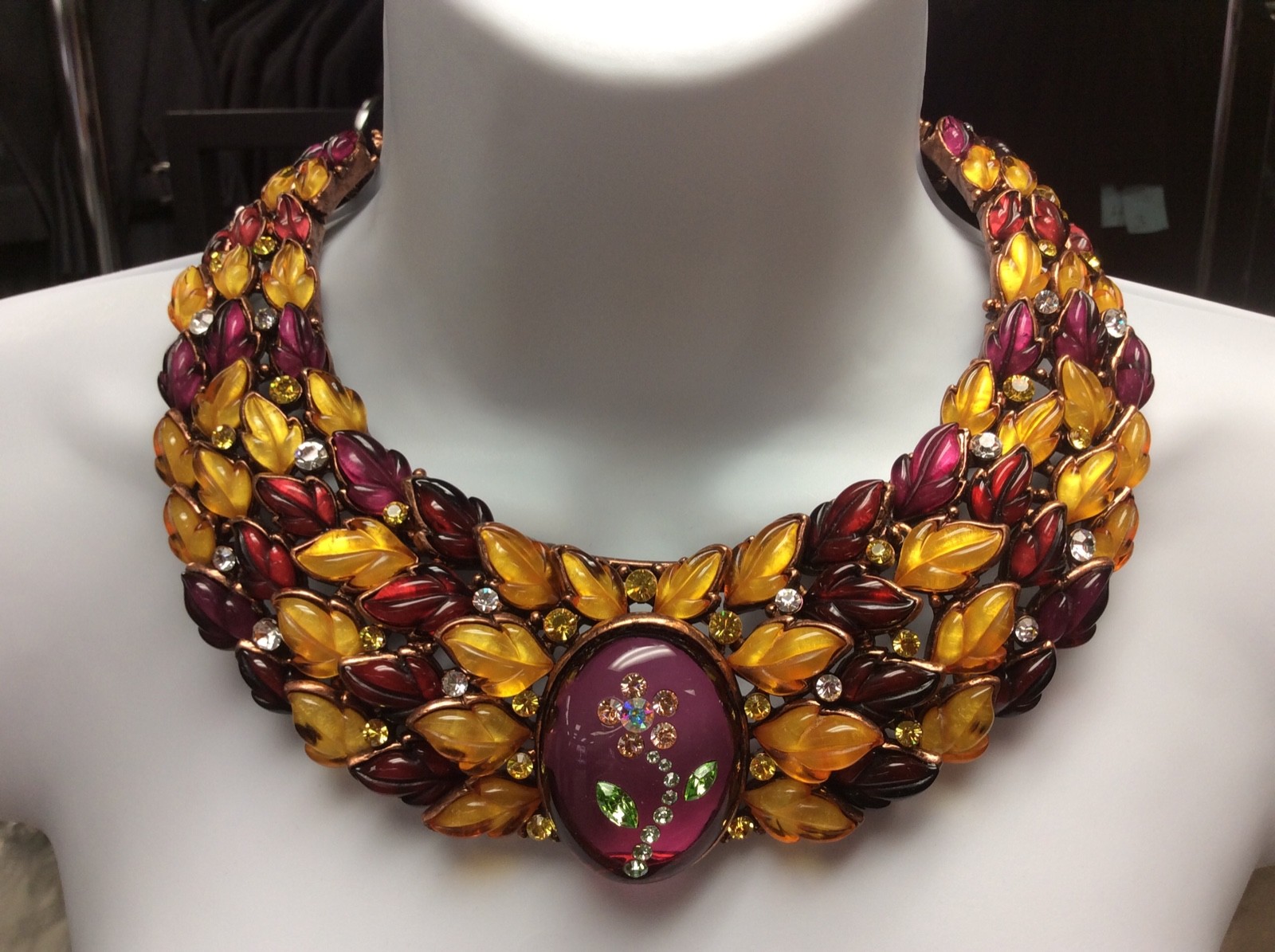 Fabulous Resin Juliana Style Multi Color Fruit Salad Couture Necklace Earrings

Much more affordable yet still lovely tutti-fruitti jewelry made of glass and stones.
Tutti Frutti Jewelry was Made Popular by Carmen Miranda
Fruit Salad jewelry went from fine jewelry to kitsch in the '40's when Brazilian bombshell Carmen Miranda took the idea of fruit salad jewelry literally.
Carmen became famous for her wacky, fruit salad hats. And the outlandish, colorful jewelry just made the look more appealing.
And soon fruit salad jewelry entered the world of costume jewelry.
Tutti Fruitti Jewelry is a Blend of East and West
'"Tutti Frutti" designs were considered a perfect blend of the East and the West. There were Persian and Hindu decorative motifs blended with carved gems. This jewelry was noted for its lovely diamond cuts: princess, cushion, emerald and baguette. But this jewelry also had it's own nature shaped cuts.The designs were fanciful fruit, berry, leaf and nature motifs. The fruits could be made even more beautiful on diamond stems. Hence the fruit salad!
Carmen Miranda Still Lives Today!
Some Modern Tutti Fruitti Bling
Retro Antique Vintage Style Amber Yellow Pineapple Rhinestone Cluster Earrings

Colorful color block bamboo texture multi bangles set total of 9 bangles metal textured bracelets

Antique Vintage Retro Style Yellow Pineapple Rhinestone Cluster Earrings

This section is empty.
Tutti Frutti Jewelry belongs in every Jewelry Wardrobe
I think it takes a little courage to wear jewelry like this. Jewelry with every color of the rainbow has a bit of "devil may care" attitude to it.
But it is fun – and it is pretty.
Whether you have the budget for fine jewelry or just the costume jewelry – fruit salad jewelry can be a beautiful part of your jewelry wardrobe.
Check Out Other Related Posts On Webnuggetz