Vintage Bathroom Decorating Ideas
Vintage Bathroom Decorating Ideas
Vintage bathroom decorating ideas you can use to create the vintage bathroom of your dreams.  Whether your house is 80 years old or brand new, vintage bathroom decor is all the rage.   You can give your bathroom a vintage look with a few well-chosen products.  From vintage shower curtains to vintage toilet paper holders, we have found the prettiest and most unusual on the web.   Take just one idea, and let your imagination fly.  What is your overall goal in your decor?  Historically accurate?  Beautiful?  Functional?  Whatever you choose, enjoy the process – express yourself in your home decor.
Vintage or Antique Decor?
Are you wondering about the difference in vintage and antique? It seems most people use the two terms interchangeably. Antiques, however, generally fall into the category of over one hundred years old. Your vintage bathroom décor can include items not quite that old, yet no longer in normal use. Advancements in design, function, and taste have simplified our world, but the beauty, detail, and sometimes simplicity of vintage items makes them fascinating. Infuse Your Bathroom With Simple, Old-Fashioned Charm
Vintage Bathroom Decorating Ideas # 1 — Maximize your decorating budget with a trip to your attic or storage closet. Do you have Aunt Lillie's comb, brush and mirror set? How about a few little hand towels edged with crochet or tatting?
Decorating With Antiques: Confidently Combining Old and New
Vintage Living: Creating a Beautiful Home with Treasured Objects from the Past
Elegant Claw Foot Tub
Remodeling? The high tank pull chain toilets are unique and beautiful in your vintage bathroom.
This beautiful copper claw foot tub will be the focal point of your elegant new bathroom. Simply Elegant.
Freestanding Claw Foot Bath Tub
Signature Hardware Footed Tub
Vintage Shower Curtains
We strongly suggest your start with your choice of shower curtain.  The shower curtain, when closed, covers more space than anything else in the bathroom.   These vintage selections are our favorites, but you can click on any one of these to see even more.   Choose your favorite style, let your shower curtain be the focal point of your bathroom, and add accessories and linens to carry out your theme.   If you are lucky enough to live in a very old home, but there are some features in the old bathroom that do not make you happy, now is the time to change them.
Lush Decor White Ruffle Flower Polyester Shower Curtain, 72
White Shower Curtain Ruffle Fabric Sheer Cloth Shower Curtains 72 in Long
Ambesonne Antique Shower Curtain, Bathtub in Old Room Bathroom Fresh Flower Bouquet Vase Victorian Retro Style, Cloth Fabric Bathroom Decor Set with Hooks, 69
Ambesonne Antique Shower Curtain, Many Old Fashioned Pocket Watch on Chain Clocks Chronometer Hours Antique, Cloth Fabric Bathroom Decor Set with Hooks, 69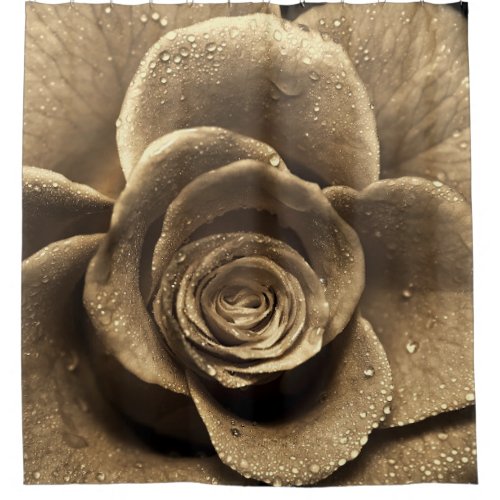 Old-fashioned rose close up, wet with water dro shower curtain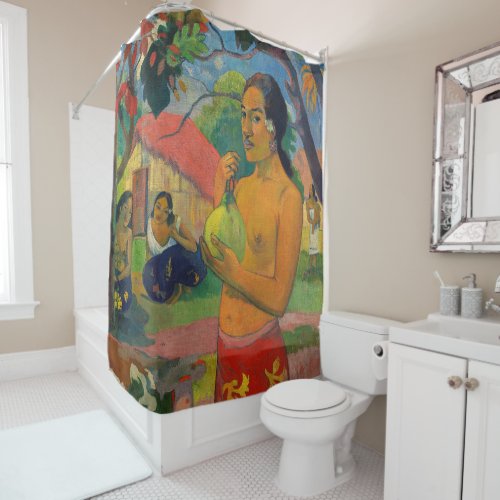 Paul Gauguin – Woman Holding a Fruit Shower Curtain

A Living Plant Adds Life to Your Bathroom
Vintage Bathroom Decorating Ideas # 2 — A green plant or two bring life to the room.  A simple container to blend with your color choice can be highlighted by simple clear marbles layered across the top of the soil.  The marbles catch the light and make the plant sparkle.
Costa Farms Blooming Anthurium Live Indoor Plant, Ships in White Ceramic Planter
Live Snake Plant, Sansevieria trifasciata Superba, Fully Rooted Indoor House Plant
Vintage Wall Art
Vintage bathroom decorating ideas would be incomplete without a couple of examples of wall art.  Your vintage wall art can be humorous, like the "Soap and Water" advertisement, or it can be lovely featuring fashion from that time period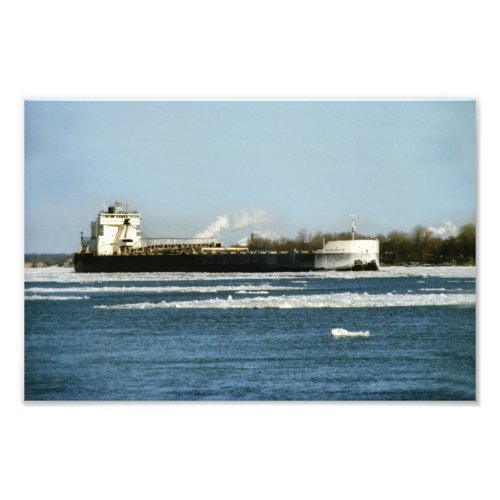 Great Lakes freighter Lee White Photo Print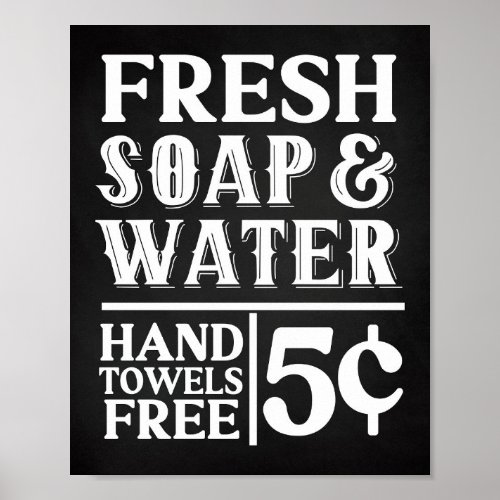 Fresh Soap & Water Vintage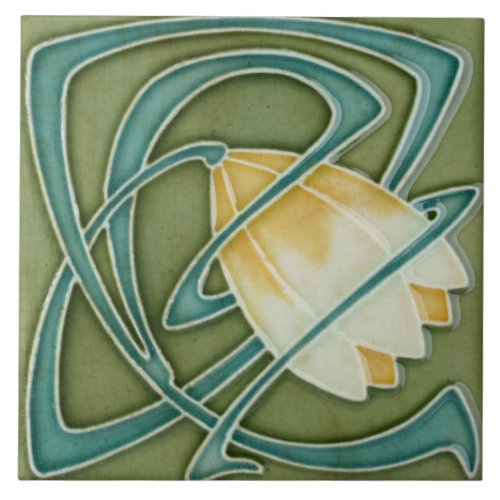 Ceramic Tile -Decorative Tulip Art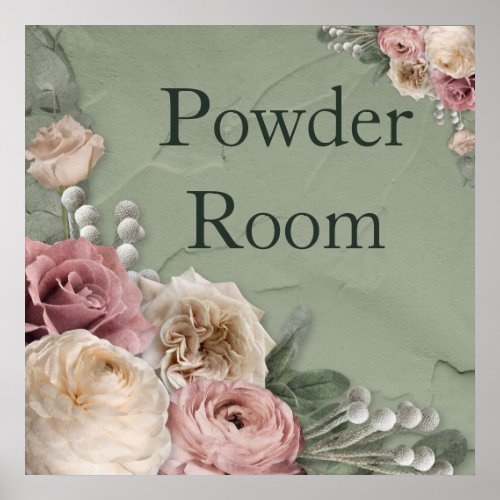 Poster 12 x 12 Vintage Floral Wash Room

Vintage Bathroom Decorating Ideas # 3 — Take advantage of the flexibility of the vintage term by including other old items such as luggage or books.  Hats, too, are fun, and doubly so when perched on a wall hook – just one or several in a grouping.
Vintage Bathroom Shelves and Storage
Vintage bathroom decorating ideas can go wild with shelving and storage ideas.  The  apothecary theme that is so popular today lends itself to your vintage decor with practical solutions.  Can't you just see the old drugstore?  You will have "a place for everything and everything in its place."
16 Drawers Apothecary Cabinet with Drawers
Vintage Wooden Display Shelves
Vintage Soap Holders and Dispensers
We were totally delighted to find these vintage soap holders.  I have to admit that I am partial to the Mason Jars set shown below.
reasure Gurus Antique Style Enamel Bathroom Sink Soap Dish Bath Shower
Vintage White Bathroom Accessories Set – 4 Piece Bathroom Set
Mason Jar Set 8 Pcs -Dispenser,Toothbrush Holder,2 Apothecary Jars
Claw Foot Vintage Bathtub Soap Bowl | White with Black |
Yardley Soap for the Soap Dish
Vintage Bathroom Decorating Ideas # 4 —Add special soap to the soap dish.  Yardley Soap has been around for well over one hundred years! Yardley Lavender is a delightful favorite for many people. Buy extra bars and place them where bathroom linens are stored for additional delightful aroma to highlight the vintage bathroom décor.
Yardley London English Lavender
Yardley London Lemon Verbena
Geneology Charts for Interesting Wall Decor
Vintage Bathroom Decorating Ideas # 5 — Do you have a genealogy chart of your family?  Why not have it framed and use it with other period art?  That is certainly better than keeping it tucked away year after year.
Family tree charts two-per-order
Blank Genealogy Chart
Vintage Toilet Paper Holder
Earlier, we were discussing replacing things in your old bathroom that irritate you–  If that old toilet paper holder is driving you mad, you can easily replace it with one of these vintage ones – and maintain your vintage look.
Cast Iron Toilet Paper Holder; Wall Mount Vintage Decor Style Black TP Hanger
Antique Brass Wall Mount Toilet Tissue Paper Holder 6.9
Cast Iron Toilet Paper Roll Holder – European Vintage
Industrial Toilet Paper Holder with Rustic Wooden Shelf
Vintage bathroom decorating ideas # 6  Look in your cabinets for pale pink, green, or gold glass pieces of etched or pressed glass. Small trays, candlesticks, little jars can become a simple vintage vanity set or representative of one.
Vintage bathroom decorating ideas # 7 –Don't forget the magazines!  Choose antique magazines or retro magazines and place several in a basket or wooden bowl for the bathroom readers!
Check Out Other Related Posts On Webnuggetz