White Christmas Movie Merchandise
White Christmas Bing Crosby Movie
White Christmas is a 1954 American musical film directed by Michael Curtiz and starring Bing Crosby, Danny Kaye, Rosemary Clooney, and Vera-Ellen, loosely based on the 1942 film Holiday Inn, where the song "White Christmas" made it's debut.
The White Christmas Bing Crosby movie was filmed in Technicolor, and features the songs of Irving Berlin, including the title song, "White Christmas." It was produced and distributed by Paramount Pictures, and the film is notable for being the first to be released in VistaVision, a wide-screen process developed by Paramount that entailed using twice the surface area of standard 35mm film. This large-area negative was used to yield finer-grained standard-sized 35 mm film prints.
This is a very popular Christmas movie that families enjoy watching together, and you'll love the White Christmas movie merchandise featured here. Give it as gifts to family and friends, and enjoy it yourself!

White Christmas (Anniversary Edition)
White Christmas (Anniversary Edition)
Available on DVD, Blue-ray and Amazon Instant Video, this anniversary edition of the Bing Crosby White Christmas movie features:
*Commentary by Rosemary Clooney
*Backstage Stories from White Christmas
*Rosemary's Old Kentucky Home
*Bing Crosby: Christmas Crooner
*Danny Kaye: Joy to the World
*Irving Berlin's White Christmas
*White Christmas: From Page to Stage
*White Christmas A Look Back with Rosemary Clooney
*Original Theatrical Trailer
*Theatrical Re-Release Trailer
White Christmas Box Set Audio CD
Track Listings
1. Silent Night
2. White Christmas
3. Faith of Our Fathers
4. God Rest Ye Merry Gentlemen
5. Adeste Fideles
6. I'll Be Home for Christmas (If Only in My Dreams)
7. Jingle Bells
8. Christmas in Killarney
9. Silver Bells
10. Mele Kalikimaka [Merry Christmas]
11. It's Beginning to Look a Lot Like Christmas
12. Santa Claus Is Coming to Town
13. Rudolph, The Red-Nosed Reindeer
14. Here Comes Santa Claus

Holiday Inn
Since The White Christmas Bing Crosby movie is lightly based on Holiday Inn, and because it's such an endearing movie, I had to share it here, too.
This is the movie in which the song "White Christmas" was first introduced.
Special Features Include
*A Couple of Song and Dance Men
*All-Singing, All Dancing
*Audio Commentary with Film Historian Ken Barnes, including *Archive Audio Comments from Fred Astaire, Bing Crosby and *John Scott Trotter
*Theatrical Trailer
Product Description
Bing Crosby and Fred Astaire sing and dance their way into your heart in the sensational musical comedy Holiday Inn. Nominated for 3 Academy Awards, this special edition features 13 holiday songs by famed composer Irving Berlin, including "White Christmas" – one of the biggest-selling recordings in music history! Crosby plays a song and dance man who leaves showbiz to run an inn that is open only on holidays. Astaire plays his former partner and rival in love. Follow the two talented pals as they find themselves competing for the affections of the same lovely lady (Marjorie Reynolds). This classic features an all-new digitally remastered picture and never-before-seen bonus material. 'Tis the season for one of the most enjoyable films of all time!
From Amazon
In 1942, Fred Astaire and Bing Crosby teamed up at Der Bingle's Paramount Pictures for Holiday Inn, a black-and-white musical that proves more entertaining than Crosby's color semi-remake White Christmas in 1954. Astaire and Crosby play partner/rival song-and-dance men who compete for the hand of their performing partner, played by Virginia Dale. After Crosby loses, he moves to the Connecticut countryside where he creates a resort that is only open on holidays and puts on the shows with the help of Marjorie Reynolds. Dumped by Dale, Astaire makes a drunken arrival at the inn on New Year's Eve and dances with Reynolds. He decides she'll be his new partner, but doesn't remember what she looks like, setting off a frenzied search at every subsequent show while the once-bitten Crosby does his best to steer him off track. The theme gives Irving Berlin an excuse to craft or recycle a number of holiday-themed songs, such as (in the former category) "Washington's Birthday" or (in the latter) "Easter Parade." The most famous of the new material, of course, is "White Christmas," which became one of the bestselling songs of all time and the title song of Crosby's 1954 film. Astaire and Crosby also team up for "I'll Capture Her Heart," which playfully contrasts the stars' specialties, and Astaire's "It's So Easy to Dance with You" became one of the signature songs of his post-Ginger Rogers career. Astaire and Crosby teamed up again for Blue Skies in 1946. —David Horiuchi

White Christmas Movie Merchandise
Here are some more White Christmas movies and music that will keep you entertained during the Christmas season. You will enjoy watching the movie with family and friends, and playing the music during dinners and other gatherings, or while you're working online.
These make great gifts for White Christmas movie fans, too!
White Christmas (Widescreen Collection)
White Christmas (60th Anniversary)
Irving Berlin's White Christmas
White Christmas- Bing Crosby
Selections From White Christmas
White Christmas Show- All Star Show
Ultimate White Christmas
White Christmas
White Christmas / Winter Dreams
The Movie Begins…
…On Christmas Eve, 1944, somewhere in Europe, two World War II U.S. Army buddies, one a Broadway entertainer, Bob Wallace (Bing Crosby), the other a would-be entertainer, Phil Davis (Danny Kaye) give a show to the troops of the 151st Division in a forward area. But the mood is somber: word has come down that their beloved commanding officer, Major General Thomas F. Waverly (Dean Jagger), is being relieved of command. He arrives for the end of the show and delivers an emotional farewell. The men give him a rousing send-off ("The Old Man"). An enemy artillery barrage ensues, and Davis saves Wallace's life by carrying him out of the way of a toppling wall, wounding his own arm in the process. Wallace visits Phil in the infirmary tent where he thanks him and tells him if he ever needs a favor. Phil quickly suggests a song he wrote himself for Wallace to use it in his next act. Wallace is reluctant since the song is for a duet and he only does singles. Using his "wounded" arm and telling Bob he doesn't expect any "special obligation anyway", Phil convinces Wallace for them to do the duet together when the war is over. Phil using his wound to get Bob to do what he wants becomes a running gag throughout the movie…
Bing Crosby – White Christmas
White Christmas Bing Crosby As Bob Wallace
Limited to 7000 pieces
Limited Edition – Collector's Series
Bing Crosby as Bob Wallace
Irving Berlin's "White Christmas."
Danny Kaye and Vera-Ellen
Information Gathered from Wikipedia
Filming took place between September and November 1953. The movie was the first to be filmed in Paramount's new VistaVision process, with color by Technicolor, and also introduced the Perspecta directional sound system which used three inaudible tones in order to pan the monaural sound into either left, center or right.
White Christmas was intended to reunite Crosby and Fred Astaire for their third Irving Berlin showcase musical. Crosby and Astaire had previously co-starred in Holiday Inn (1942) – where the song 'White Christmas' first appeared – and Blue Skies (1946). Astaire declined the project after reading the script and asked to be released from his contract with Paramount. Crosby also left the project shortly thereafter, to spend more time with his son after the death of his wife, Dixie Lee. Near the end of January 1953, Crosby returned to the project, and Donald O'Connor was signed to replace Astaire. Just before shooting was to begin, O'Connor had to drop out due to illness and was replaced by Danny Kaye, who asked for and received a salary of $200,000 and 10% of the gross. Financially, the film was a partnership between Crosby and Irving Berlin, who shared half the profits, and Paramount, who got the other half.
White Christmas Movie Poster
A White Christmas movie poster makes a great gift for classic film buffs and collectors. Give one framed for any occasion, to use them for Christmas decorations in your home or office. White Christmas memorabilia is a fun way to collect merchandise from this and any of your favorite films.
White Christmas – Movie Poster – 11 x 17
White Christmas – Authentic Original 28
Wonderful White Christmas Poster
Bing Crosby in White Christmas Poster
Bing Crosby and Danny Kaye
Information Gathered from Wikipedia
When the characters played by Bing Crosby and Dannye Kaye go to a club to audition the act ("Sisters"), Phil notices that Bob slowly smitten with Betty (Rosemary Clooney), during the performance while Phil has eyes for her sister, Judy (Vera-Ellen).
Following their number, Betty and Judy join Bob and Phil at their table, and believing he may have found the right woman for Bob, Phil brings Judy on to the dance floor so that Bob and Betty can get to know each other better. Phil and Judy hit it off ("The Best Things Happen While You're Dancing"), and Judy tells Phil that she and her sister are headed for the Columbia Inn in Pine Tree, Vermont, where they are booked to perform over the holidays. Back at the table, Betty reveals to Bob that Judy, not their brother, sent them the letter. The two get into a brittle argument over it.
When Betty and Judy's landlord claims the sisters burned a $200 rug and is trying to have them arrested, Phil hears the news and offers to help them. He lets them leave out the window, giving the sisters his and Bob's sleeping-room accommodations aboard the train to Vermont and saying it was Bobs idea when Betty is apprehensive because of the small bicker they had over "angles."
To give the sisters time to make it to the train, Phil convinces Bob to don Betty and Judy's forgotten costumes and lip-sync "Sisters" from a record, after which they escape the sheriff who arrives looking for the sisters. Phil and Bob board on the same train two hours later. Bob finding their rooms taken puts two and two together and starts to grow angry with Phil for giving away their tickets when the sisters come hearing of their arrival enter the pub car where they were are forced to now sit up all night, and are all over Bob in appreciation for giving up their sleeping accommodations and Phil uses "his arm" once again to convince Bob to travel with Betty and Judy to Vermont for the holidays ("Snow").
White Christmas – Sisters
Holiday Inn: White Christmas by Bing Crosby
ANIMATED GEMMY POP CULTURE BING CROSBY SINGING DANCING CHRISTMAS FIGURE
BING CROSBY SINGING DANCING CHRISTMAS FIGURE
Made by Gemmy for their pop culture series, this is an 18″ tall Bing Crosby animated and singing doll dressed just as he was at the end of the classic Christmas movie White Christmas.
Bing sings portions of three songs — White Christmas, Santa Clause is Coming to Town, and I Wish you a Merry Christmas. While singing, Bing turns his head from side to side and moves his microphone back and forth.
Dreaming of a White Christmas Chalkboard Holiday Throw Pillow by kat_parrella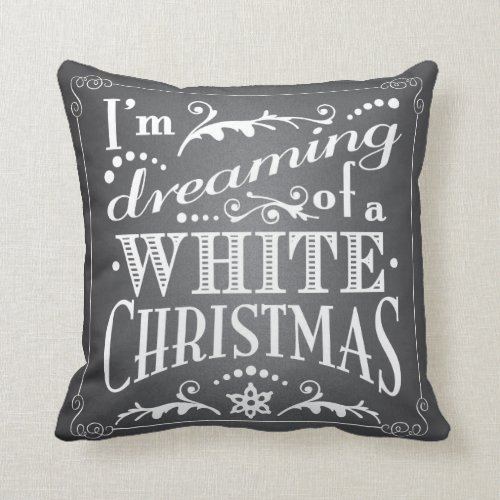 Dreaming of a White Christmas Throw Pillow
Amazon Gift Cards
Amazon gift cards allow your family, friends and co-workers to choose the exact items they want. These are great stocking fillers, or stick them in a birthday or Christmas card as an extra special surprise.
Amazon.com Black Gift Card Box – $50, Birthday Presents Card
Amazon.com Snowflake Gift Card Tin – $50
Amazon Gift Card – Print
Amazon.com $25 Gift Cards – 3-pack (Holiday Globe)
Amazon Gift Card – Email
Amazon.com Gift Card with Greeting Card – $20 (Classic)

Check Out Other Related Posts On Webnuggetz