Decorative Wine Racks
Decorative Wine Bottle Racks
Hold your wine in style with these decorative wine racks! Choose from floor models and wall mounted models.
Bring design and innovation to your bar area, dining room or kitchen with one of these fabulous racks!
From tables that hold wine bottles, to unique designs that add flare to your home, you'll find a great variety showcased here!
Decorative wine bottle racks also make great gifts for anniversaries, weddings, birthdays, Christmas, and so on.
You can use them to display alcohol free bottles, juice, and other types of bottles, too.
Place a rack in our wine cellar, basement or other areas to hold your wine, or put them out for all to enjoy.
Oenophilia Bali Wine Rack, Ebony – 12 Bottle
Oenophilia Bali Wine Rack, Ebony – 12 BottleView Now
The Indonesian culture is what inspired this elegant rack, reminiscent of the gently lapping waves of the Bali shore. This stunning wine rack will bring sophistication and elegance into any home. A great gift idea for any wine lover.
Features:
This stylish wine rack holds 12 bottles

Oenophilia Mid Century Wall Mount Wine Rack – 10 Bottle
Oenophilia Mid Century Wall Mount Wine Rack – 10 BottleView Now
Features:
Made of durable metal with dark finish. 2-Pieces together create a 10-bottle racking system on the wall.
Handsome, timeless design.
Ships in two sections in one box; Anchors are included. Creates a stunning visual display for your wine
Yosemite Home Decor Wine Rack, Brown
Yosemite Home Decor YFUR-VA6107 Wine Rack, BrownView Now
This truly unique wine cart adds fun to any occasion. The solid mango frame supports two metal shelves and storage space for wine bottles and stemware. All resting on six large cast iron wheels.
Features:
Assembled, made by skilled artisans in India
Dust with dry soft cloth
Periodically use furniture polish or wax
Do not leave spills unattended
Protect from heat
Expansion & contraction could occur
Anti-tip hardware is recommended
Renaissance Wrought Iron Wine Jail
5 Star Ratings from Customer Reviews!
Renaissance Wrought Iron Wine JailView Now
Guard your wine in grand style. Ornate scroll work with antique bronze finish evokes the artistry of the Renaissance a fitting setting for your wine.
Holds 45 standard Bordeaux-size bottles behind the slide-lock door. Wine jail comes fully assembled.
Shipment will include two extra pieces of metal they are only for shipping purposes they can be discarded.
Sticks Furniture Wine Racks
Created by Sticks – Sticks was started by Sarah Grant in 1992. Since then, Sticks has received national acclaim for their distinctive line of furniture, accessories and object art.
The company began by designing smaller items such as ornaments and candlesticks, and has evolved to feature larger items such as dining sets, beds and armoires.
Each piece is handcrafted within Sticks' award winning studio. All pieces are finely crafted from birch, poplar and driftwood. The pieces are further designed with hand drawn imagery, etched contouring and vibrantly blended paint.
Pieces can be embellished with 3-D wood components, metal, leather and fabric. Sticks is constantly evolving due to the imagination of their design team and the many talented craft artisans that they employ.
Sticks Furniture – Small Wood 3 Bottle Wine Rack WRK001View Now
Sticks Furniture – Small Wood 6 Bottle Wine Rack WRK002View Now
Spectrum Scroll Wine Rack, Black
Spectrum 48710 Scroll Wine Rack, BlackView Now
The Scroll 12-Bottle Wine Rack combines a stylish look with space-saving convenience. The simple design keeps corked bottles from drying out, while adding a traditional touch to your home. Made of sturdy steel. Black Finish.
Features:
Stores bottles at a downward angle
Stores and displays up to 12 bottles
Sturdy steel construction
Black finish
96-Bottle Antiqued Steel Wine Jail
96-Bottle Antiqued Steel Wine JailView Now
'Lockup' never looked more inviting. Protect your wine behind the steel scroll work of this handsome storage jail antiqued with a bronze finish to enhance any room. Includes jailer's padlock and key. Holds 96 bottles. Easy assembly.
Features:
Antiqued steel construction
Holds up to 96 bottles
Padlock and key
Easy assembly
Foster & Rye by TWINE Gears and Wheels Wine Bottle Storage Rack
Foster & Rye by TWINE Gears and Wheels Wine Bottle Storage Rack, Holds 3 BottlesView Now
A fun, innovative wine bottle rack – Holds 6 bottles. Place on counter top alone or with decor for a functional, decorative wine rack
Holds 6 standard wine bottles and constructed of solid metal
Unique wine rack keeps all your favorite bottles organized and available
The perfect piece to give as a gift or keep for yourself
Oceanstar 18-Bottle Stackable Bamboo Wine Rack
Oceanstar 18-Bottle Stackable Bamboo Wine RackView Now
Features:
Elegant wine rack for the home
Can hold up to 9 bottles on each rack
Easy assembly with no tools necessary
Versatile: stackable
Each rack comes with 2 wave bars 2 blocks
J.K. Adams Ash Wood 12-Bottle Wine Rack, NaturalView Now Oenophilia Bamboo Wine Rack – 8 BottleView Now Oenophilia Bottle Bouquet Wine Rack, Black – 6View Now River's Edge Deer Antler Wine RackView Now Wooden Wine Rack-Holds 44 Bottles-Unfinished Pine (Unfinished Pine)View Now Sorbus® Wine Rack Butterfly – Stores 8 BottlesView Now TheopWine Barrel Shaped 6 Bottle Wine RackView Now Seville Classics 40-Bottle Birchwood Wine RackView Now Mango Steam 32 Bottle Wine Rack with GlassView Now
&
IMAX 12 Bottle Wine Rack
IMAX 12 Bottle Wine RackView Now
Dramatize the appeal of your decor by bringing in this elegant IMAX 12 Bottle Wine Rack. This floor mount wine rack can stylishly display 12 wine bottles. The design of this wine rack is inspired by grape vineyards. Wine enthusiasts would admire the design and functionality of this exquisite wine rack. This 12 Bottle Wine Rack from IMAX is entirely made from premium quality wrought iron and it has a bronze iron finish. This modern wine rack has an intricate enchanting design that lends it a mesmerizing appeal. This wine rack should be regularly dusted to maintain its gorgeous look.
FEATURES:
Contemporary style
Metal rung
Topsy-turvy design
12 Bottle capacity
100% Wrought iron construction
Metrotex Designs French Vineyard 7 Bottle Wine Rack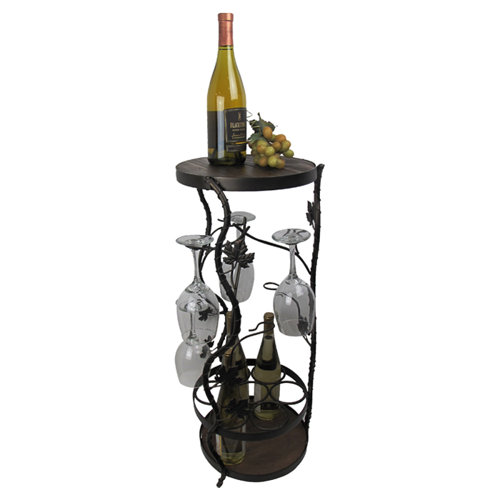 Metrotex Designs French Vineyard 7 Bottle Wine RackView Now
FEATURES:
Holds seven bottles and six wine stems
Plank wood top
Wine bottles not included
Sturdy iron construction
Durable powder coat finish
French Vineyard collection
Decorative Wine Racks
from Wayfair
Decorative wine racks hold your wine in style! Some of these are floor models, while others are wall mounted. You'll enjoy displaying your wine in any of these attractive designs!
Woodland Imports 16 Bottle Wine RackView Now Zingz & Thingz Barrel Wine Bottle RacView Now Anchor Hocking Home 12 Bottle Tabletop Wine RackView Now Old Dutch Antique Embossed 3 Bottle Tabletop WineView Now Woodland Imports 4 Bottle Wall Mount Wine RackView Now Woodland Imports 7 Bottle Tabletop Wine RackView Now
&
Wine Rack Tables
These pretty tables will hold your wine in style. You can also use them as serving areas for family and guests. Place one in your dining room or bar area to house your wine.
Winsome Vinny Wine Rack, 24 BottleView Now Mango Steam 23 Bottle Wine RackView Now 48 Bottle Table Wine Rack (Pine)View Now King's Brand WR1242 Wood Wine RackView Now Winsome Ancona Wine Cabinet with GlassView Now SEI Celtic Bistro Wine RackView Now VinoGrotto 24 Bottle Premium Table WineView Now Kitchen Cart, Trolley with Wine StorageView Now Deco 79 Wood Wine Rack, 19View Now
&
Check Out More of This Author's Work Here
Click on photo below…
See List of Other Websites by This Author Click Here
102216
Check Out Other Related Posts On Webnuggetz