Women's Real Leather Jackets
The Beauty and Strength of Leather Jackets for Women
Beautiful real leather is sturdy, special and beautiful – and it makes excellent women's jackets.
I have found wonderful leather jackets that I think you will really like.
Why leave sexy leather to the men? Women's leather Jackets of all colors – whether brown, red or classic black are gorgeous accessories for ladies too!
Maxima M Womens Brown Leather Long Sleeved Zipped Jacket Poly Fleece Collar
Beautiful Brown Leather Jacket from eBay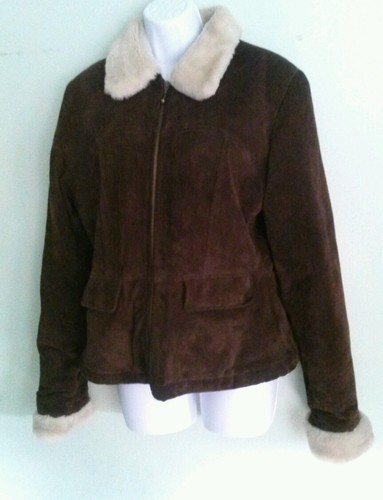 Maxima M Womens Brown Leather Long Sleeved Zipped Jacket Poly Fleece CollarBuy Now on eBay
Just in time for autumn or winter, this short leather jacket with a comfortable fleece collar and fleece cuffs. The jacket has two patch pockets and zips.
The size is women's medium but please measure to be sure.
Top of the neck to hem: 24 inches or 60.95 centimeters
Laid flat: Shoulder to shoulder:17.5 inches or 44.4 centimeters
Laid flat: Armpit to armpit: 20 inches or 50.8 centimeters
Center of neck to shoulder: 9 inches or 22.85 centimeters AND Shoulder to sleeve cuff: 25.75 inches or 65.4 centimeters
And this is a charity sale on eBay – this beautiful jacket will help the Wounded Warrior program help injured servicemen.
& 
& 
Beautiful Black Leather Jackets for Women
Classic black leather jackets are what most people think of when they think of a woman's leather jacket. Here are some excellent jackets – with one faux leather option.
BGSD Women's "Madison" New Zealand Lambskin Leather Walking Coat
LL WJC663 Womens Removable Hoodie Motorcyle Jacket L BLACK
KOGMO Womens Double Breasted Faux Leather Zip Up Jacket with Fashionable Details
Diamond Plate Ladies' Rock Design Genuine Buffalo Leather Motorcycle Jacket
BGSD Women's "Becca" New Zealand Lambskin Leather Pant Coat
Locomotive Women Short Paragraph Leather Jacket
& 
How to Wear a Black Leather Jacket for a Woman
Women's Red Leather Jackets
Lots of wonderful leather jackets for women – in stunning red. Some of these jackets are faux leather, for even one more option.
Leather Planet Women's Lambskin Leather Bomber Biker Jacket Red
LJYH Women's Zipper Motorcycle Biker Faux Leather Jackets
Womens Distress Denim Faux Leather and Denim Mix Jacket
Womens Turn Down Collar Double-Breasted Long Trench Coat with Belt, Red
Friendshop Womens Winter Slim Bomber Genuine Leather Jacket
Belted Babydoll Faux Leather Trenchy Coat Jackets
& 
Here are Some Stunning Blue Leather Jackets
Blue leather or faux leather is gorgeous and unusual for women.
Escalier Women Blue Faux Leather Motorcycle Jacket
Jessica London Women's Plus Size Plus Size Navy Blue Leather Jacket
Buffalo David Bitton Women's Blue Leather Jacket
& 
A Quality Leather Jacket will be an Access to Your Wardrobe
I have found many beautiful leather jackets for your wardrobe – and I hope you love them.
Why leave all the fun to men? There are so many women's leather jacket that will just MAKE your wardrobe!
Check Out Other Related Posts On Webnuggetz